Last week, Democrats on the US House Select Committee on the Climate Crisis issued a report, "Solving the Climate Crisis, " which provides an emissions reduction policy framework which seeks to reach net-zero carbon emissions by 2050. Here's a link to a summary article from Vox about the report. 
One of the recommendations in the report is to "Invest in disproportionately exposed communities to cut pollution and advance environmental justice." This matches Climate Center policy priorities related to climate justice as noted in a recent letter sent by The Climate Center and Partners to the Steyer Committee (here's a link to a summary article from Microgrid Knowledge).  One of the principles of The Climate Center-backed Community Energy Resilience Act, SB 1314, was the prioritization of state support for low-income and disadvantaged communities.
The new report also spotlights microgrid development as a key resilience strategy, particularly for critical infrastructure — similar to recommendations from The Climate Center's Community Energy Resilience program and associated media efforts.
Microgrid-related recommendations in the new congressional report include the following:
Establishing a new program at the Departments of Health and Human Services to support pre-disaster hospital and health facility resilience projects, including retrofits and maintenance to reduce flood and wildfire risk, harden facilities against extreme weather, and integrate redundant water and power supplies, including microgrids and community renewable energy grids;
Directing the Department of Energy to create a grant, technical assistance, and demonstration programs for microgrids, especially in isolated areas and vulnerable communities;
Providing technical assistance and funding through the US Department of Agriculture to deploy resilient renewable energy and microgrid systems;
Creating a new program within the Department of Transportation to assess and deploy resilient solutions for public transit electrification, including advanced microgrids.
To learn more community energy resilience policy, register here for The Climate Center's August 5th Community Energy Resilience Policy Summit.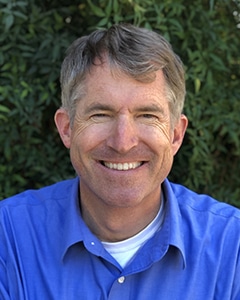 Kurt Johnson
Community Energy Resilience Director
Kurt began working at the Center in 2019. He previously founded and directed a renewable energy project development consulting firm, bringing new projects online ranging from 8 kW to 8 MW. Kurt also founded a small hydropower trade association where he lobbied successfully for regulatory reform before Congress and the Colorado legislature. Kurt also worked in the solar industry for Recurrent Energy and also for the California Public Utilities Commission in San Francisco. Kurt worked at the U.S. EPA for eleven years where he founded the EPA renewable energy program, the Green Power Partnership. Kurt started his career in 1991 working on Capitol Hill in Washington, DC as a Legislative Assistant for U.S. Rep. Richard Swett (D-NH). Kurt holds an MS in Environmental Sciences and Policy from Johns Hopkins University and an MA and BA from Stanford University.
Read full bio