United Nations Climate Conferences and The Climate Center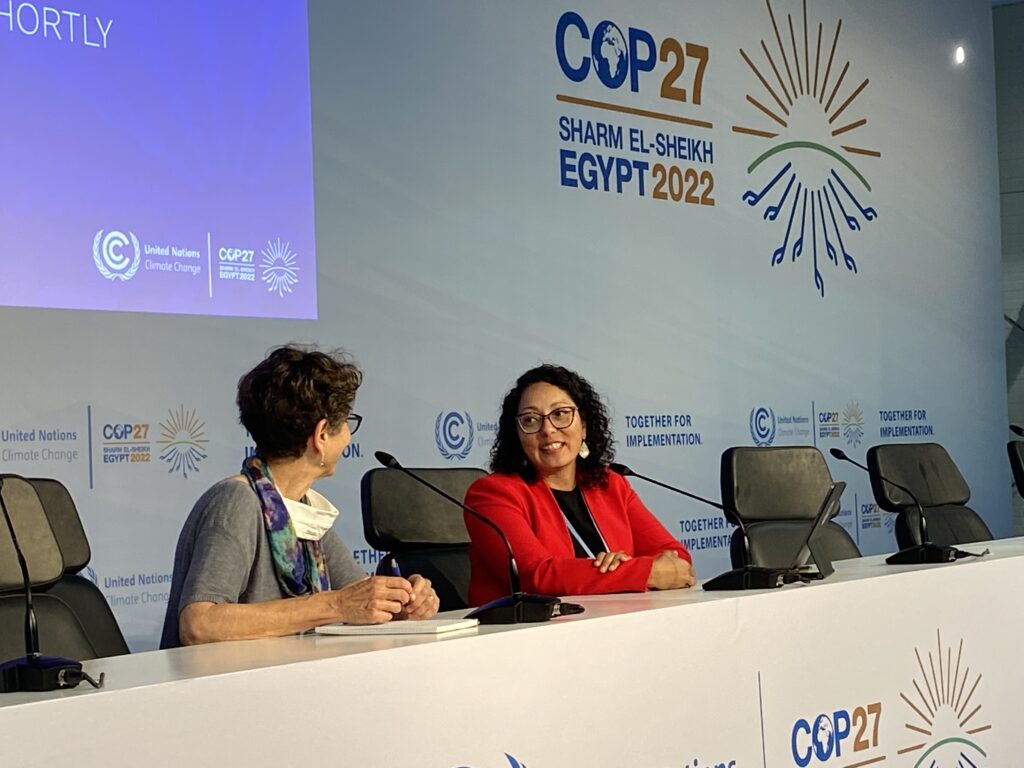 The Climate Center became an official Observer organization to the United Nations Framework Convention on Climate Change (UNFCCC) in 2020. As an Observer, we're able to help a limited number of California policymakers and nonprofit leaders gain entrance to the annual gathering that now draws more than 30,000 attendees from all over the world. Through our work, we help state leaders share successes and learn from others to inspire accelerated, equitable climate policy in California.
What are the United Nations global climate conferences?
Each year, the United Nations gathers for a "conference of the parties" (COP), all the countries of the world that are signatories to the United Nations Framework Convention on Climate Change (UNFCCC). These are annual summits where world leaders and heads of state gather to agree on goals and announce their commitments to address the climate crisis.
The Climate Center is honored to be among roughly 3,000 non-governmental (NGO) and intergovernmental Observer entities from around the world. The annual conferences include representatives from environmental justice and climate policy groups, energy companies, farming and agriculture interests, Indigenous populations, local and state governments, universities, researchers, labor interests, and more. The COPs provide a unique opportunity to exchange ideas with other climate policymakers, experts, and activists from around the world.
The UN operates by consensus, which makes progress slow and hard-earned. The landmark Paris Climate Agreement was adopted by 196 countries at COP21 in 2015, then ratified to limit global warming below 2 degrees Celsius in the industrial era (since the mid-1800s). Achieving this goal will require significant cuts to climate pollution, drawing down as much as 1 trillion tons of past climate pollution, and a rapid global shift away from oil, gas, and coal to renewable energy.
At COP27 in Sharm el-Sheikh, Egypt in 2022, there was a historic, eleventh-hour agreement by the countries of the world to establish a "loss and damage" fund. For the first time, the world's largest historic climate polluters, led by the United States, are acknowledging the need to formally address climate justice and establish funding mechanisms to help poorer nations address the devastating impacts of climate change they're experiencing today.
The Climate Center at COP27
The Climate Center and our partners organized several press conferences and an official side event at COP27. Resources and recordings from several of these events are available below:
Side event: The Grid for the Future – Experiences from California and Around the World (video, Siva Gunda/CEC slides, Benioff/NREL slides)
Press conference: California's New Natural Carbon Sequestration Law – What It Means for Equity and Climate (Assemblymember Cristina Garcia video, Cohen slides)
Press conference: Vehicle-to-Grid: How EVs Can Keep the Power On (video, slides)
Press conference: Carbon Negative and Equity Positive by 2035 in California (video, Prof. Dan Kammen slides)
What's next?
The United Arab Emirates will host COP28 from November 30 to December 12, 2023, in Dubai. Eastern Europe is next in line for 2024 and President-elect Lula de Sliva of Brazil is hoping for his country to host soon, as well. Australia could follow.
Related resources