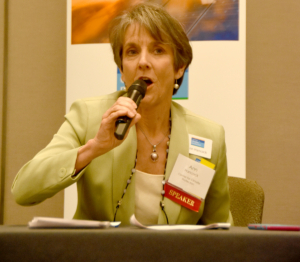 I'm deeply saddened to share that Ann Hancock, co-founder of The Climate Center and climate activist extraordinaire, will be stepping down from her formal leadership staff position to attend to her husband's serious health issues. We will miss her voice, smarts, and wit as she puts her full attention to supporting her spouse.  
With a public health background, Ann worried about the climate for a long time. She co-founded The Climate Center (TCC) in 2001. Her clever mottos, including "No blame, no shame, we're all in this together" and "Governments are like sailboats, they go nowhere without wind; we put the wind in their sails," enabled climate protection to be accepted as a universal issue by governments, businesses, and the community at large, building the will for significant policy change.
Thanks to Ann's visionary leadership, Sonoma County became the first region in the nation to have 100% of its local jurisdictions pledge to climate protection and commit to greenhouse gas (GHG) reduction goals. Starting from zero, Ann led Sonoma County to be an inspiring national climate model.
These achievements laid the groundwork for delivering Community Choice Energy– the most powerful, cost-effective, local solution for significantly reducing greenhouse gas emissions. At the time Community Choice was a new policy innovation, which made persuading decision-makers to implement it a challenge. Because of Ann's unswerving, effective advocacy, Sonoma Clean Power began serving businesses and residents with cleaner power in 2014. Following this success, Ann led a shift in focus to all of California. Today there are 24 CCAs producing 80-90% GHG free electricity to over 11 million Californians—a fantastic example of our mission, speed and scale GHG reductions.
In 2019, Ann recruited me as CEO to launch the Climate-Safe California campaign, one of the most innovative climate campaigns in the nation, with the goal of having the state achieve net-negative emissions by 2030 and securing $18 million over the next several years to fund it. While we still have so much to do, the campaign has exceeded expectations, already catalyzing bold legislation and regulation while reframing the debate about what is possible to address the climate crisis.
Ann is an amazing human being who has touched so many lives and who has truly made a difference for our collective future. When you hear scientists, nonprofit leaders and policymakers say we can reach 100% GHG-free electricity by 2030, know that Ann played a critical role in making that possible. When you hear that state Senators introduced legislation to achieve net-negative emissions at least a decade earlier than ever considered before, know that Ann played a critical role in making that possible.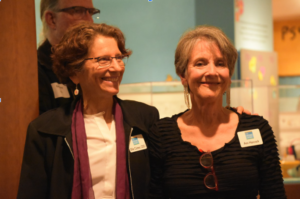 I am forever grateful to you, Ann, for helping me find this remarkable path to realize equitable, accelerated climate action in California, setting an example for the nation and the world. I know that all of us at The Climate Center will sorely miss you, even as you continue to remain a member of our extended family.
We would love to celebrate Ann publicly but that is not her wish at this time. However, to enrich her legacy and ensure our urgent work continues at the speed and scale required, please consider a special gift in Ann's honor here. 
Ann, we wish you the very best during this trying time and will always be there for you, as you have been for us, with love and compassion.
– Ellie Cohen, CEO
Ellie Cohen
Chief Executive Officer
Ellie Cohen, CEO of The Climate Center, is a leader in catalyzing cross-boundary, collaborative and just solutions to climate change and environmental degradation. Most recently, Ellie served as President and CEO of Point Blue Conservation Science where she and the organization's 160+ scientists worked with hundreds of public and private partners to develop climate-smart solutions for wildlife and people.
Read full bio