Annual Report 2021
California must lead the way once again for a climate-safe future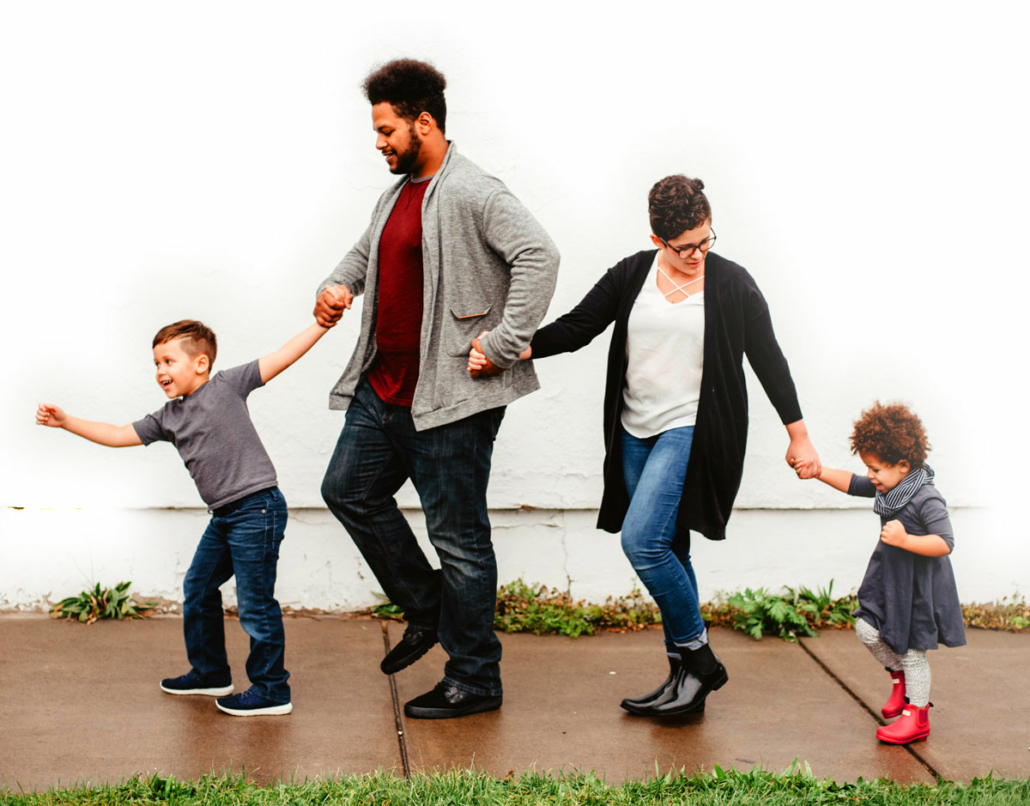 "My community faces extreme heat, power outages, and floods driven by climate change. I'm endorsing Climate-Safe California because we need support from the state to address the climate crisis and protect our most vulnerable communities in these trying times."

Kimberly Warmsley, Stockton City Council Member
It's time for California to lead the way once again for a climate-safe future
Letter from Board Chair Susan A. Thomas and CEO Ellie Cohen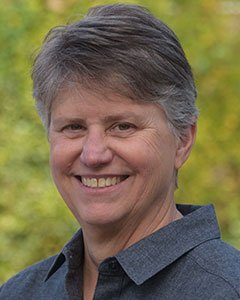 Take a moment to imagine a climate-safe California.
Imagine stepping outside your house and breathing clean, fresh air. Imagine the wind and the sun powering your home, your neighborhood, and your city. Imagine that the food you eat nourishes your body and the farm that it came from nourishes the Earth. Imagine thriving nature and wildlife. Imagine looking at your children knowing that you're leaving them a healthier planet and more just society than the one you grew up in.
That's what we're working for at The Climate Center: a climate-safe future for all.
This future probably couldn't feel further from reality right now. Relentless climate-fueled disasters — massive wildfires, toxic smoke, crippling drought, and life-threatening heat waves — have plagued all of us and show no signs of stopping.
Fortunately, this vision of a better future is still possible. And we urge you to hold on to it.
California has the tools and the know-how to lead the way toward equitable, ambitious climate solutions. What we need is the political will. Simply put, California's elected leaders must summon the courage to stand up to oil and gas interests and pursue action based on the latest science and the realities of the climate crisis.
Thanks to the support of generous donors like you, The Climate Center made critical progress toward accelerated climate action in Sacramento this year.
Our work influenced Governor Newsom to pursue moving California's climate targets up a full decade to 2035.
We catalyzed and mobilized 25 organizations in support of the first bill in California history with a net-negative carbon emissions target.
We convened a microgrid equity coalition and secured $200 million to build clean energy microgrids in frontline, disadvantaged communities.
And that's just the beginning. Our work is truly starting to change the conversation around what's possible in California, but we know we have much more to do.
As goes California, so goes the world. As the United Nations recently warned, it's "code red" for humanity. Now is the time for bold policies that put California back at the forefront of the fight against climate change.
We're doubling down to break the logjam in Sacramento and build political momentum for bold, equitable climate action. We can't wait to share more with you over the coming months.
On behalf of everyone at The Climate Center, we hope you're proud of what we have accomplished together over the last year. And we invite you to bring your resolve, imagination, generosity, and partnership to continue creating a Climate-Safe California for all.
With gratitude always,
Ellie Cohen, CEO, The Climate Center
Susan A. Thomas, Chair of the Board, The Climate Center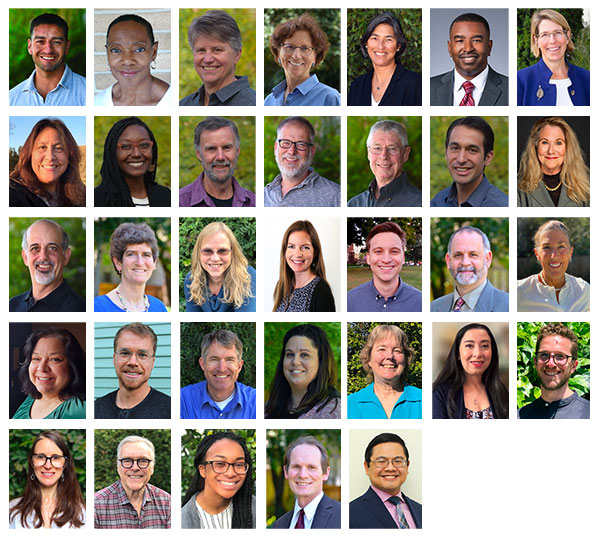 Who we are
The Climate Center is a climate and energy policy nonprofit working to rapidly reduce climate pollution at scale, starting in California. Since 2001, we've been a leader in making climate solutions a reality at speed and scale.
---
Our expert staff and advisors are laser-focused on solving the climate crisis, working collaboratively with partners from business and local governments to nonprofits and scientists.
Our mission
We're working to rapidly reduce climate pollution at scale, starting in California.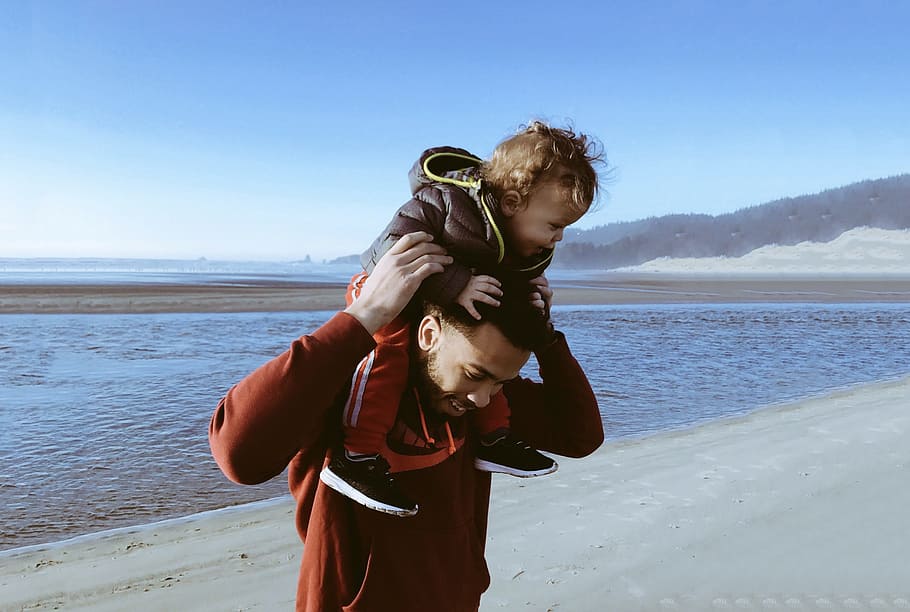 Our vision
We believe in thriving, healthy communities. We envision a future where everyone in California enjoys equal access to climate solutions, from clean air to renewable energy, healthy food, and more.
California has the tools and know-how to make this vision a reality — if our elected leaders act with the urgency the climate crisis demands. California must put policies in place by 2025 to accelerate equitable climate action, putting us on track to remove more climate pollution than we emit while securing resilient communities for all by 2030. That's how we'll keep our friends and loved ones safe from worsening climate disasters, create millions of family-sustaining jobs, and give everyone the chance to thrive in the clean energy economy.
Working together, we will ensure California leads once again toward a climate-safe future for all.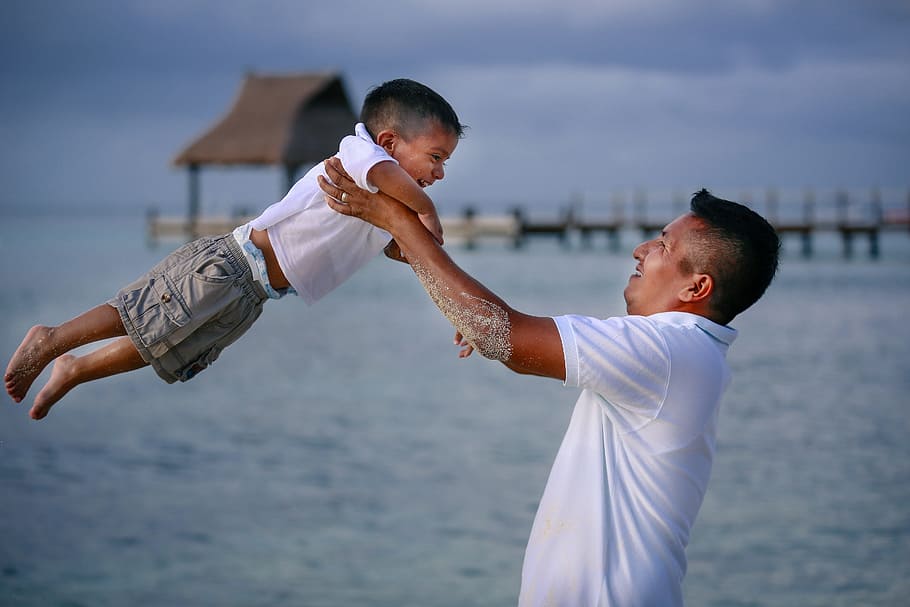 Our guiding principles
Our work is guided by these core principles: follow the latest science, secure a just transition for fossil fuel workers and their families, and prioritize climate justice.
Follow the science. We know that the bar for climate action is set by what science demands, not what pundits or politicians deem possible. We're working to bring California's climate ambition in line with what the latest science says is necessary.
Advance climate justice for frontline communities. Marginalized communities — Black, Brown, Indigenous, and Asian people as well as working-class communities across race — are bearing the brunt of California's climate crisis. The fossil fuel economy prioritized short-term profit over people's health. Working together, we can ensure that the clean energy transition leaves no one behind and that all Californians enjoy equitable access to climate solutions.
Secure a just transition for workers. As we transition away from oil and gas toward carbon-free, renewable energy, policymakers must ensure fossil fuel workers and their families aren't left high and dry. That means creating thousands of family-sustaining jobs in clean energy, providing workforce training and job placement for workers in transition, and protecting workers' pensions and healthcare benefits.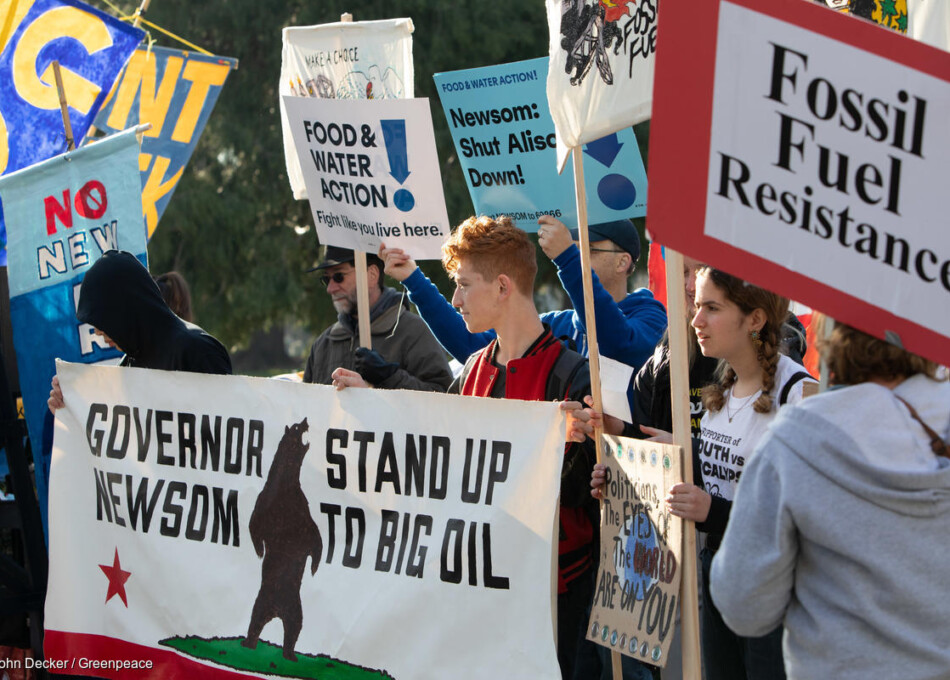 What we do
Since 2001, The Climate Center has helped make climate and clean energy solutions a reality in California. Climate disasters are hitting Californians today — drought, wildfires, heatwaves, and more. But our politicians are still talking about eliminating climate pollution 20 to 25 years from now. 2045 is simply too late.
We're working to bring California's climate ambition in line with what the latest science demands. We work with all three branches of California's government — state legislators, regulatory agencies, and the governor's office — to accelerate the timelines for climate action and ensure all communities have access to climate solutions.
"The Golden State is the canary in the coal mine. Now more than ever, we need the Climate-Safe California initiative and I'm honored to endorse its bold vision."

Mike McGuire, California State Senator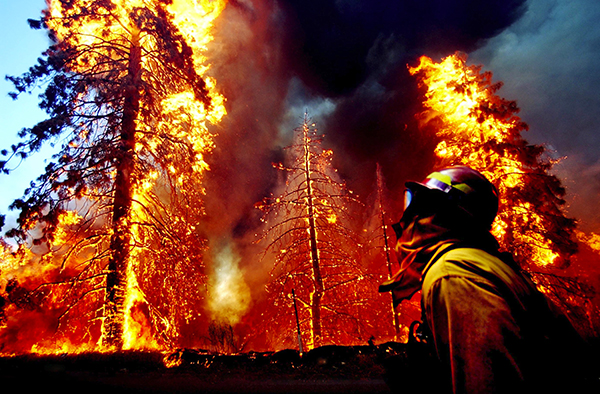 The challenge
The climate crisis is hitting harder and faster than scientists predicted even a few years ago. As the United Nation's latest IPCC report warns, we are witnessing a "code red" moment for humanity.
Devastating wildfires, toxic smoke, extreme heat, and crippling drought have become the new normal for Californians, disproportionately harming people of color and lower-income communities. If we don't quickly and dramatically change course, these climate extremes will only get worse. The longer we delay action, the more costly these disasters become — in both dollars and human lives.
This crisis requires bold, comprehensive government action now. California, historically a global climate leader, has fallen behind.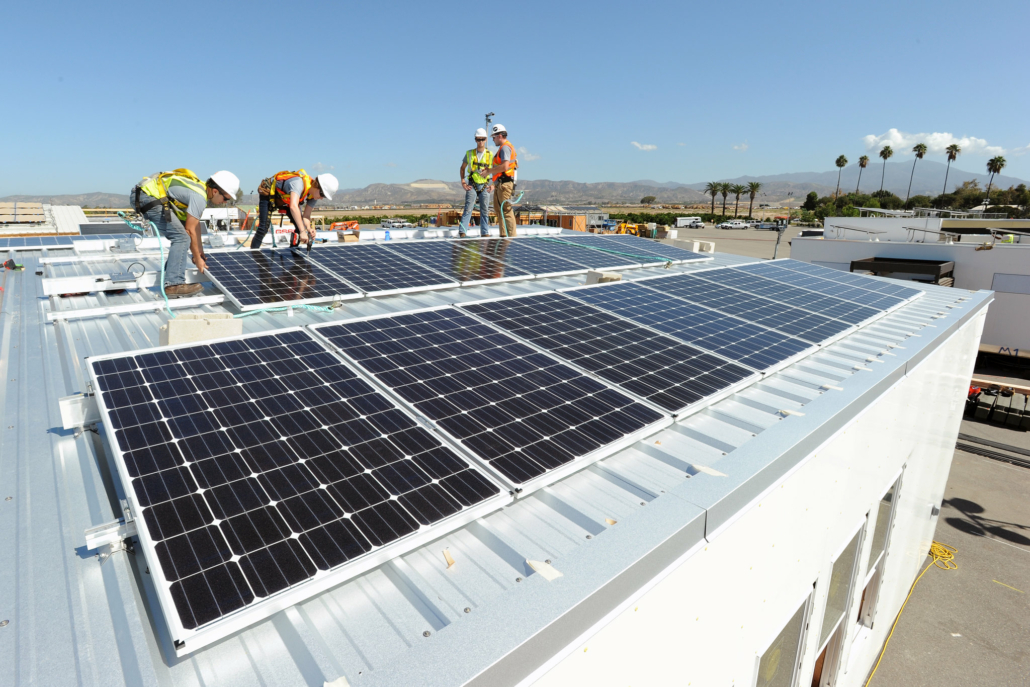 Accomplishments
We know what it takes to turn good ideas into policy.
Together with our partners, we're pushing Sacramento to pursue bolder, faster, and more equitable climate action — and we're getting results.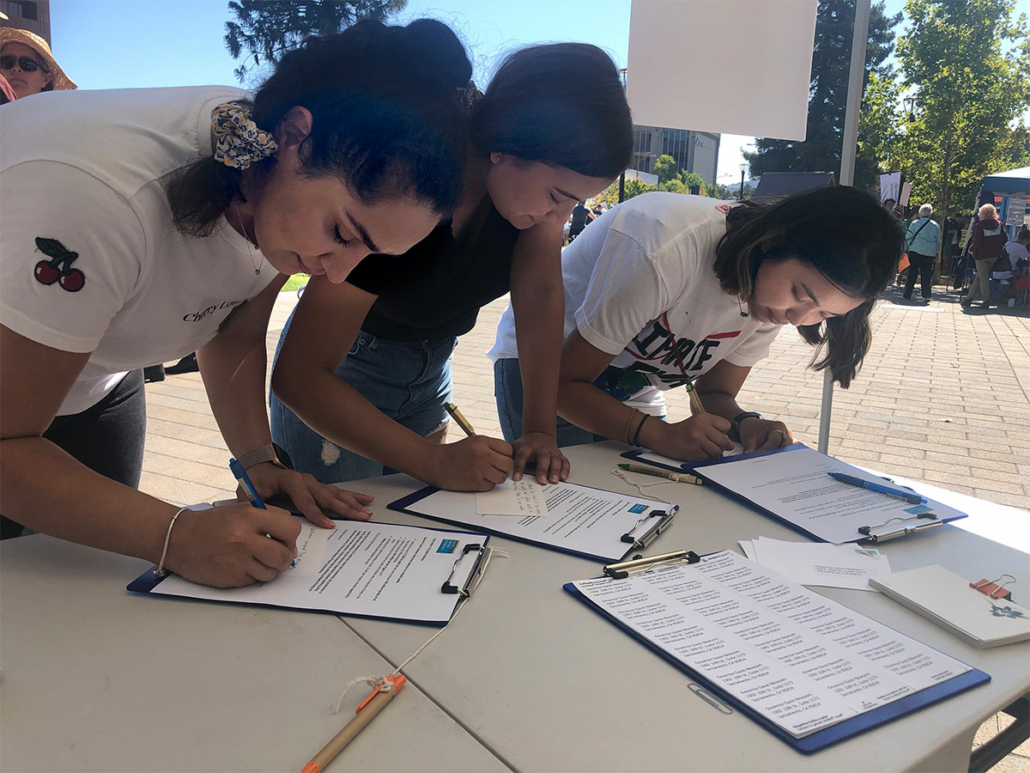 Advocacy
For the first time, Governor Newsom publicly acknowledged that we are in a "climate damn emergency." Following a briefing from leading California-based climate scientists organized by The Climate Center in May, the governor directed the California Air Resources Board (CARB) to assess moving California's climate targets up a full decade to 2035. He also directed the California Public Utilities Commission (CPUC) to establish a more ambitious emissions target for electricity procurement by 2030
We convened a microgrid equity coalition comprised of seven clean energy and environmental justice organizations. Led by The Climate Center, this coalition secured $200 million through the CPUC to build clean microgrids in frontline, lower-income communities. Our partners in this effort are the California Alliance for Community Energy, California Environmental Justice Alliance, GRID Alternatives, Reclaim Our Power: Utility Justice Campaign, the Sierra Club, and Vote Solar.
We drafted and mobilized more than 50 organizations to support SB 99, the Community Energy Resilience Act (Senator Bill Dodd, Napa). SB 99 supports local governments in developing clean, resilient energy, prioritizing underserved communities. After receiving unanimous, bipartisan support in the Senate Energy, Utilities, and Communications Committee, SB 99 was one of several climate bills to stall in the Assembly Appropriations Committee this year. We look forward to working with our allies to pass Community Energy Resilience legislation in 2022.
We also catalyzed the first bill in California history with a net-negative emissions target, SB 582 (Senator Henry Stern, Los Angeles). SB 582 would have established the most ambitious climate target of any state in the country. Though it faced strong opposition from oil and gas interests, the introduction of this bill in and of itself set a new benchmark for climate ambition in Sacramento.
Finally, we played a key role in passing the first bill in California's history requiring the state to set goals for carbon sequestration on natural and working lands, SB 27 (Senator Nancy Skinner, Oakland).
Education
Together with climate experts and academics, we organized the publication Accelerating the timeline for climate action in California. This report establishes the scientific basis for reaching carbon negative in California by 2030 and outlines the benefits of accelerated climate action for public health, economic prosperity, and social equity. Findings from the report were featured in the Los Angeles Times, San Francisco Chronicle, and more major news outlets.
More than 4,000 people registered for our seven-part Climate-Safe California webinar series this year. These webinars focused on the pillars of the Climate-Safe California platform, from sustainable mobility to nature-based carbon sequestration and more. Presenters included experts from The Climate Center, multiple state lawmakers, local government officials, climate scientists, and our partners from the labor and environmental justice movements. We're grateful to the many sponsors who make these webinars possible.
We conducted 55 presentations on the Climate-Safe California platform with elected officials, nonprofit organizations, and businesses this year. Following these presentations, we've seen several of our allies begin to campaign for more ambitious climate action in line with what the latest science demands.
The Climate Center was officially accepted as an observer organization to the UNFCCC (United Nations Framework Convention on Climate Change). This allowed us to participate in the UN's COP26 global climate discussions in Glasgow alongside California lawmakers and leaders from around the world. At COP26, The Climate Center CEO Ellie Cohen shared our vision for a Climate-Safe California on the global stage.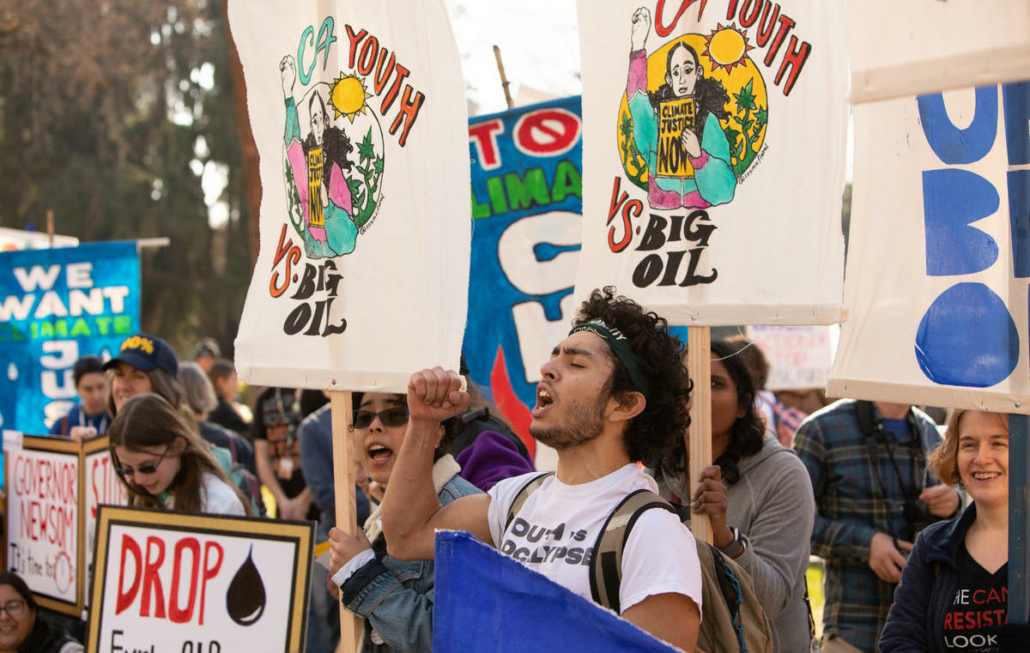 Movement-building
We've secured more than 1,300 endorsements of the Climate-Safe California platform as of the end of fiscal year 2020-2021. This includes 77 elected officials, 137 non-governmental organizations, 111 businesses, seven local governments, and more than 1,000 individuals throughout California.
Our presence throughout California continues to grow. We now have full-time regional organizers in Fresno, Stockton, and Los Angeles, and have developed partnerships with organizations, businesses, and elected officials in Silicon Valley, the Central Coast, the Los Angeles area, and the Central Valley. We continue to maintain a strong base of support in the San Francisco Bay Area and Sonoma County.
We're actively engaged in several powerful statewide coalitions, including the Central Valley Air Quality Coalition, Charge Ahead Coalition, Coalition for a California Green New Deal, Green California, Healthy Soils Network, Last Chance Alliance, the Natural and Working Land Working Group, and more. We're also building power together with our Climate-Safe California core partners: Alliance of Nurses for Healthy Environments, California Environmental Voters, Labor Network for Sustainability, and Local Government Commission.
We have more than doubled the size of our base in the last two years, and now have more than 13,000 engaged supporters across California. We continue to find new ways to build power with this audience and provide meaningful opportunities for them to take action in support of bold, equitable climate policies. Between July and August of 2021 alone, The Climate Center supporters sent in more than 1,000 messages to Governor Newsom and state leaders advocating for accelerated climate action.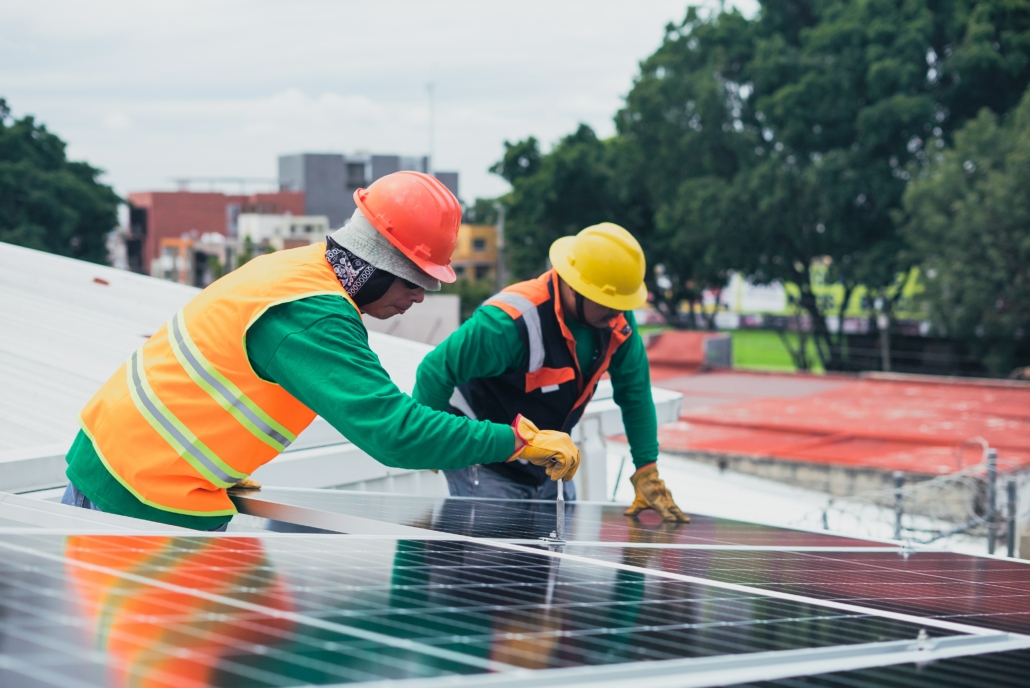 Climate-Safe California
Climate-Safe California is a unique and comprehensive campaign to make California the first state in the nation to become carbon negative.
Endorsed by hundreds of businesses, elected officials, and nonprofits and more than 1,000 individuals, Climate-Safe California offers climate solutions at the speed and scale that science demands. It's a set of policies that would allow California to remove more climate pollution from the atmosphere than we emit by 2030 while creating thousands of jobs and building a more equitable clean energy economy. 
The policy platform is built on four pillars:
Phase out fossil fuels from vehicles, electricity, our homes, and more;
Invest in resilient communities and clean energy systems;
Scale up carbon sequestration in soils and habitats; and
Unlock public and private funding for climate action.
These initiatives fit together like pieces of a puzzle: we need to pursue all of them in tandem to deliver on the promise of a climate-safe future. If we can do this in California — the fifth-largest economy in the world and a major oil and gas-producing state — we can do it anywhere. It's time for our state to lead the way on climate again.
"We won't achieve a climate-safe planet without a Climate-Safe California leading the way. The Climate Center has provided a strong roadmap and I'm pleased to be in good company among the California climate leaders providing the will."

Paul Koretz, Los Angeles City Councilmember
Our approach
We make change through an ambitious, irresistible vision and by convening a powerful coalition of climate advocates. Our Climate-Safe California campaign offers a glimpse into the healthy, thriving future in store for Californians when our leaders tackle the climate crisis at speed and scale. Together with local governments, labor unions, business leaders, environmental justice advocates, and more, we're pushing lawmakers in Sacramento to enact policies that turn this vision into reality.
These new policies will unleash innovation across the economy, making climate-friendly choices more accessible for everyone — from individuals to corporations and governments. We believe that once the whole of our government and economy is moving in the right direction, California will begin to reduce climate pollution at scale and reinvest in our shared future.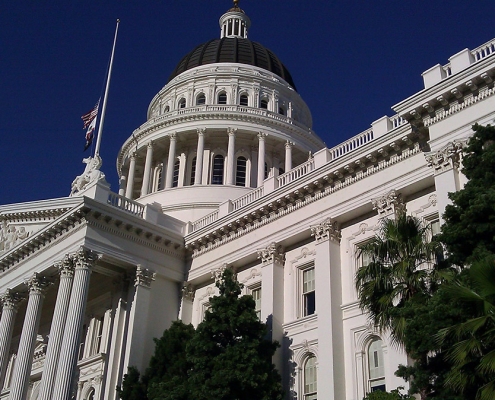 Why we focus on policy
The climate crisis is a sprawling, complex challenge. It touches every aspect of our society, threatening the foundations of our economy, the health of our communities, and the very stability of our planet. Big challenges like this require systemic solutions.
Think about how we got here. Fossil fuel corporations are responsible for the overwhelming share of global greenhouse gas emissions, yet these same corporations spent years putting that responsibility back on everyday people. They told us that it was our choices — whether we remembered our reusable bags at the grocery store or chose to drive our cars when we could have walked — that would make or break the global climate. Meanwhile, they continued to profit by extracting and burning oil and gas, carbon emissions continued to rise, and the world tipped closer to climate chaos.
Today, we recognize limiting climate action to individual lifestyle choices is a dangerous delay tactic. We all have a part to play in tackling the climate crisis, and the choices in our day-to-day lives are one part of that. But we've got to make climate-friendly choices more accessible and affordable for everyone, and we've got to rein in polluting corporations. That's not something we can do by ourselves — but our government can.
We're focused on winning bold, equitable climate policies for California because it's not enough to just change our behaviors. We've got to start changing laws.
Financials
Funding Sources 2021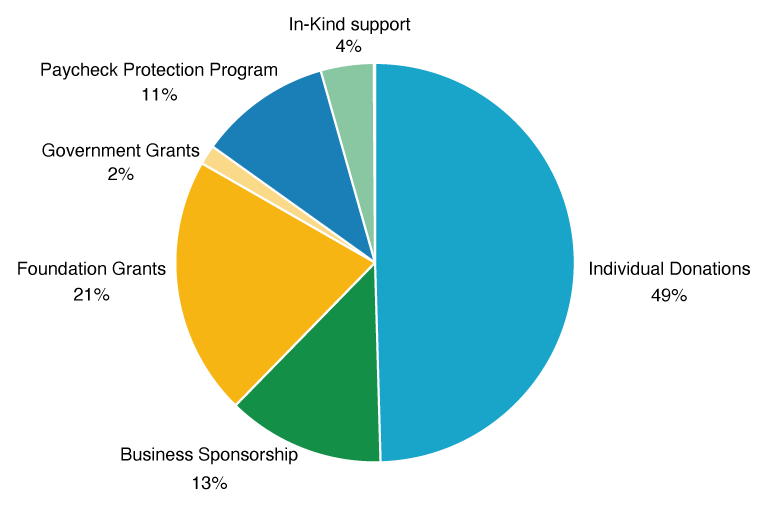 | | |
| --- | --- |
| Individual Donations | $1,092,948 |
| Business Sponsorship | $281,338 |
| Foundation Grants | $462,354 |
| Government Grants | $34,909 |
| Paycheck Protection Program | $236,739 |
| In-Kind support | $94,580 |
| Interest & Other | $2,329 |
| TOTAL | $2,205,197 |
Expenses 2021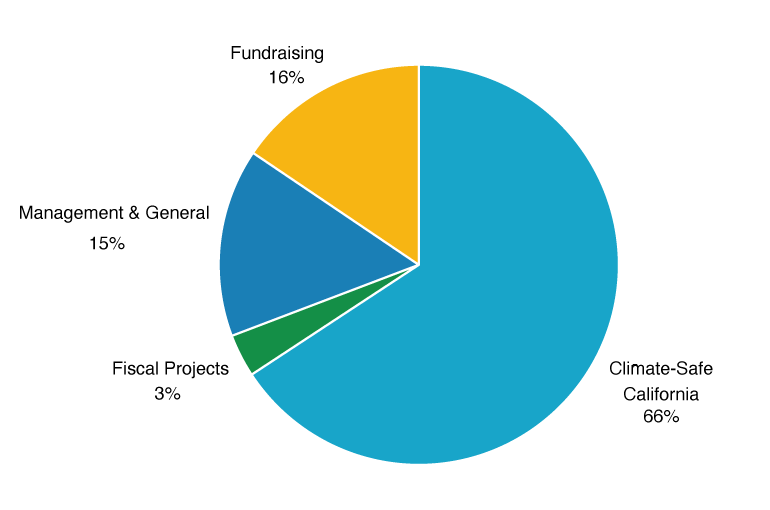 | | | |
| --- | --- | --- |
| Climate-Safe CA | $1,092,948 | 66% |
| Fiscal Projects | $281,338 | 3% |
| Management & General | $462,354 | 16% |
| Fundraising | $34,909 | 15% |
| TOTAL | $2,118,558 | 100% |
This year's development expenses are higher than usual relative to the overall budget. The Climate Center Board of Directors decided to invest in fundraising staff and other new positions to meet the climate challenge with solutions at the necessary speed and scale. The previous year, we had basically no development department. For our current fiscal year 2022, our projected budget is $3 million and we expect the total combined finance, admin, and development costs to be closer to 20 percent.
For our most recent, detailed financial statements, click here.
Donor Acknowledgements