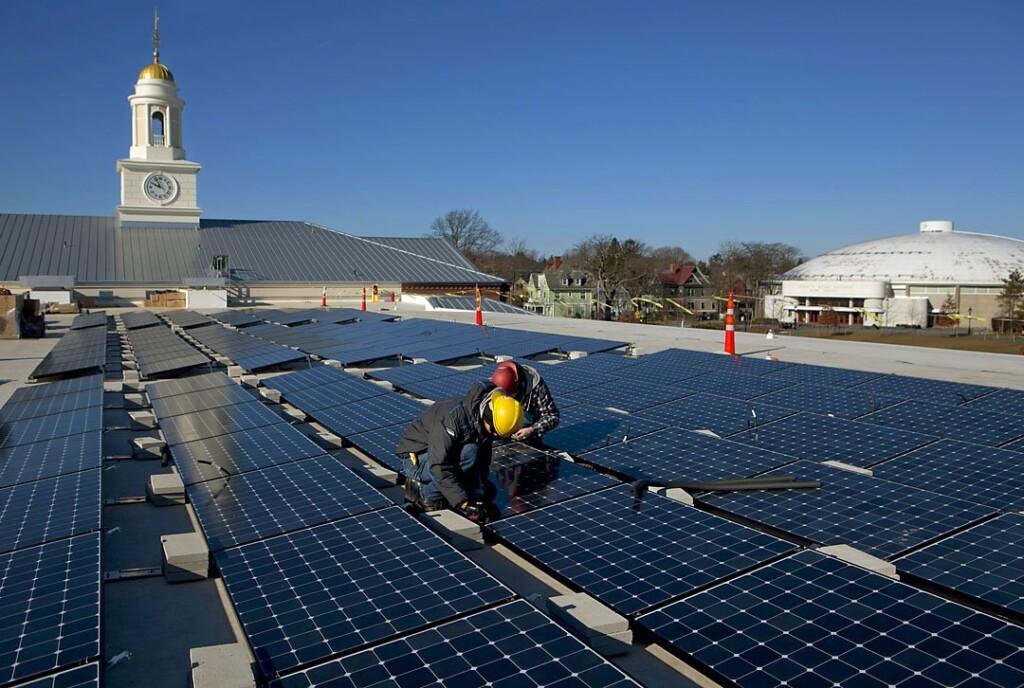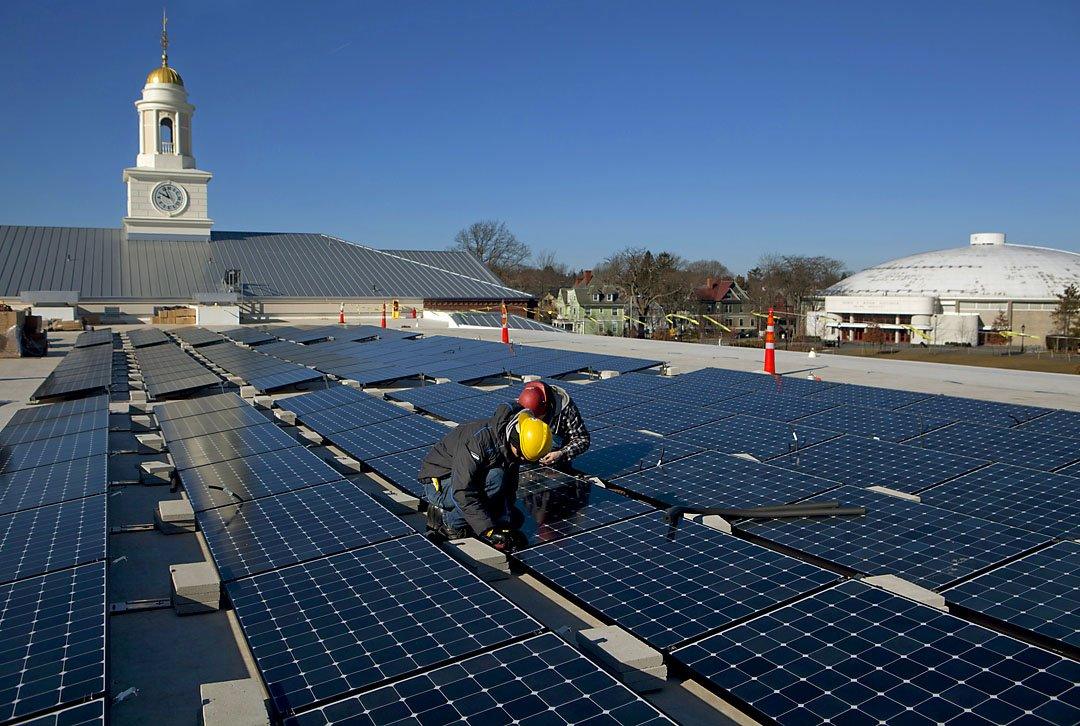 Community Choice Energy has proven to be one of the most powerful ways to accelerate the transition from dirty fossil fuels to clean energy sources, and The Climate Center is working to spread it throughout California. We are especially focused on establishing Community Choice in the Central Valley, where the impacts of a fossil fuel economy are most acute.
Community Choice Energy agencies are local, not-for-profit, public agencies that provide electricity service to residents and businesses. Given that they are local, with decision-making meetings open to the public, Community Choice Energy agencies enhance energy democracy by being more accessible and accountable to the local community.
Community Choice introduces competition and consumer choice into the electricity sector with a focus on local, renewable energy to stimulate rapid innovations in clean energy systems. As not-for-profit agencies, Community Choice energy providers are not beholden to multi-million dollar CEO salaries or shareholder returns, but rather to stable, competitive pricing for consumers and increasingly resilient, clean, and local energy systems.  According to CalCCA, to date, CCAs in California have contracted for over 1,300 Megawatts (MW) of clean generation capacity, and supported over 4,270 jobs.
Powerful Impacts for Community Choice:
Celebrating ten solid years of Community Choice service in 2020
20 operational Community Choice agencies (CCAs) in California as of early 2020
Serving 11 million+ people in California
Supporting 4,200+ jobs in California
Hundreds of millions of dollars made available for reinvestment in local communities.
3,000+ Megawatts of new renewable energy
360 Megawatt hours of new energy storage
Dozens of new innovative programs for customers
940,000+ metric tons of greenhouse gas emissions avoided per year.
Source: CalCCA
New California resources serving Community Choice customers
The spread of Community Choice:
In 2005, our analysis revealed that Community Choice was the most powerful, cost-effective solution under local control for significantly reducing greenhouse gas emissions. Current Community Choice Energy agencies are beating even optimistic projections for emission reductions, rates, enrollment levels, and revenue generation. It's also beating our hopes for inspiration. Within a year (from 2014 to 2015), the number of communities considering Community Choice has grew from 12 to 70 and by 2020 we believe it will serve 18 million Californians. Below is a map from our sister website, the Clean Power Exchange. It shows how the California map has lit up with Community Choice Energy over the last 5 years. Click on the map (Map updated: 7/13/2018) to go to an interactive version that is updated regularly.
Interview with Destiny Rodriguez on Community Choice Energy's potential in the Central Valley:
https://theclimatecenter.org/wp-content/uploads/2020/12/County-solar-project.jpg
1184
1776
Davis Harper
https://theclimatecenter.org/wp-content/uploads/2019/09/The-Climate-Center-Logo_RGB.gif
Davis Harper
2020-12-08 14:46:18
2020-12-08 14:46:37
New solar farm at landfill to save San Joaquin County on energy costs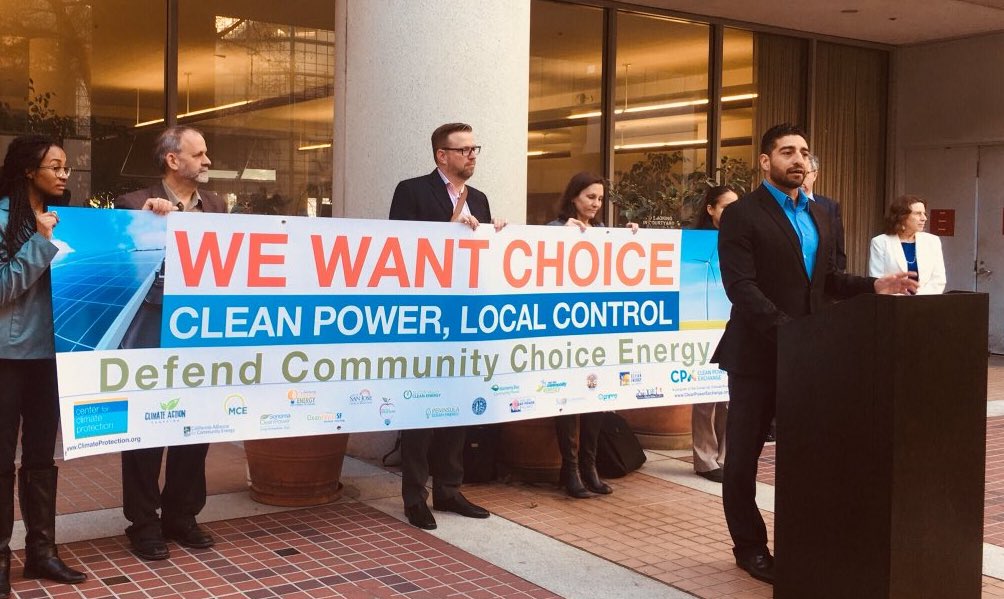 https://theclimatecenter.org/wp-content/uploads/2018/02/Efren.jpg
599
1004
Nina Turner
https://theclimatecenter.org/wp-content/uploads/2019/09/The-Climate-Center-Logo_RGB.gif
Nina Turner
2020-09-09 06:19:52
2020-09-10 14:04:16
California's three big utility companies stand in the way of consumer choice
To help you stay apprised of developments in Community Choice, we have established several ongoing or regularly updated services.
E-news: Clean Power Exchange (CPX) e-news is a bi-weekly compilation of news, views, events, job listings, and other updates relevant to Community Choice stakeholders from throughout California. Subscribe here: http://cleanpowerexchange.org/communities/all-news/
Webinars: Monthly webinars on topics related to local clean energy and Community Choice started in mid 2017. For recordings of past webinars and to find out when the next one is coming up, visit: http://cleanpowerexchange.org/webinars/
Interactive Map: We have developed an interactive map, mentioned above, that presents information, updated weekly, for all 58 counties and all 482 cities in the state of California, about the availability or status of Community Choice in each city or county. Visit that map here: http://cleanpowerexchange.org/california-community-choice/
To learn more about the basics of Community Choice, visit "Community Choice 101" on our CPX Resources page. Learn more about Community Choice energy in general at our dedicated website: