Presentations:
Take Action:
The Climate-Safe California Policy Summit brings together scientists and policymakers to examine the opportunities for climate action in front of California lawmakers today. Grounded in the reality of climate impacts like drought and extreme heat, the Summit will cover proposed legislation in the areas of sustainable transportation, community energy resilience, nature-based carbon sequestration, and more. Speakers include members of the California legislature, policy advocates, and experts on climate science (full list of speakers below). This will be an action-oriented webinar focused on passing legislation this year to combat the climate crisis and safeguard communities — we hope you'll join us!
Welcome and What is the California legislature doing on climate? (Senator Henry Stern)
What is going on in Washington – implications for California (Anthony Adragna, POLITICO)
Science Panel: What we are up against (Dr. Daniel Swain, Dr. Dan Kammen)
Community Resilience Panel: Discussion on SB 99 and AB 585 (Jerilyn Lopez Mendoza, The Climate Center; Senator Bill Dodd; Council member Kimberly Warmsley, Stockton City Council; Jonathan Parfrey, Climate Resolve)
Nature-Based Sequestration Panel: Discussion on SB 27 and AB 284 (Ellie Cohen, The Climate Center; Senator Nancy Skinner; Giana Amador, Carbon 180; Jeanne Merrill, CalCAN)
Sustainable Mobility Panel: Discussion on SB 726 (Vince Wiraatmadja, The Climate Center; Senator Lena Gonzalez, Bill Magavern, Coalition for Clean Air; Meredith Alexander, CalSTART)
Dr. Daniel Kammen is the Distinguished Professor of Energy at the University of California, Berkeley, with parallel appointments in the Energy and Resources Group, the Goldman School of Public Policy, and the department of Nuclear Engineering. Kammen is the founding director of the Renewable and Appropriate Energy Laboratory (RAEL), Co-Director of the Berkeley Institute of the Environment, and Director of the Transportation Sustainability Research Center. He has founded or is on the board of over 10 companies, and has served the State of California and US federal government in expert and advisory capacities.
Senator Henry Stern is a sixth-generation Californian and native of this district. He credits his passion for public service as a family trait, whose diverse history includes farming and ranching, music and film, and a steadfast commitment to helping young people fulfill their potential. Senator Stern was elected to represent the 27th Senate District, which includes parts of Los Angeles and Ventura counties, on November 8, 2016. Senator Stern has also lectured at UCLA and UC Berkeley, enjoys volunteering at his local Boys & Girls Club and is a member of the Santa Monica Mountains Conservancy Advisory Committee, the Jewish Federation, the American Jewish Committee, and the Truman National Security Project. He is an alumnus of Harvard University and UC Berkeley Law.
Dr. Daniel Swain is a climate scientist focused on the dynamics and impacts of extreme events–including droughts, floods, storms, and wildfires–on a warming planet. Daniel holds joint appointments as a research scientist within UCLA's Institute of the Environment and Sustainability, a research fellow in the Capacity Center for Climate and Weather Extremes at the National Center for Atmospheric Research, and as the California Climate Fellow at The Nature Conservancy. Daniel engages extensively with journalists and other partners, serving as a climate and weather science liaison to print, radio, television, and web media outlets. Daniel also authors the Weather West blog, which provides real-time perspectives on California weather and climate. He can be found on Twitter (@Weather_West).
An environmental trailblazer, state Senator Nancy Skinner, D-Berkeley, has authored laws to accelerate the transition to zero-emission vehicles, expand solar net metering, mandate clean energy storage, increase the energy efficiency of buildings and appliances, and reform clean energy financing. She also co-authored SB 100, a landmark law that will move California to 100% renewable electricity by 2045.
Sen. Skinner began her public service in 1984 as the first and only student to be elected to the Berkeley City Council. On the council, she introduced the nation's first Styrofoam ban, helped establish the Alameda County Waste Management Authority, STOPWASTE, and co-founded an international association of cities, ICLEI-Local Governments for Sustainability, to address climate change. After her term on the council, Skinner served as executive director of ICLEI's U.S. office and international director of ICLEI's Cities for Climate Protection program, which engaged cities worldwide to take action to stop climate change. She is also a past member of the East Bay Regional Park District board.
Sen. Skinner has also long been a champion of building dense housing in urban areas, realizing that one of the best ways to combat climate change is to curb suburban sprawl and greenhouse-gas-belching commutes.
Senator Lena A. Gonzalez represents the 33rd District and its nearly 1 million residents in the South/Southeast Los Angeles and Long Beach areas. A strong voice for working families, advocating to improve working conditions and prioritizing the fight for a clean environment, digital inclusion, LGBTQ+, women's rights and policies around economic vitality of small businesses.
Senator Gonzalez is a member of the Special Committee on Pandemic Emergency Response, Energy, Utilities and Communications, Environmental Quality, Judiciary and Health committees. Additionally, she serves as the Chair of Senate Transportation Committee, a huge milestone for women and the Latina(o) community.
Prior to the Senate, Gonzalez worked for Microsoft while simultaneously serving on the Long Beach City Council leading social impact programs and spearheading diversity and inclusion expansion in the tech sector promoting programs, such as support for young girls of color in STEM, in underserved communities.
Councilmember Kimberly Warmsley was born and raised in Stockton, California. Her roots were deeply enriched in Stockton's most diverse and historically marginalized communities. Kimberly attended San Joaquin Delta College where she earned Associate of Arts degrees in Public Safety, Business Administration and Sociology. She completed her Bachelor's Degree in Sociology at CSU Stanislaus. As the former Chair of the Stockton Planning Commission, Kimberly has fought hard to ensure that Stockton is at the forefront of strategic planning to promote health and equity for South Stockton. Kimberly has a wealth of social work experience, ranging from medical social work, clinical services, emergency services and policy/civic engagement. As the Senior Project Coordinator for Reinvent South Stockton, she is invested now in ensuring that a collaborative lens is healing the community for decades to come. On November 3rd, 2020 Kimberly was elected as City Council Member for District 6, the very same community she grew up in.
Elected in 2016 to represent California's 3rd Senate District, Sen. Bill Dodd is a fifth-generation Californian and lifelong resident of the district, where he grew up on a small family farm in Napa County. The district includes all of Napa and Solano counties and portions of Contra Costa, Sacramento, Sonoma and Yolo counties. Sen. Dodd serves as the chair of the Governmental Organization Committee and is a member of the Transportation Committee, the Energy, Utilities and Communications Committee and the Insurance Committee. He is co-chair of the Senate Select Committee on California's Wine Industry and the Legislative Delta Caucus.
His work in the Senate has spanned many topics – from improving public education to protecting seniors and the environment. He is one of the Legislature's most prolific legislators, authoring 67 law in the last 5 years. As a senator representing wildfire-torn Napa and Sonoma counties, he co-chaired the 2018 conference committee on wildfire safety and prevention and authored numerous bills that were signed into law to protect Californians from future infernos and accompanying utility rate hikes.
Bill Magavern joined Coalition for Clean Air in 2012 and is the Policy Director. Bill has more than 25 years advocating for environmental and public interest causes. He has authored numerous reports and articles on energy and environmental issues, and testifies frequently before the State Legislature, Air Resources Board, and other agencies. From 2000-2011, he represented Sierra Club California on a variety of environmental issues, and was honored in 2003 with the Mary Ferguson Award for outstanding service and in 2011 with the John Zierold Award for outstanding legislative advocacy. Bill was named a Clean Air Champion in 2007 by the Central Valley Air Quality Coalition.
Bill received his A.B in American Civilization, magna cum laude, Phi Beta Kappa, from Brown University and his J.D. magna cum laude, from the State University of New York at Buffalo Law School.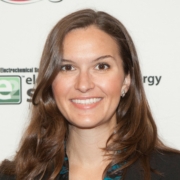 Meredith Alexander joined CALSTART as Policy Director in 2019.  She focuses on California Legislative and Regulatory Affairs, while also expanding CALSTART's regulatory and utility-focused work to other states. Meredith joined CALSTART after a long career in the public sector. As a Senior Analyst at the California Public Utilities Commission for many years, Meredith led proceedings on resource adequacy and renewables integration, and served as a liaison to the California ISO. At the CPUC, Meredith published numerous white papers and policy proposals on renewable integration and capacity market issues.  Meredith previously worked on policy at SMUD, and served in Governor Brown's administration as the Special Assistant to the Cal-EPA Secretary. At the beginning of her career she worked with the automotive industry through the ENERGY STAR program at U.S.EPA. Meredith earned her J.D. and Certificate in Environmental Law from Lewis & Clark Law School, and a Bachelors from Tulane University. She is a member of the Colorado Bar.
Anthony Adragna is a climate and energy reporter for POLITICO and the former author of Morning Energy. He's also the host of the daily POLITICO Energy podcast. Before joining POLITICO, he spent four and a half years covering EPA and other environmental issues with Bloomberg BNA. He is a Washington, D.C. native and a graduate of Middlebury College in Vermont.
Jeanne Merrill has more than 25 years of experience in agricultural, environmental, and energy policy advocacy at the state and national levels. Since 2009, she has served as Policy Director with the California Climate and Agriculture Network (CalCAN). Prior to her time with CalCAN, Jeanne worked with Michael Fields Agricultural Institute, the Center on Wisconsin Strategy, Greenpeace U.S. and Pesticide Watch. She served for six years on the Organizational Council of the National Sustainable Agriculture Coalition (NSAC). Jeanne holds a B.A. in political science from U.C. San Diego and an M.Sc. in Land Resources from the University of Wisconsin-Madison.
Before founding Climate Resolve, Jonathan Parfrey served as a commissioner at the Los Angeles Department of Water and Power (2008-2013). Jonathan is a founder and board member of CicLAvia, the popular street event, as well as a founder of the statewide Alliance of Regional Collaboratives for Climate Adaptation. He served as director of the GREEN LA Coalition (2007-2011), and as the Los Angeles director of Nobel Peace Prize-winning organization Physicians for Social Responsibility (1994 to 2007). Prior to that, Jonathan founded and directed the Orange County Catholic Worker (1987-1993). He was appointed to Governor Schwarzenegger's Environmental Policy Team in 2003.
Giana Amador is the co-founder and policy director at Carbon180. Over the course of the organization's history, Giana has worn many hats — from guiding the team's strategy and communications to more recently, leading the organization's policy program. Across her work, Giana is focused on connecting economic development, social justice, and climate action. A native of the Central Valley in California, Giana has deep expertise in agriculture and soil carbon sequestration, in addition to ushering in foundational policy work across all carbon removal solutions. Her past research focused on the political economy of renewable energy, with an emphasis on green industrial policy, job creation and training, and coalition building. She holds a degree in Environmental Economics & Policy from UC Berkeley.