My name is Destiny Rodriguez, and I am an advocate for a stable climate and clean air, water, and soil – and for the environmental protections that are required to achieve those things. I have been an advocate for these things for as long as I can remember – from organizing recycle days and beautification projects in high school to lobbying for clean air bills for the Central Valley in Washington, D.C.
I was not aware I was an "environmentalist" until my college years. While making a presentation about plastics in the ocean and the mass destruction of aquatic life, my peers informed me that I am a tree hugger and an environmentalist. I took both labels with pride and, in fact, felt compelled to do more for the environment. So I began interning for nonprofits.
I became involved with air quality issues in 2006 while interning with National Parks Conservation Association. I was shocked to find out how poor the Central Valley's air quality rated with other areas of California, and even more shocked to learn that the local air quality was affecting the Giant Sequoia sapling growth and the Rocky Mountain pika population. There was a direct correlation between the air quality and climate, and degradation of the pika's ecosystem threatened them. I wanted to understand why and how we could fix this problem, which led me to the realization that problems are caused by local pollution.
In 2008, I graduated from California State University of Fresno with a B.S. in Mass Communications Journalism and Chicano Latin American Studies. I am the first one in my family to achieve a college degree.
In 2009, I started lobbying to legislators with the goal of more stringent air quality regulations for the Central Valley. I did this for several years with many different organizations and advocates. While on a bus to Sacramento with my peers, I quickly understood that advocacy was needed to push policies forward in order to make our leaders act. It was on that bus, where I was then labeled as an advocate; another badge I wear with honor. Later I would come to learn that advocacy on a local level was just as essential as to our state representatives.
While working for Central California Asthma Collaborative, I focused on public health concerns regarding children and the elderly. Asthma attacks can be caused by unhealthy air quality and are directly responsible for the majority of emergency room visits among children in the Central Valley. One in five children within the Valley is afflicted with asthma, having the highest levels of asthma in the state. I worked with school districts and administrative staff to develop health policies to protect students from exposure on extremely hazardous air days, which are very common in the Valley. On these days, simply breathing without any strenuous activity can cause lung tissue to scar. As an environmentalist and an advocate, I was able to successfully engage over 1,300 schools in a four-year period to check air quality and make necessary adjustments prior to sports and outdoor play for students. These schools spanned from Fresno, Tulare, Kings, Kern, Merced, San Joaquin, and Stanislaus counties. It was not an easy task to get schools involved, but having everyone at the table – including county superintendents, school superintendents, district nurses, physical education directors, wellness directors, principals, PTAs, and student groups – made these changes easier to put into action.
Poor air quality is directly responsible for many of the health and environmental problems in the Valley. Humans created these problems and we are responsible for finding solutions to them. My goal is to bring positive change to California and more specifically to my community. I believe that in order for change to occur, we need everyone at the table. I have been actively involved in this effort for over ten years and I'm just getting started.
I am proud to be an environmentalist and an advocate and I look forward to working with the Center to bring all stakeholders to the table to collaborate on solutions that benefit everyone.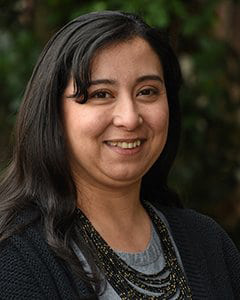 Destiny Rodriguez has worked on air quality, health, and environmental issues in the Central Valley for over a decade. Destiny has worked for the Central California Asthma Collaborative, Central Valley Air Quality Coalition, Coalition for Clean Air, National Parks Conservation Association, and the San Joaquin River Parkway and Conservation Trust. Destiny has a B.S. in Mass Communications Journalism with an emphasis on Public Relations, and Chicano Latin American Studies from California State University, Fresno.
Read full bio