We live in the age of fit-bits and health apps that give us instant feedback on step-counts and calories. So why not carbon footprints? How about connecting the dots between self-care, the health of our planet and the power of collective, measurable climate actions? At ECO2school, we closely consider the impact of our transportation choices on climate change and enable students to notice it through a similar kind of feedback loop. Students like that walking and biking is directly under their control, can improve their health positively, and is an excellent carbon-free behavior choice.
A high school student can save about 100 pounds of CO2 on average by choosing to walk, bike, or skateboard to school once a week throughout the school year. This year student leaders at twelve Sonoma County high schools –  Analy, Casa Grande, Credo, El Molino, Healdsburg, Maria Carrillo, Montgomery, Petaluma, Piner, RUP, Santa Rosa, and Windsor – took action to encourage their peers to use active and other eco-friendly commute modes. By putting on events like the ECO2school Challenge, Walki for Guayaki, Cocoa 4 Carpools, and other walk and bike activities, they were able to prevent 25 tons of CO2 (50,000 pounds) from being emitted, reaching more than 10,000 students county wide!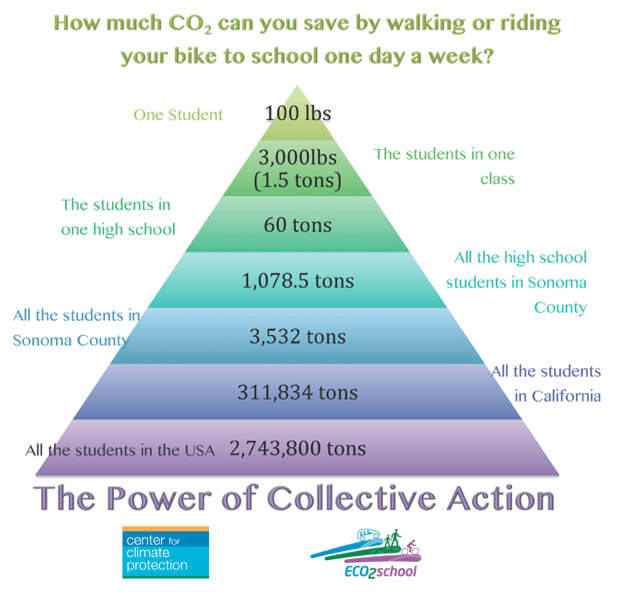 At the end of the school year, we invited our student leaders, their families, and teacher champions to celebrate with us. There was camaraderie and celebration in a room full of 50 people. We recognize our youth leaders' hard work and commitment to climate action throughout the school year. Three students were awarded The Climate Center's World Changer's Scholarship for $1000.
Many were hovering around the chocolate fountain, but students were eagerly gathered around data as well. Often during club meetings, students would express their frustration upon seeing their school parking lots full of cars despite efforts to encourage more walking and biking among their peers. "Are we really making any difference?" they would ask. However, looking at the data from their schools helped them quantify their success as a team and identify opportunities for greater impact.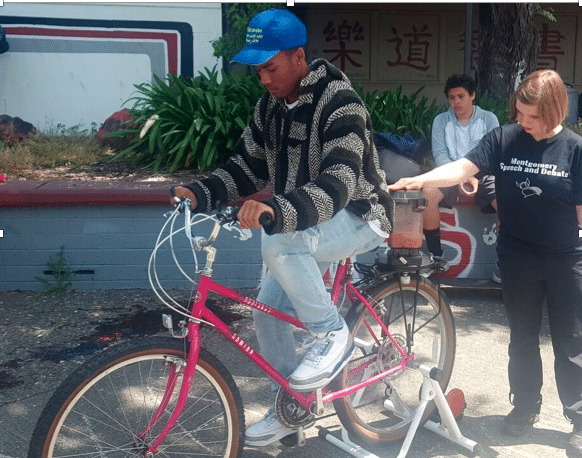 Coming together gave students the opportunity to reflect on the improvements they could make as a team to boost the participation at their school. Students plan to take this back to their clubs next school year making climate action fun and impactful with tangible greenhouse gas reductions.
Walking and bicycling to and from school helps develop a lifelong habit and supports a community-wide norm of incorporating physical activity into daily routines. We hope our students will connect the dots as they choose to walk, bike, ride the bus, and board the SMART train and we hope you will too!
Maitreyi discovered in her teen years her passion for holistic education – finding purpose in life through connections to the natural world, our community and to values of compassion and peace.
Read full bio