March 4, 2022 — Every scenario in which we limit global warming to 1.5 degrees Celsius, as outlined in the Paris agreement, involves dramatically cutting emissions and removing existing carbon pollution from the atmosphere. In order to achieve the latter, California policymakers are considering a wide variety of potential solutions, ranging from natural carbon removal solutions to technological methods like carbon capture and storage (CCS) favored by the fossil fuel industry.
The potential climate benefits of nature-based solutions and technological drawdown methods are, however, vastly different, as are the implications for environmental justice and frontline communities. This briefing is for reporters looking to gain a deeper understanding of how natural carbon removal methods — also called nature-based solutions — can advance climate and environmental justice in California. It will explore:
The costs of implementing nature-based carbon sequestration solutions at scale compared to technological drawdown methods;

Perspectives from environmental justice communities;

Co-benefits of nature-based solutions, including water security, wildfire resilience, and cleaner air; 

How efforts to sequester carbon can complement policies to reduce emissions and pollution; and

New state legislation related to natural carbon removal targets.
This briefing is scheduled for one hour, with the majority of time dedicated to Q&A. This event will be recorded and made available for future reference.
Who: This event is open to all reporters interested in learning more about natural carbon removal solutions and relevant California policy. 
Experts joining the briefing are:
When: March 16, 2022, 11am – 12pm PST.
Where: Virtual (Zoom). Register here. 
Additional resources: A recent report from The Climate Center found that California's working and urban lands have the potential to sequester up to 100 MMT of CO2e per year, equivalent to roughly one-quarter of the state's current annual greenhouse gas emissions. The report details how proven techniques like compost application, agroforestry, and urban tree planting can not only draw down carbon, but also improve water security, reduce air pollution and extreme heat impacts, and enhance crop resilience to extreme weather.
ENDS
Contact: Ryan Schleeter, Communications Director, The Climate Center: ryan@theclimatecenter.org, (415) 342-2386
About The Climate Center: 
The Climate Center is a climate and energy policy nonprofit working to rapidly reduce climate pollution at scale, starting in California. Our flagship Climate-Safe California campaign is a unique and comprehensive effort to make California the first state in the nation to reach carbon negative.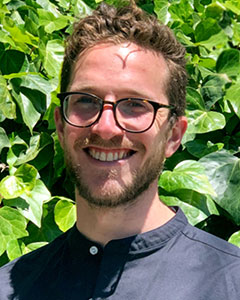 Ryan Schleeter
Communications Director
Ryan Schleeter (he/him/his) joined The Climate Center in 2021, bringing nearly a decade of experience in climate and environmental communications. As Communications Director, he leads The Climate Center's brand, message, content, and digital strategies, helping to grow the movement to secure a Climate-Safe California. 
Read full bio