Learning About a Just Transition
Thursday, October 28, 2021 
Presented in Partnership with Labor Network for Sustainability
This webinar will explore lessons from past economic transitions and offer recommendations for how to approach the transition away from fossil fuel production and toward a clean energy economy. We will hear from co-authors of Workers and Communities in Transition, a report from the Just Transition Listening Project, and representatives from the labor and environmental justice movements on how to support workers and communities impacted by the decline of the fossil fuel industry.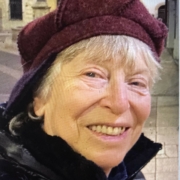 Vivian Price is Professor of Interdisciplinary and Labor Studies at California State University Dominguez Hills. She is a former factory and refinery worker and union electrician. Her published research centers on gender, race and labor in construction as well as labor and climate justice. Her current projects include climate literacy with Canada's Building Trades Unions (CBTU) and research for Research Council of Norway's collaborative international study "WAGE: Work and Labor in a Greening Economy". She is also a filmmaker, most recently co-director of Harvest of Loneliness on the Bracero Program with Gilbert G. Gutierrez (Films.com).
Aiko Schaefer directs the national Just Solutions Collective (formerly the 100% Network) which works to broaden and deepen the understanding of justice-centered policies and programs so BIPOC and frontline communities can better create, replicate, scale and build support for justice-centered solutions.
Aiko has worked for nearly 30 years on public policy campaigns around the US on anti-poverty, consumer protection and environmental conservation, as well as state and federal partisan campaigns. Prior to her role with the Just Solutions Collective, she was the Founding Director of Front and Centered, a BIPOC-frontline coalition in Washington State. In that role she co-chaired the state climate coalition of organized labor, environmental groups, Tribal Nations and others, that together drafted and qualified a just climate ballot measure in 2018 that was defeated by a $30 million campaign by the oil industry.
Aiko has been a union member or part of a union household for most of her life, as a daughter of an immigrant factory worker she understands first-hand the important role unions play.
Veronica Wilson joined Labor Network for Sustainability in 2018 when she organized the network's first Los Angeles Labor Convergence on Climate Change. She now supports unions across the state that are strengthening the labor-climate movement and advocating for an equitable transition for workers and communities. Before joining LNS, Veronica studied Zapotec language and land reform in Oaxaca, Mexico, and worked in labor education with a concentration on global solidarity. She has been a union member as a teacher and an ocean lifeguard, and is currently a member of UPTE-CWA 9119. Veronica volunteers for the Many Winters Gathering of Elders, an annual event to listen and learn about Native American cultural sustainability, self-determination, and sovereignty for future generations.
Michael Leon Guerrero has served as Executive Director of the Labor Network for Sustainability since 2016 after serving as the National Coordinator of the Climate Justice Alliance. Michael co-founded and served as the National Coordinator of the Grassroots Global Justice Alliance from 2004-2012, playing a leadership role in organizing the World and US Social Forums.
Bringing more than 30 years of community organizing and alliance building experience to LNS, Michael served as a field organizer and Executive Director at SouthWest Organizing Project (SWOP) for 17 years, leading successful environmental and economic justice campaigns. He helped strengthen environmental policy and enforcement in low-income Chicano communities.
Of Chamorro and Filipino descent, Michael also served as Executive Director of UNITY, an alliance of national alliances organizing in different sectors of working-class communities of color in the U.S., Michael serves on the boards of directors of Greenpeace, Inc. and the SWOP Action Fund, and is a former board member of Jobs with Justice.
Hunter Stern plays a key role for IBEW Local 1245 members by developing and coordinating local, state and federal energy and worker-friendly policy. Mr. Stern is responsible for protecting the interests of his members employed by Pacific Gas and Electric Company, NV Energy, Sacramento Municipal Utility District and 35 other utilities in California and Nevada, as well as workers for line and line clearance tree trimming contractors employed by these utilities.  Stern joined Local 1245 in 1994, and has built an extensive knowledge of state and federal legislative and regulatory issues and the design and implementation of clean energy policies.  In addition, he works with a wide variety of organizations to facilitate stakeholder and grassroots support for initiatives that create and support good-paying jobs, while providing clean, reliable and affordable energy to California and Nevada utility customers. 
Recently, Stern served as a Co-Chair of the Resilience Subcommittee of the Biden for President Policy Committee on Climate, Energy and the Environment.