Webinar: How Can CCAs Expand DER Deployment and Address Resource Adequacy and Climate Goals?
Wednesday, December 15, 2021 
Ramping up distributed energy resources (DERs) can help reduce greenhouse gas emissions and create a more resilient electricity grid. Community Choice Agencies (CCAs) must also meet mandated resource adequacy requirements — a reality that has become far more expensive in the past few years. In this webinar, two DER service providers will present both grid-side of the meter and customer-side of the meter approaches that can be deployed within the existing regulatory environment that will meet CCA and state goals, reduce resource adequacy requirements, and provide greater local capacity during planned and unplanned grid outages. A panel of CCA experts will respond to the DER provider proposals, discuss what their respective CCAs are working on to increase resilience in their service territories, and suggest what policy changes would support more rapid deployment of DERs.
JP Ross has been actively engaged with solar market development and commercialization since 1999. After completing a Masters Degree in Energy and Resources from the University of California at Berkeley, JP joined Greenpeace to advocate for wind and solar as an alternative to 50GW of new gas plants in response to the California Energy crisis. He then moved to Vote Solar, and successfully campaigned for California's Million Solar Roofs initiative that helped make solar energy the most cost-effective source of energy. In 2007 JP moved to Sungevity, where he helped grow the business from 4 to 750 employees as the third largest residential solar installer in the US. In 2015 JP joined Origin Energy, Australia's largest energy utility, where he lead the development of Origin's Solar PPA, Salesforce Program and Solar Channel Strategy. JP is now the Vice President of Local Development, Electrification and Innovation at East Bay Community Energy, serving electricity to 1.5M people.
Jim Baak brings over 30 years of experience in the energy industry to MCE, with a background in clean energy technologies. He manages MCE's Customer Programs for customer-owned Distributed Energy Resources (DER) – including solar PV, energy storage and electric vehicles. In addition to managing existing DER programs, Jim explores new initiatives that bring value to customers while helping reduce overall costs for MCE, with a special focus on providing resiliency for customers impacted by wildfires and other disasters. Prior to joining MCE, he managed utility solar and electric vehicle programs, led strategic planning efforts to support clean energy development throughout the Western US, provided expert testimony in regulatory and legislative hearings, and managed utility metering, rate design, and billing functions. He is a graduate of the University of South Carolina's Darla Moore School of Business with a B.S. in Economics.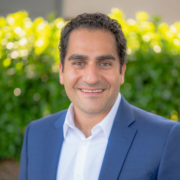 Ardi Arian leads the Renewable America team and its efforts to develop the Community Solar market through CCAs in California. Renewable America is committed to investing in end-to-end development of local small utility-scale solar+storage and multi-customer community microgrids projects, with a goal of supporting our communities through economic development and access to resilient renewable energy. He currently manages a strong portfolio of 31 projects with capacity of 180MWdc of solar and 298MWh of energy storage that is under development across California. Ardi started his career in solar 15 years ago in Germany, beginning as an Electrical Engineer, and he has worked internationally on the construction of over 60 solar projects (over 250 MW). Prior to starting up Renewable America, Ardi was General Manager for Suntech Power's project development team which focused on Community Solar.
Michael Norbeck leads the business development function for Grid Services at Enphase Energy, where he builds strategic partnerships and commercial transactions through which portfolios of distributed solar, battery and other customer-connected resources can deliver value as electric grid planning and operational assets. Michael began working in energy over 15 years ago, with positions in state and federal government focused on issues including retail electricity market deregulation and energy infrastructure management. At Pacific Gas and Electric, he managed integration of Distributed Energy Resources portfolios into wholesale markets, as well as utility procurement of DER products and services. Most recently prior to joining Enphase, he led business development for Grid Services at Sunrun, the largest residential solar and battery installer in the US.
Eric Little joined CalCCA as Director of Regulatory Affairs in 2021 and oversees the development, implementation, and management of CalCCA's regulatory strategies. Eric brings to the role more than 20 years' experience in the California electricity sector and is known for his effective coalition building and advocacy before the California Public Utilities Commission (CPUC), California Independent System Operator (CAISO), and Federal Energy Regulatory Commission (FERC). Prior to joining CalCCA, Eric held several positions of increasing responsibility at Southern California Edison including, most recently, Manager of CAISO and GHG Markets. Earlier in his career, Eric worked on energy procurement policy and compliance, transmission and distribution policy, and retail rate design. He also held the post of Manager of Market Design and Regulatory Policy at the CAISO.