For Richard Senghas and Tina Poles, "Standing Rock was the last straw."  Buying a Nissan Leaf through the Sonoma Clean Power Drive EverGreen program is "taking their next significant step towards weaning ourselves off fossil fuels," Richard posted on Facebook.  Since they are EverGreen customers, he points out that the energy for the car is 100 % renewable geothermal power produced locally from the Geysers.
On a recent weekend, three of my neighbors drove home in brand new Nissan Leafs. I sat down with them to find out more about what motivated each of them and how they like driving on electricity.
Patrick Picard's interest in electric vehicles goes way back to the movie: Who Killed the Electric Car.  Needing vehicles to run his business, Equinox Landscaping, he has always considered the impact of his fuel choices and previous vehicles ran on veggie oil and injected propane.  Most recently he was driving a hybrid car which was totaled in an accident.  Patrick turned that incident into an opportunity to switch to an electric vehicle as a way to, "get off fossil fuels and stop foreign wars." He learned about the SCP Drive EverGreen program and waited a few weeks to take advantage of the deep discounts.
Ben Ford and Judy Newton wanted to lower their carbon footprint.  They've been driving the same car for 15 years but the opportunity to go from 30 mpg to 100 mpg was very attractive.  Having looked into switching to an EV about a year ago, they were excited for the incentives that made owning a new Leaf cost less than the used deals they'd seen before.  They purposely don't drive much as they live locally and Ben bike commutes to work. So, "range anxiety" was not a big concern but, as a one-car family, it gave them pause. They solved the issue by partnering with a close friend not ready to buy an EV but happy to share her hybrid car when needed for longer sojourns.
All agree that the Leaf is fun to drive: "sweet", "quiet", "feels futuristic", "zippy" were some of the comments.  Judy said she likes that the car, "pushes you to conserve even more to extend the range".
Patrick says he, "loves not going to the gas station anymore" and also appreciates that when charging at home on Sonoma Clean Power's Evergreen service, the power is "clean."  He wonders about the source of the electricity when charging at public chargers.
As for "range anxiety", it hasn't been a big issue for these new owners. Patrick drives a lot for his work including quite a bit of travel in Marin Co. He says, "range anxiety is real but it's working out.  Driving electric makes it necessary to think about trips – which I like. And my job is flexible so I can work at a café and charge up, if needed."  Patrick also mentioned that the EV community is very supportive – he's been offered free charging from a next-door business.
For Tina, who commutes 15 miles, range is not a problem but charging infrastructure had previously been a barrier.  Living in a multi-family complex with no garages, makes it more challenging to install home chargers. But she has the option to charge at her workplace and that has made all the difference –especially because the solar panels provide for a "clean energy charge." Richard suggests that, "Workplaces should support this. If companies employ many people who live in multi-family dwellings, the company can do a true service by installing chargers at work."
Richard also expressed his excitement about the Sonoma Clean Power Drive EverGreen incentive program: "How do you shift the behaviors, choices, opportunities at the county level?  With this program, local individuals are given opportunities because of local agencies. This shunts our county so much further forward.  Solutions will be different in different regions. An area that doesn't have magma but uses coal will have a different solution, perhaps solar.
"These incentives normalize the adoption of EVs – the single best thing a person can do to reduce their GHG emissions. Purchasing an EV goes from bleeding edge to leading edge to normalized.  For those that can do it and help work out the kinks in the program, they become activists. It feels better than sending a letter to somewhere and helps pilot the system so it can be more broadly implemented."
Tina's final comment was pondering whether her zippy, carpool lane commute in the Leaf would diminish her interest in riding the SMART train. But then she mused that she could read on the train.
More information on the Sonoma Clean Power Drive Evergreen incentive program: https://sonomacleanpower.org/drive-evergreen-get-an-electric-car/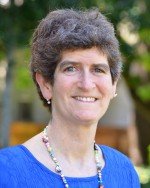 Laurie-Ann Barbour
Administrative Executive Assistant
A native Californian, Laurie-Ann grew up in San Francisco and earned a BS in Soil Science from Cal Poly.
Read full bio