Imagine a highly trafficked street with negligible space for bike lanes, narrow sidewalks, limited tree cover, zero grocery stores in sight, and homes tucked right off the road. Climate change-driving emissions spew from gas-guzzling cars that zoom not far from the same neighborhoods children are growing up in right now, the same areas where older adults are spending their later years dealing with respiratory illnesses. 
Sadly, this toxic transportation scene plays on repeat throughout much of California every day.
We know the state must invest in sustainable mobility in California's most disadvantaged communities, as laid out in The Climate Center's Climate-Safe California Campaign. That means reprioritizing transportation investments to support housing near jobs and other essential services; phasing out polluting gas-powered cars and driving adoption of electric vehicles (EVs) and installation of charging stations; improving access to zero emissions public transit; and designing other innovative programs that reduce air pollution and improve health. Learn more about our clean mobility platform here. 
Before we run through a round-up of local green transportation initiatives, let's start by acknowledging that the way our transit infrastructure was developed in so many California communities was and remains inequitable, inefficient, and devastating to public health and the environment.
San Joaquin County is an instructive case study in what has happened across the state. Erin Reynolds, associate program manager for Public Health Advocates, attributes the interrelated transit and health inequities that many San Joaquin County residents face today to redlining practices in the 1930s and years of subsequent discriminatory housing practices that denied services to and restricted investment in black and brown communities. 
Reynolds says segregation left pockets of Stockton neglected as developers drove urban sprawl north of Downtown. Development of single-family homes farther away from other land uses like stores and restaurants increased traffic and drive times, all of which spewed more air pollutants.
Formerly redlined neighborhoods in Stockton are now suffering from some of the most toxic air quality and highest rates of respiratory illnesses, poverty, housing insecurity, and unemployment in California. These are neighborhoods like Little Manila and Boggs Tract near the highly trafficked junction of Interstate 5 and the Crosstown Freeway, the construction of which played a significant role in displacing the largest community of Filipinos outside the Philippines in the 1970s. With the vast majority of industrial zoning located in South and Central Stockton, communities are also exposed to diesel trucking routes off the freeway and other sources of industry pollution.
"Folks are dealing with health burdens, because we have communities that have been disinvested in, with no proper infrastructure – things that people need to live active, healthy lives," Reynolds says. "These areas don't have well-maintained sidewalks or good access to parks. Communities are bogged down with higher crime rates, so people are not feeling safe in their surroundings. Not being able to enjoy your neighborhood and lacking access to healthcare and healthy foods impacts mental and physical health."
Clean transit investment in disadvantaged communities is long overdue. In San Joaquin County, a number of model initiatives are being undertaken to improve transit infrastructure and planning and reduce emissions.
Round-up of San Joaquin County Sustainable Mobility Projects
EV, E-bike share grant set to hit the streets in Stockton

Proposed for a $7.4 million grant award from the California Air Resources Board, the San Joaquin Council of Governments anticipates kick-off in late Spring of 2021 for the Stockton Mobility Collective Project to introduce EV- and E-bike-sharing programs (100 bikes and 30 cars); 20 e-workforce apprenticeships; a shared-mobility incentives program to provide fare discounts to qualified riders; and improvements to the one-stop-shop

Vamos Mobility app

. The app will soon include EV and e-bike share services. "We hope that providing these resources in the coming year will help families recover from some of the negative impacts of the pandemic and generate support for clean transportation in the region," says SJCOG Senior Planner Christine Corrales.
Major improvements to Minor Ave. 

A 10-block stretch of Minor Ave from Center St. and Aurora St. in Stockton is getting a bike- and pedestrian-friendly facelift. Paid for by a Complete Streets grant, improvements include buffered bicycle lanes, landscaped medians, signal and lighting improvements, a roundabout, sewer line upgrades, and sidewalk extensions with ADA compliant crossings and bollards. City staff say the project is estimated to be finished by the end of 2021.
Stockton Diamond Grade Separation project

The San Joaquin Regional Rail Commission is proposing a flyover to decrease rail congestion and emissions south of Downtown Stockton near Aurora Street South and East Scotts Avenue. Planners say reducing delay time for vehicles and trains at the Stockton Diamond junction would cut emissions and improve local air quality. Construction on the $237 million project would likely start in May of 2023. 
SUSD bus fleet electrification

Funded through state grants,

Stockton Unified School District

(SUSD) has electrified 6 of its 96 buses, and plans to have five more on routes by the end of May. This project is especially important because it's eliminating harmful tailpipe emissions near the district's 54 schools, which are located in and around disadvantaged communities with some of the worst air quality in the state. SUSD is striving to become the first

zero-emission school district

in California.
Let's advocate together for clean, equitable transit solutions.
For more information, check out The Climate Center's Sustainable Mobility webinar. Endorse Climate-Safe California here to urge your state legislators to set more aggressive Greenhouse Gas emission reductions goals through policies that center environmental justice and help us adapt to climate change.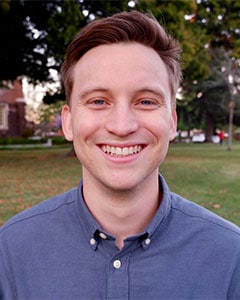 Davis has a background in journalism, with experience on the environment and local government beats. In his work with Rise Stockton – a coalition of nonprofits and the City of Stockton – Davis served as the technical writer for the Sustainable Neighborhood Plan, a framework for shifting to sustainable development practices in Stockton, with an emphasis on planning in historically lower-income communities. Davis has a B.A. in Environmental Studies from the University of California, Santa Cruz.
Read full bio