by Hiroko Tabuchi, The New York Times
---
Highlights
The California Air Resource Board unanimously voted in a new rule requiring more than half of all trucks sold in the state to be zero-emissions by 2035
This rule is expected to reduce greenhouse gas emissions, improve air quality, and establish California as an EV manufacturing hub
100% of trucks on the road will be electric by 2045
The Inland Empire in Southern California has been exposed to high levels of pollution due to mass amounts of delivery trucks, reaching up to 1,200 per hour
Due to increases in online shopping, areas such as the Inland Empire, that have many warehouse facilities will continue to experience emissions from diesel trucks
Though diesel trucks only make up 7% of vehicles registered in California, they cause 70% of smog and 80% of particulate matter pollution in the state
The removal of diesel trucks will eliminate 60,000 tons of nitrogen oxides, preventing more than 900 premature deaths and delivering at least $9 billion in public health benefits
---
Science demands that we eliminate the use of fossil fuels by 2030 to avoid worst-case climate impacts. The Climate Center's Climate-Safe California campaign calls for clean mobility solutions, including a phase-out of all gas-powered vehicles to reach net-negative emissions by 2030.
---
Read More: https://www.nytimes.com/2020/06/25/climate/zero-emissions-trucks-california.html?referringSource=articleShare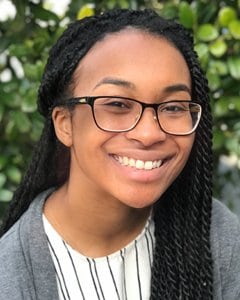 Nina Turner
Energy Programs and Communications Coordinator
Janina is a graduate of the Energy Management and Design program at Sonoma State University with experience in non-profits that specialize in sustainability and volunteerism.
Read full bio