I'm pleased to be joining The Climate Center as the Central Valley Regional Organizer.
Born and raised in the Central Valley of California, I have spent my adult life working with our community members to improve the condition we find ourselves in. My journey as an organizer began almost 20 years ago when I first became a union member.  
Starting in 2003, I became a member of the Communications Workers of America through my place of employment. Volunteering with my union, I began engaging other labor organizations and community organizations to progress the rights of working people. Through my union involvement, I began leading on political issues that affected workers including lobbying local, state, and federal elected officials.
In 2010, I was elected as Vice President of the Kern, Inyo, and Mono Counties Central Labor Council (CLC). With the CLC, I began leading on political campaigns and key legislation to move workers' issues forward. Here, I would become involved in historic, national movements such as the 2010 fight for health care reform and the 2012 push for comprehensive immigration reform. In 2014, I was elected President of the CLC, where we continued our work to elect more pro-worker officials, pass pro-worker legislation, and stop any legislation meant to harm working people. I was brought on at SEIU 521 in 2017 where I would serve for 5 years as the Political and Community Organizer for the southern Central Valley. Here, I would focus on developing our members as leaders and helping some get elected to office. I would also train and lead members to lobby their elected officials.  
Much like working people, the environment needs to be protected from the forces who intend to do harm. I was drawn to The Climate Center because of my drive to organize and work with our community members to improve the condition of the Central Valley. Over the years, I have seen our air quality continue to be some of the worst in the nation. I have seen our rivers and lakes dry up. My grandparents were some of the first people in the state to have their home's well dry up and need to have their water trucked in weekly. Our health outcomes are some of the worst in the state with life expectancies years less than people in other parts of the state.
There is a lot of work to be done in this region to make the change that we need. I feel The Climate Center is capable of making that change and I am excited to be part of it!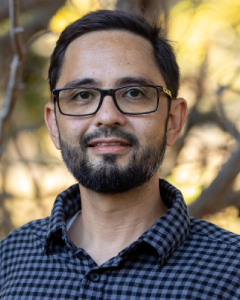 Rob England
Central Valley Regional Organizer
Rob was born and raised in the San Joaquin Valley of California and has spent the last five years as a political and community organizer for the Service Employees International Union where he developed member activists, lobbying, and electing member and community leaders to office. He has extensive experience in coalition building, advocacy, training, lobbying, grassroots organizing, leadership development, and strategic campaigns. Over the last 14 years, he has dedicated himself to forwarding the rights of working people as a labor political organizer and policy advocate.  Prior to The Climate Center, he was an active member of The Communications Workers of America where he organized his coworkers around political activism. Through his union involvement, Rob was elected Vice President and then President of the Kern, Inyo, Mono Counties Central Labor Council where he worked with affiliate unions on strategic campaigns. In his spare time, he enjoys fishing, tending to his garden, cooking and spending time with his wife and their many rescue dogs and cats.
Read full bio