On June 14, I met up with a group of 20 young people as they marched from Sonoma County to the Marin Headlands. Many of these trekkers started their journey from Santa Rosa, while a select few started their journey in Paradise, California, the site of the deadliest fire in California history. Even though everyone's feet were hurting by the end of the day and the fog brought a chill to our campsite, the excitement for the next day was palpable. Together, we planned to walk from Marin across the Golden Gate Bridge into San Francisco — the final leg in the 266-mile march from Paradise.  
There, more than 100 of us made our demand clear outside Speaker Nancy Pelsoi and Senator Diane Feinstein's homes: Pass legislation to create the Civilian Climate Corps (CCC).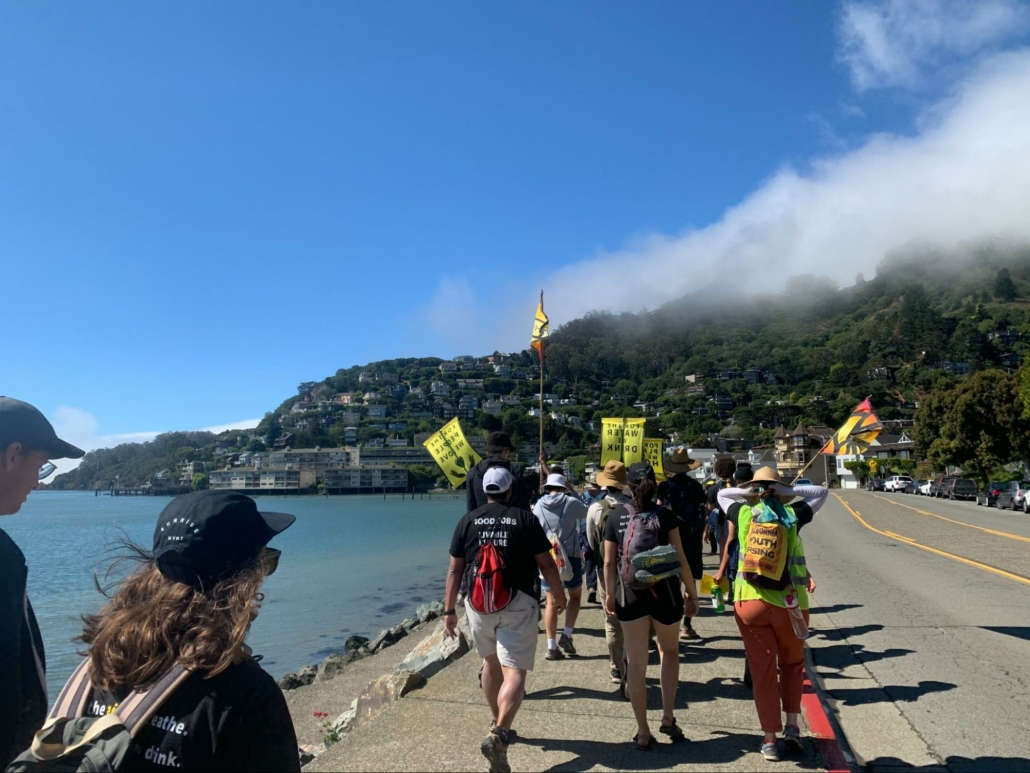 For two years, I've been organizing with the Sunrise Movement in Sonoma County. Sunrise is a youth-led movement working to halt the climate crisis by calling on politicians to enact Green New Deal policies, transitioning the United States away from a fossil fuel economy, toward renewable energy, and creating millions of good-paying jobs in the process. The Sunrise Sonoma County hub works to bring the pillars of the Green New Deal — such as climate justice, livable wages, affordable housing, and green jobs — to life at the local level.
The launch of a Civilian Climate Corps would put 1.5 million people to work over five years. These are jobs that move us toward a regenerative, green economy, creating a world of opportunity for Americans struggling to find stable employment in the wake of COVID and helping to curb climate change at the same time. As we transition away from fossil fuels, the Corps can provide jobs in the energy sector as well as opportunities focused on restoration, decarbonization, and community revitalization. In California, the Corps could also provide jobs that focus on wildfire prevention, renewable energy, habitat restoration, public transportation, and affordable housing. 
The Civilian Climate Corps is inspired by the Civilian Conservation Corps of the New Deal era, which put people to work by planting trees, developing recreation areas, and upgrading infrastructure. But this updated version is designed to be more equitable and inclusive. New Deal programs like the Civilian Conservation Corps discriminated against African American and Indigenous men, who were segregated from their white counterparts in the workforce. And women, regardless of race, were not even allowed to join the corps and were sent instead to women-only work camps. This time around, we want to ensure that the communities that have been harmed the most by climate change and fossil fuel pollution are the first to benefit. We're demanding that 50 percent of job opportunities go to environmental justice communities and half of all projects are happening in these communities.
Furthermore, it's vital that the jobs created by the Corps pay at least $15/hour, come with good health care benefits, provide education grants to help pay off student debt, and offer long-term career opportunities so workers can afford to take care of themselves and their families. 
The movement for a Civilian Climate Corps took to the streets again on June 28, this time in front of the White House. There, more than 500 Sunrisers demanded that President Joe Biden include the Civilian Climate Corps in the infrastructure package Congress is negotiating right now — and 13 activists were arrested for peacefully blockading the entrance to the White House. A contingent of California-based Sunrisers marched to Speaker Pelosi and Senator Feinstein's D.C. homes for another protest on June 29. 
Today we showed up to @JoeBiden's doorstep with 500+ people and blockaded every entrance to the white house, demanding that he include a fully funded #CivilianClimateCorps in his infrastructure bill.

Secret Service then arrested dozens of us. pic.twitter.com/hpBSrhnhF1

— Sunrise Movement 🌅 (@sunrisemvmt) June 28, 2021
Knowing that climate catastrophe is hovering over my future and that of my generation is why I fight for Green New Deal legislation like the Civilian Climate Corps. Knowing that a better future is possible but watching critical climate resolutions be tossed away is what ignites my generation to organize and protest. Experiencing record-breaking wildfires year after year, as well as drought, heatwaves, and floods in my backyard, I have no choice but to continue the fight for a safe future. To see that future come into fruition, it is crucial that we see mass mobilization in support of a Green New Deal and Civilian Climate Corps. The CCC is only one part of a larger vision for a just and livable future, and it's time for our elected leaders to understand that we will not accept compromises or excuses.
The federal infrastructure package must reflect on the urgency of the crises we are in.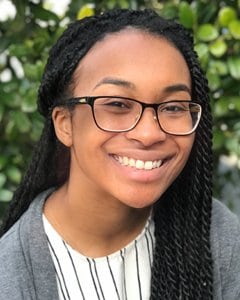 Nina Turner
Energy Programs and Communications Coordinator
Janina is a graduate of the Energy Management and Design program at Sonoma State University with experience in non-profits that specialize in sustainability and volunteerism.
Read full bio