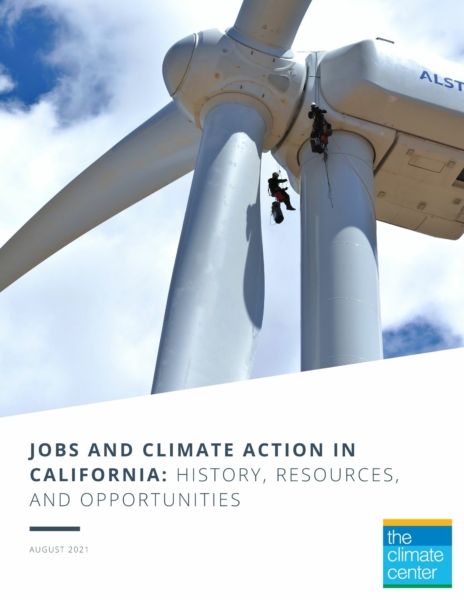 Download Report
As California responds to the climate crisis, new industries will grow and others will shrink. Research shows that hundreds of thousands of permanent jobs will be created by working towards state climate stabilization targets. At the same time, jobs in legacy industries — oil, gas, and refineries, for example — are likely to decline.
Ensuring that workers and their families are cared for in the transition to a clean energy economy is a core principle of The Climate Center's Climate-Safe California campaign. Workers in fossil fuel-related industries deserve a place in the vibrant economy of the future, even if fossil fuels don't. What policies and strategies are needed to provide for displaced workers and create a fair and equitable economy for everyone?
This report reviews and summarizes key resources around jobs and climate action in California. It describes the labor and environmental justice histories of past economic transitions. It also examines case studies of attempts to provide for workers in transition and analyzes the present state of play in California. It ends with recommendations for how California can take the high road and ensure labor and climate goals are advanced in tandem.
This report is a resource for anyone seeking to gain a better understanding of the intersection of climate action, jobs, and justice in California.