I am beyond thrilled to join The Climate Center as the Community Energy Resilience Project Manager. Prior to joining The Climate Center, I worked with the UFW Foundation in multiple roles including Community Organizer and Emergency Relief Program Manager. My passion to join the nonprofit sector began at a very young age. As farm workers, my parents oftentimes relied on nonprofit organizations to help them navigate through difficult and challenging situations. As I grew older, I admired the patience of each individual that helped us, whether it was learning about a new program that would benefit the health of our family or navigating the difficult application process of one of these new programs. At a very young age, I knew I wanted to be part of an organization that also helped facilitate and navigate challenging processes for disadvantaged communities.

During my time as an organizer, I had the opportunity to work with immigrant communities and farm workers in rural areas to help advocate and lobby for farm worker rights and the banning of harmful pesticides. Through my organizing work, I learned about many current issues that impact frontline workers including the climate crisis. Having grown up in the Central Valley, things such as asthma, severe allergies, and valley fever are not uncommon as the Central Valley has some of the worst air quality in the entire country.
For many of us, it takes a family member or loved one to be impacted by a specific issue before we turn our heads and start asking questions such as: "Who is accountable?" or "What can I do so that no other family has to go through this?" It took my father being diagnosed with Valley Fever for me to take a step back and realize the climate crisis that we currently face and the importance of taking action now. Valley Fever's symptoms are very similar to flu-like symptoms and oftentimes get misdiagnosed until it is too late.
Today, we see a very similar situation happening in California. Each year we hear and know more people close to us who are impacted by wildfires, floods, extreme drought, heat, and rising temperatures which leads us to similar questions: "Who is accountable?" and "What can I do so that future generations don't experience what we are experiencing now?" One of the things I have learned in the nonprofit sector is that most people are interested to learn how they can play a role in creating change in their communities. The missing component in many communities is the call to take action now. Not tomorrow, or next week, but now. This is why I am excited to join The Climate Center and be part of the movement to create bold change in California for a climate-safe future.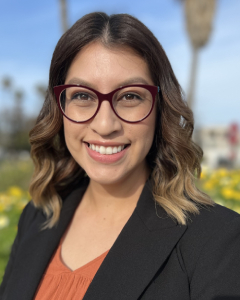 Pamela Martinez
Community Energy Resilience Project Manager
Pamela Martinez has over five years of experience in the nonprofit sector working to address social challenges specific to farm workers and immigrant communities. Prior to joining The Climate Center, she worked with the UFW Foundation as the Emergency Relief Program Manager. Through her Program Manager role, she helped provide critical resources to farm workers and immigrant communities throughout the Pacific Northwest during the COVID-19 pandemic by assisting in establishing a call center that provided direct relief to those in need. Pamela started her career as a volunteer coordinator where she recruited volunteers for various projects. She then joined the UFW Foundation as a Community Organizer where she designed and implemented innovative solutions for social justice challenges in rural communities. She has also been involved in several advocacy campaigns and policy initiatives on issues such as banning harmful pesticides, gender equality, and human rights. Her passion and dedication to serve communities through the nonprofit sector stems from her upbringing and farm worker parents. Pamela looks forward to channeling her passion of working with underserved communities and creating meaningful change one step at a time in the environmental movement.
Read full bio