As an organization committed to inspiring students to reduce greenhouse gas emissions, it is particularly saddening to comprehend the links between climate change and the California fires. With the fires still burning throughout Northern California, we are trying to make sense of what are being called the most deadly and destructive wildfires in California history. Like so many of us in Sonoma County, here at ECO2school, we are in uncharted territory.
During our team meeting last week, we were stumped with what our next move should be. Ash, smoke, and haze contributed to overall feelings of disorientation, depression, grief, and confusion. Something had to be done to help our students bridge the gap between the trauma and the need for action.
We decided to set aside our usual agenda and come together and break bread. No youth leadership training. No carbon reduction techniques. No public speaking workshop. Nothing on the agenda but to share a meal, offer each other support, and communicate the old fashion way: face-to-face.
Invitations were sent to all of our Youth Advisory Board members and their families. Many had been evacuated from their homes but a small contingent showed up along with some family members. For many, it was the first interaction with the outside world for almost a week. One student had lost her home and everyone knew of multiple classmates, friends, and extended family members who had lost homes as well.
It was heartening to see our students in person, to hear them talk and at times even laugh. It gave us a moment of normalcy, to breathe, center, and regroup. Students talked about losing their homes, volunteer efforts they had made at local shelters, and websites they were promoting that match families in need with families wanting to help.
It is inspiring to be around our student leaders. We all look to our youth for their curiosity, positivity, honesty, and perseverance. We are reminded by our students that this disaster, while horrific, presents us with an opportunity. Students enthusiastically affirmed their commitment to climate work and to the upcoming Green Teen Gathering.
The fires reaffirmed for us that we need to candidly discuss why these events are happening and where to go from here. Most who are following climate science believe this is the new normal. Are we going to appropriately respond and put the climate's stability above daily convenience? If not now, when?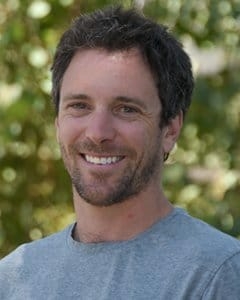 From skidding around on his big wheel as a toddler to becoming a utility cyclist as a young adult, Kevin has always had a huge fascination with self-powered transportation. He has a pair of B.A.'s from UC Santa Cruz and an M.A. from San Jose State.
Read full bio