by Kevin Anderson, The Climate Center
"They already made those changes?" a student excitedly asked during a recent discussion in Mrs. Marika Ramsden's One Planet Living class at Credo High School in Rohnert Park. There were a number of Credo students surprised to find that some of their very own recommendations for bike and pedestrian-related infrastructure changes, made only last fall, had already been completed.
First, a little background on the project. Over the past couple school years as part of an Active Transportation Planning grant, ECO2school, in partnership with W-Trans Engineering, has been conducting Walk Audits at eleven public high school campuses throughout Sonoma County. Walk Audits involve the systematic gathering of information about environmental conditions around a school that impact students' ability to bike or walk safely and easily to and from campus. This information is gathered through a community process that encourages various stakeholders to participate.
Credo's Walk Audit took place last Spring with a handful students and teachers participating in the first inspection. Engineers then compiled a list of their infrastructure recommendations. We organized multiple follow-up meetings last Fall with students, parents, administration, Rohnert Park Public Works and Police, and community members reviewing the first round of initial recommendations and contributing their perspectives.
Students, staff, admin, and engineers conduct the initial Walk Audit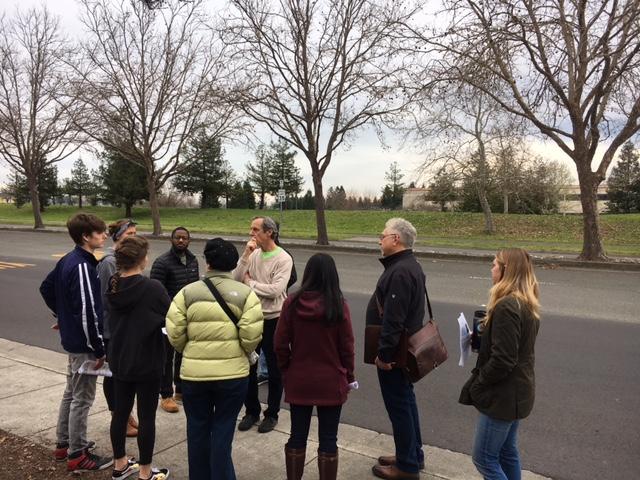 We usually tell students and community members who participate in these projects that it can take anywhere from four to ten years to see the infrastructure changes completed. That it depends on a variety of factors from the amount of vocalized community support and documented public engagement (such as a walk audit), funding cycles, even a city's current bicycle and pedestrian master plan can determine when, and if, the changes are made.
There is another side to this story though. Because Credo High School sits at the heart of Sonoma Mountain Village (SOMO), an internationally-recognized mixed-use development site and One Planet Living Community, we were able to bring SOMO into the conversation. Tina Montgommery, General Manager of SOMO Village, attended one of those meetings last fall and listened intently to the observations and suggestions made by the students and city. A couple of those student recommendations fell directly on SOMO's property: adding additional bike racks at the northwest corner of campus and paving a gap between an existing campus path and the SMART Trail.
The gap between the SMART Trail and the campus path:
Before After
But SOMO Village did more than just listen. Before the end of last year, the bike racks were added to the northwest corner of campus; moreover, they were perfectly placed under the awning which keeps the bikes safely parked out of the rain. As for the rutted-out, often mud-filled gap badly in need of a fix? That was done too. An aggregate path that students can walk, bike, and skate now connects the SMART Trail to the campus path rain or shine.
New bike racks and under the awning!
This success story cannot be overstated. When we look at solving the climate crisis both transportation and the redesign of our built environment are paramount. In this case, the collaboration between youth, public, and private entities helped streamline some important infrastructure changes that will make cycling, walking, and taking public transportation safer and more convenient. To reduce greenhouse gas emissions at speed and scale we must find ways to create and grow more partnerships just like this. What is your big idea to help transform your school and community into to a bicycle and pedestrian-friendly place? Please contact ECO2school today and let's find a way to make this happen!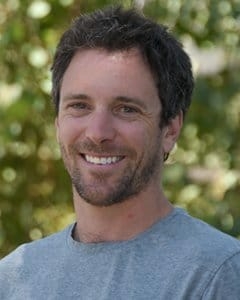 From skidding around on his big wheel as a toddler to becoming a utility cyclist as a young adult, Kevin has always had a huge fascination with self-powered transportation. He has a pair of B.A.'s from UC Santa Cruz and an M.A. from San Jose State.
Read full bio