by Shannon Osaka, Grist
---
Highlights
There are 35 Senate seats being voted on this November, with Maine, North Carolina, Iowa, and Montana being deciding factors on whether a new administration could pass effective climate legislation.
Iowa – Joni Ernst (R) vs. Theresa Greenfield (D) 
Joni Ernst previously received funding from Charles and the late David Koch and is anti- Green New Deal
Theresa Greenfield argues that the country needs to take "urgent climate action" and wants the state to have the first net-zero farm industry in the world
Greenfield is currently leading Ernst, 47% to 43%
Montana – Steve Daines (R) vs. Steve Bullock (D) 
Governor Steve Bullock commissioned the Climate Solutions Plan, expanding energy efficiency and boosting renewables across the state but still supports fracking
Senator Steve Daines, the Republican incumbent, is not a proponent of a carbon tax and believes it to be a job killer
Bullock tied with Daines at 48%
Maine – Susan Collins (R) vs. Sara Gideon (D) 
Senator Susan Collins is a moderate Republican who has supported some climate legislation in the past but has now received 21% on the League of Conservation Voters scorecard
Sara Gideon has put several landmark climate bills through the state legislature, including one that requires the state to get all of its electricity from renewable energy by 2050
Gideon has a one point lead over Collins
North Carolina – Thom Tillis (R) vs. Cal Cunningham (D) 
Cal Cunningham opposes the Green New Deal but wants more renewable energy and believes the U.S. should rejoin the Paris climate agreement
Thom Tillis has revoked his stance against human-caused climate change but still refuses to support the Paris agreement and believes market-based solutions will solve the crisis
Cunningham is polling ahead of Tillis, 37% to 41%
---
This upcoming election will determine how many climate champions will be in office to pass important environmental and climate legislation. See resources on how to vote for the climate and how to vote early in this 2020 presidential election. 
---
Read More: https://grist.org/politics/these-4-toss-up-senate-races-joni-ernst-susan-collins-cal-cunningham-might-determine-the-fate-of-the-planet-and-climate-change/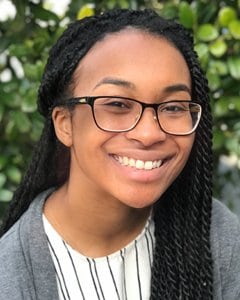 Nina Turner
Energy Programs and Communications Coordinator
Janina is a graduate of the Energy Management and Design program at Sonoma State University with experience in non-profits that specialize in sustainability and volunteerism.
Read full bio