Senate Energy Committee
Support Testimony for SB 99
April 19, 2021 Hearing
Good afternoon Chairman Hueso, Vice-Chair Dahle and Members of the Committee.
My name is Kurt Johnson, I'm the Community Energy Resilience Director at The Climate Center. Our flagship Climate-Safe California campaign aims to accelerate California climate policy timelines to achieve net-negative emissions by 2030: an acceleration which is commensurate with the latest climate science.
Energy resilience is a core component of our climate policy efforts because one of the climate change impacts we're experiencing  — dramatically worsened wildfires — has created enormous problems for California's electricity reliability.  This problem will become even more acute as we electrify more and more of our economy in order to reduce fossil fuel use.
SB 99 can help solve our energy reliability problem:  it directs the California Energy Commission to create a technical assistance and grant program that will support local governments in creating community energy resilience plans: a necessary first step to facilitate federal, state and private sector investment in enhanced energy resilience.   
SB 99 prioritizes vulnerable communities, which already suffer disproportionately from air pollution and high rates of respiratory disease — problems which are being exacerbated by the recent rapid acceleration of new diesel generation. 
SB 99 provides a better way of enhancing energy resilience: with local clean energy infrastructure rather than diesel — leveraging the investments which California ratepayers and taxpayers have already invested at the CEC. 
As we approach the 2021 fire season — which will likely include more power outages — I urge you to support SB 99, which charts a course towards a cleaner, more resilient energy future for California.  Thank you.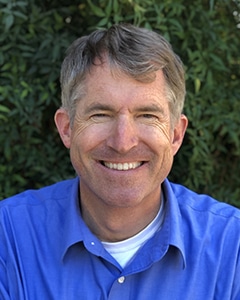 Kurt Johnson
Community Energy Resilience Director
Kurt began working at the Center in 2019. He previously founded and directed a renewable energy project development consulting firm, bringing new projects online ranging from 8 kW to 8 MW. Kurt also founded a small hydropower trade association where he lobbied successfully for regulatory reform before Congress and the Colorado legislature. Kurt also worked in the solar industry for Recurrent Energy and also for the California Public Utilities Commission in San Francisco. Kurt worked at the U.S. EPA for eleven years where he founded the EPA renewable energy program, the Green Power Partnership. Kurt started his career in 1991 working on Capitol Hill in Washington, DC as a Legislative Assistant for U.S. Rep. Richard Swett (D-NH). Kurt holds an MS in Environmental Sciences and Policy from Johns Hopkins University and an MA and BA from Stanford University.
Read full bio