My thighs are burning but better that than a burning planet! Having never done any more biking than commuting to work or buying groceries, I stepped out of my comfort zone and signed up for the Climate Ride California – riding 250 miles over 5 days from Santa Cruz to San Luis Obispo to raise awareness and funds about the climate crisis. So far this year, I've logged 885 miles in training, eaten countless burritos, and apologized to my cat for never being home.
Our The Climate Center team of 4 intrepid riders has pledged to raise $20,000. With only weeks to go, we're more than $3,000 from our goal.
Please support us and you will be supporting the Center's vital work >>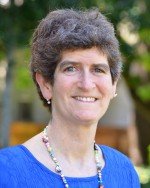 Laurie-Ann Barbour
Administrative Executive Assistant
A native Californian, Laurie-Ann grew up in San Francisco and earned a BS in Soil Science from Cal Poly.
Read full bio