Over four million of us demonstrated across the world on September 20th. School strikers, unions, businesses, teachers, scientists, celebrities, and religious organizations took to the streets. Hearing the call to action from Greta Thunberg, people united across time zones and cultures to fight the fossil fuel industry for our future.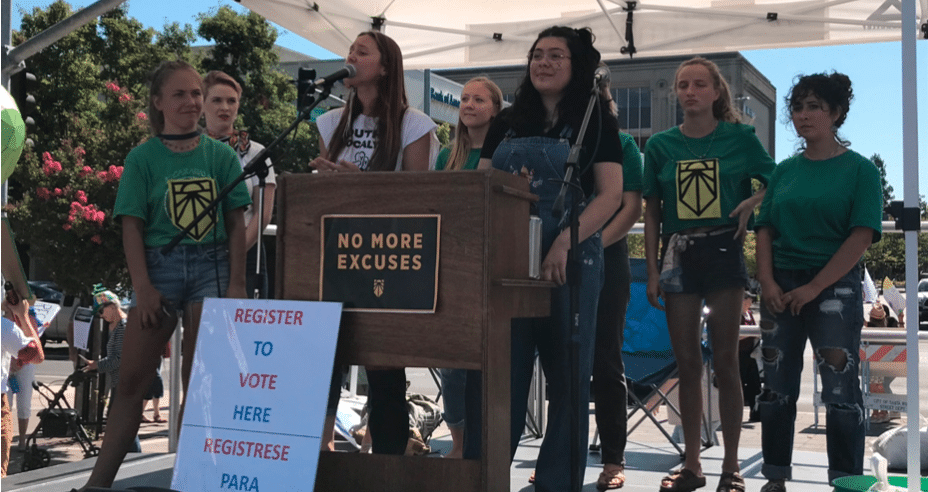 While we might all expect mass protests in our urban centers, this movement has become so wide that even in suburban Santa Rosa, a coalition of climate organizations came together to organize rallies with over 2,000 young people and adults taking to the streets. Our young people are taking the stage and demanding an end to the age of fossil fuels and a livable future.
Evelin Aquino, a senior at Roseland University Prep in Santa Rosa spoke passionately in Spanish, a reminder that we are not a homogenous group. [translated] "We see the effects of climate change in our community. To this day we are still affected, whether from fires or air pollution. There will be no land or nation to govern if politicians do not take immediate action. We have to implement laws to regulate the use of fossil fuels and protect our forests to avoid global catastrophe." Our youth know the science and they know that aggressive policies for rapid decarbonization are required.
Estrella Pacheco, a junior at Analy High school outlined the US Climate Strike demands. "We, the youth of America, are striking because the science says we have just a few years to transform our energy system, reduce our greenhouse gas emissions, and prevent the worst effects of climate change. We are striking because our world leaders have yet to acknowledge, prioritize, or properly address our climate crisis… The climate crisis should be declared a national emergency because we are running out of time."
"It's great that we all showed up [for the strike]. But we must show up tomorrow. And the next day." said Noa Polson-Schwartz 8th grade Hillcrest Middle School.
Strikes, marches, and rallies build momentum and awareness. They are not an end, but a beginning. Now we must immediately pursue policies for rapid decarbonization at scale and support organizations that are developing these policies.
Our young people have given us a call to action. Are we listening?
Read full bio