We've got a long way to go to reach net-negative emissions in California by 2030 and increase resilience for communities bearing the brunt of climate change, as outlined in The Climate Center's Climate-Safe California campaign. One key goal is annually sequestering an additional 100 metric tons of carbon dioxide equivalent.
PUENTES, a local nonprofit organization in Stockton, serves as a great example of the community-centered and nature-based approach to carbon sequestration and climate action across California.
Nearly 20 masked volunteers stood in a socially distanced circle at Stockton's Victory Park on a cloudy December morning, ready to do their part to clean up the air. Pots of baby Groots dotted most of the perimeter of the park, and X's marked the spot for new sites of sequestration.
A spirit of cooperation was in the air as staff with PUENTES guided planters – some of whom were there for the first time – through digging the hole, scoring the roots and building a mound of compost around baby trees for water retention. It had rained the night before, and the first few inches of topsoil were nice and soft for shoveling – a perfect day for planting trees, one staff member in mud-covered boots noted (possibly sarcastically).
Equipped with gloves, shovels, and stakes, we were told we'd be planting Valley Oak, a drought-tolerant native species of the Central Valley and true pro at sucking heat-trapping carbon dioxide out of the air. These particular three-year-old transplants were hand-picked from across the city as acorns and raised at Boggs Tract Community Farm, just west of the Crosstown Freeway and Interstate 5 junction. 
At the farm, PUENTES has been providing opportunities for at-risk families to grow and eat healthier foods for 10 years now. The hope is that over time the land can be turned over to area residents as the organization's community farming initiative expands into other neighborhoods. 
In 2017, PUENTES set off on a noble quest to plant over 1,500 trees in Stockton, supported by multiple state grants. Although the project was temporarily delayed by COVID-19, Victory Park was one of the organization's last public plantings on the schedule. 
Notably, the target areas for planting are almost all sites listed as disadvantaged communities under the CalEnviroScreen map. Due to what's known as the heat island effect, some areas of Stockton are up to three degrees warmer than other parts of the City, driving higher energy costs in the summer for communities already struggling to pay utility bills. Tucked between major transportation corridors and downwind of the Port of Stockton, formerly redlined communities in South Stockton endure some of the worst air quality in the state. Thanks to PUENTES, 21 school sites, several neighborhoods, and numerous community parks in Stockton are now home to new groves of native trees sure to provide shade shelter in sweltering summer heat and reduce air pollution when mature. 
Kenda Templeton, executive director of PUENTES, said she was especially inspired working with schools in underserved areas, some of which are in close proximity to major trucking routes.
Hazelton Elementary in South Stockton, for instance, lacks vegetative barriers despite its exposure to air pollution from a heavily-trafficked portion of Interstate 5. 
"It'll be beneficial over the next several decades as those trees grow and offer protection from emissions coming from the freeway," Templeton said. She also touted some of the lesser known benefits of tree-planting, including reducing propensity for crime in neighborhoods that appear more maintained than others.
Next steps for PUENTES include researching funding mechanisms to improve existing tree canopy in Stockton for long-term sustainability.
There's broader momentum in South Stockton to address these kinds of concerns, and optimistically speaking, a new revenue stream via Assembly Bill (AB) 617 to make it happen.
Investing in vegetative barriers and urban forestry near freeways, highways, and other polluting corridors to help filter or sequester vehicle emissions is one of numerous project ideas Stockton's AB 617 steering committee is considering for its community emissions reduction program, according to Jonathan Pruitt, environmental justice program coordinator at the Catholic Charities Diocese of Stockton.
Beyond the social benefits of tree-planting, of which there seem to be too many to count, returning carbon to the soil with native tree species is one piece of the puzzle in addressing climate change impacts.
PUENTES is doing more than its part to regenerate ecosystems and cool down parts of Stockton, but the bigger lift – the one that ensures communities across the state have access to clean drinking water and are protected from wildfire, air pollution, drought, flooding, and other climate change impacts – must come from the state.
Endorse Climate-Safe California here to urge your state legislators to set more aggressive Greenhouse Gas emission reductions goals through policies that center environmental justice and help us adapt to climate change.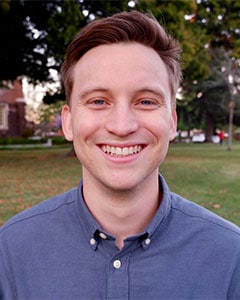 Davis has a background in journalism, with experience on the environment and local government beats. In his work with Rise Stockton – a coalition of nonprofits and the City of Stockton – Davis served as the technical writer for the Sustainable Neighborhood Plan, a framework for shifting to sustainable development practices in Stockton, with an emphasis on planning in historically lower-income communities. Davis has a B.A. in Environmental Studies from the University of California, Santa Cruz.
Read full bio