by Brian Shobe, CalCAN
---
Highlights
A new study by the California Department of Food and Agriculture and Climate Science Alliance emphasizes the need for climate adaptation tools and training for farmers due to climate impacts
Assembly Bill 1071, the Agricultural Climate Adaptation Tools Bill, would provide the tools and training needed in order for farmers to prosper as the climate crisis threatens their livelihoods 
Farmers are lacking critical information and climate data, hindering their ability to adapt their production methods to the changing climate, jeopardizing the state's future crops
Land that typically can grow an abundance of fruits like strawberries and avocadoes may lose this ability and result in a nearly 50% reduction of fertile land for these crops
Unless we combat the climate crisis and begin to draw down carbon emissions, our food production will be severely impacted
Chris Field and David Lobell, authors of the 2019 Stanford Woods Institute for the Environment Research Brief on Climate Adaptation and Agriculture notes that our crops will not grow on the same land if we don't save our climate:
"…prime agricultural areas of California – as well as similar regions across the United States that are currently favorable to specific perennial crops – may become unfavorable during the lifespan of a single orchard or vineyard."
---
Accelerating sequestration is critical to achieving drawdown greater than emissions by 2030 for a climate-safe future. We know today how to manage natural and agricultural lands for sequestration through proven carbon farming practices.
---
Read More: https://calclimateag.org/new-report-on-climate-impacts-in-socal-makes-urgent-case-for-agricultural-climate-adaptation-tools-bill/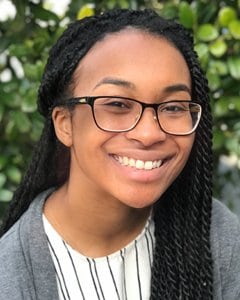 Nina Turner
Energy Programs and Communications Coordinator
Janina is a graduate of the Energy Management and Design program at Sonoma State University with experience in non-profits that specialize in sustainability and volunteerism.
Read full bio