Ellie Cohen, former Point Blue CEO, will lead the Center's collaborative efforts to address the climate emergency in California and beyond
The rapid decarbonization campaign, focusing on sustainable mobility to healthy lands, expands upon the Center's key role in growing Community Choice Energy, which now offers clean, non-fossil fuel electricity to 10 million people—one quarter of all Californians
Santa Rosa, Calif. August 13, 2019—The Climate Center announced today that Ellie Cohen will join the organization in the newly created position of CEO, starting September 1st. Cohen, a national leader in collaborative nature-based climate solutions, will spearhead the organization's climate emergency policy efforts in California and beyond. Ann Hancock, the Center's co-founder and Executive Director, will continue on staff as a vital member of the Center's leadership team.
"Climate change is a global emergency we ignore at our own peril. Swift and bold action is long overdue," said Efren Carrillo, President of the Center's Board. "Today's leadership announcement is a key element of our new strategy to accelerate speed and scale greenhouse gas reductions. Ellie Cohen is a visionary and proven leader, manager, and fundraiser with a track record of forming successful climate-smart conservation partnerships. Working collaboratively with other climate leaders, Ellie and the Center's team will focus on decarbonizing California for a safe, sustainable future for all."
Said Cohen, "The Arctic is burning, Greenland is melting, the ocean is heating up, and ecosystems are rapidly degrading—all driving record-breaking temperatures, drought, flooding, and wildfires. We urgently need to enact policies that, at minimum, align with the science and climate reality to return to a safe climate. There is no other organization in California better suited to create the broad coalition necessary to address these challenges than The Climate Center. I'm excited to build on the Center's pioneering leadership in local government climate action, its proven ability to convene and drive policy, and its central role in growing sustainable Community Choice Energy, which today offers clean, non-fossil fuel electricity to 10 million Californians."
An honors graduate of Duke University (botany/ecology) and Harvard's Kennedy School of Government (public policy), Cohen has received numerous honors recognizing her climate and environmental leadership, including the Beyond Duke Alumni Award for Service and Leadership (2019), the National Park Service Pacific West Region Partnership Award (2018) and the Bay Nature Environmental Hero Award (2012). She most recently served as President and CEO of Point Blue Conservation Science where she and the organization's 160+ scientists worked with scores of public and private partners to develop climate-smart solutions for wildlife and people. During her 20-year tenure, Point Blue grew by five-fold to a workforce of 200 and an annual budget of $14 million. Under her leadership, Point Blue became an official observer NGO to the global climate change body, the United Nations Framework Convention on Climate Change. For more on Ellie, see here.
"Together with the Center's many outstanding partners and concerned citizens across California, we must—and will—tackle growing climate change impacts to secure a healthy future for life on our planet," said Cohen. "I am deeply grateful to the Center's Board and especially to Ann for this opportunity to shape our collective future while there is still time to avoid the worst."
Added Hancock, "I'm enormously proud of what the Center has accomplished over the past 19 years. Given the dire urgency of the climate crisis, it's time to expand our capacity and catalyze significantly greater action. I look forward to working with Ellie to demonstrate how California, the fifth largest economy globally, can rapidly enact policies that will ultimately secure a safer climate, thriving human communities, and nature's ability to sustain life."
The Climate Center is playing a significant role in exponentially increasing Community Choice Energy (CCA) in California to speed up and scale up California's transition to clean electricity. Five years ago, there were two CCAs in the state and today there are 19 supplying 10 million customers with 88% clean energy. The Center also wrote one of the nation's first county-wide climate action plans (for Sonoma County, California), promoted novel efforts in support of electric vehicle adoption, and played a key role in establishing the first Regional Climate Protection Authority to coordinate climate action at the county-level, work that was recognized by President Obama. The Center was also honored with the Climate Protection Award from the U.S. Environmental Protection Agency "in recognition of exceptional contributions to global environmental protection," among other awards.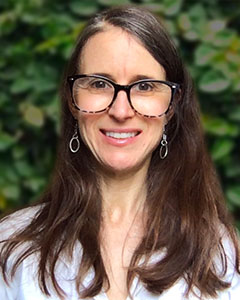 Stacey Meinzen
Communications Manager
Stacey Meinzen has nineteen years of experience as a communications and research professional.
Read full bio