VALLEJO, California — Moments ago, Governor Newsom signed AB 1757 (C. Garcia and Rivas) into law. The new law requires state agencies to set targets for natural carbon removal and emissions reductions on natural and working lands, based on earlier legislation (AB 2649, C. Garcia) sponsored by The Climate Center with the Carbon Cycle Institute, California Association of Resource Conservation Districts, and The Pew Charitable Trusts.
Scaling up carbon removal, including natural climate solutions, was one of five climate priorities for the governor heading into the final two weeks of this year's legislative session.
"On behalf of California's frontline communities, I'd like to thank Governor Newsom for signing this important bill into law," said Assemblymember Cristina Garcia (D-Bell Gardens). "The dangerous heatwave our state just endured is a stark reminder that climate action is literally a matter of life and death. ​​California is hotter and drier, our water is more scarce, our food supply is in danger, and our forests are on fire. Sequestering carbon on natural and working lands is the path forward California must pursue if we are truly going to protect vulnerable communities like mine."
Natural carbon removal solutions can safely and cost-effectively draw down past carbon emissions with multiple co-benefits for people and nature. Approaches such as greening urban areas, planting trees and shrubs near crops, applying compost to farmland, and restoring wetlands can improve food and water security in the face of worsening climate extremes.
AB 1757 will catalyze natural carbon sequestration in California by:
​​Requiring the California Natural Resources Agency and Air Resources Board to establish ambitious targets for sequestration on natural and working lands for 2030, 2038, and 2045;
Ensuring that natural sequestration projects have rigorous measurement and verification; and
Establishing an expert committee — including researchers, farmers, and tribal and environmental justice representatives — to advise state agencies on modeling and implementation.
"I'm grateful to Governor Newsom for signing AB 1757 into law and to Assemblymember Garcia for championing natural climate solutions in the legislature," said The Climate Center CEO Ellie Cohen. "The stage is set for California to become a global leader in natural carbon removal, building our resilience to extreme heat, drought, and wildfires at the same time. We look forward to working with state agencies to set the ambitious targets for sequestering carbon on our state's natural and working lands that the worsening climate crisis requires."
"We applaud the governor and the legislature's leadership on advancing the natural and working lands sector as a critical pillar of the state's climate portfolio," said the Carbon Cycle Institute Executive Director Torri Estrada. "Farmers, ranchers, land-based communities, and their partners are eager to work in partnership with the state to develop ambitious targets and implementation strategies that build upon and scale the existing, innovative work already happening on the ground across California."
"On behalf of the California Association of Resource Conservation Districts, I thank Governor Newsom for signing AB 1757 today and thank Assemblymember Garcia for her leadership to push natural climate solutions into this historic climate package," said the California Association of Resource Conservation Districts' Board Chair Don Butz. "Natural and working lands are poised to play a vital role in reducing greenhouse gasses in the atmosphere, and Resource Conservation Districts are eager to get to work implementing natural carbon sequestration projects."
"This new law means state agencies can use nature-based solutions such as wetland restoration to meet carbon sequestration targets," said Gilly Lyons, an officer at The Pew Charitable Trusts. "Extensive tidal wetland restoration efforts in the San Francisco Bay Area have boosted carbon sequestration by more than 30 percent over the last three decades while also providing habitat for numerous bird and fish species, protecting the coastline from floods, and helping to maintain a clean, plentiful water supply."
A recent report from The Climate Center found that California's working and urban lands alone have the potential to sequester up to 103 million metric tons of past climate pollution from the atmosphere per year. Adding sequestration on natural lands and waters, as AB 1757 does, further increases the potential for scalable, cost-effective solutions.
ENDS
Notes:
The full bill text of AB 1757 is available here. A letter of support for the bill signed by 35 organizations is available here.
Contact: Ryan Schleeter, Communications Director, The Climate Center: ryan@theclimatecenter.org, (415) 342-2386
About The Climate Center:
The Climate Center is a climate and energy policy nonprofit working to rapidly reduce climate pollution at scale, starting in California. We are a think-tank, do-tank working to turn bold ideas into action for an equitable, climate-safe future. Our flagship Climate-Safe California campaign is a unique and comprehensive effort to make California the first state in the nation to reach carbon negative. www.theclimatecenter.org
About the Carbon Cycle Institute:
The Carbon Cycle Institute's mission is to stop and reverse global climate change by advancing natural, science-verified solutions that reduce atmospheric carbon while promoting environmental stewardship, social equity, and economic sustainability. CCI has trained over 100 carbon farm planners and helped establish carbon farming programs at 32 Resource Conservation Districts (RCDs) across California. RCDs, working with farmers and ranchers in their districts, have completed 137 carbon farm plans, encompassing approximately 71,440 acres of agricultural lands.
About The Pew Charitable Trusts:
Established in 1948, The Pew Charitable Trusts is a global nongovernmental organization that seeks to improve public policy, inform the public, and invigorate civic life.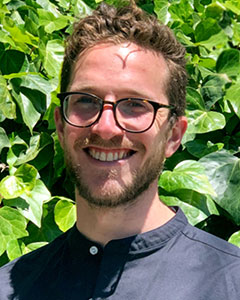 Ryan Schleeter
Communications Director
Ryan Schleeter (he/him/his) joined The Climate Center in 2021, bringing nearly a decade of experience in climate and environmental communications. As Communications Director, he leads The Climate Center's brand, message, content, and digital strategies, helping to grow the movement to secure a Climate-Safe California. 
Read full bio