SACRAMENTO — Late last week, Governor Gavin Newsom directed the California Air Resources Board (CARB) to make major changes to its draft climate plan. In a letter sent to CARB Chair Liane Randolph on July 22, Newsom wrote "we need to up our game" and urged CARB to address six key areas in its draft Scoping Plan.
Since the beginning of the Scoping Plan process, scientists and advocates have warned that the current draft is over-reliant on costly, unproven, engineered carbon removal technologies. Achieving California's climate goals will require both major emissions cuts and drawing down past climate pollution from the atmosphere, which can only be achieved at scale this decade through nature-based approaches. 
"California must leverage the full potential of our natural and working lands to fight the climate crisis," said Assemblymember Cristina Garcia (D-Bell Gardens), lead author of a bill that would see California establish the nation's first targets for natural carbon removal. "I am pleased to see Governor Newsom acknowledge the need for nature-based carbon removal, but the science shows we can do far more. 
"My bill, the Natural Carbon Sequestration and Resilience Act, provides a strong framework for maximizing the potential of our state's natural and working lands to sequester carbon without gambling on failed or unproven carbon removal technologies. I look forward to working with the governor and CARB to scale up nature-based carbon removal practices, build resilience to climate extremes like drought and heat, and lead the way toward a climate-safe future for all."
AB 2649 aims to set California's first-ever statutory targets for naturally removing past climate pollution from the atmosphere through natural and working lands. This includes restoring important natural carbon sinks, such as coastal wetlands.
A recent report from The Climate Center found that California's working and urban lands have the potential to sequester up to 103 MMT of past climate pollution from the atmosphere per year by 2030. Adding sequestration on natural lands and waters, as AB 2649 does, further increases the potential for scalable, cost-effective, natural solutions. The bill sets a bold and achievable goal of sequestering 60 million metric tons (MMT) of carbon dioxide equivalent (CO2e) each year by 2030, increasing to 75 MMT annually by 2035. For comparison, 60 MMT of CO2e is equivalent to the annual greenhouse gas pollution from roughly 13 million passenger vehicles. 
AB 2649 was introduced by Assemblymember Garcia and co-authored by Assemblymember Mark Stone (D-Monterey Bay) with Senators Josh Becker (D-San Mateo), Monique Limón (D-Santa Barbara), and Nancy Skinner (D-Oakland). It's sponsored by The Climate Center with co-sponsors Carbon Cycle Institute, the California Association of Resource Conservation Districts, and Pew Charitable Trusts. 
"Thousands of Californians raised their voices to demand greater ambition from the California Air Resources Board, and we thank Governor Newsom for acting, " said Ellie Cohen, CEO of The Climate Center. "However, this plan still falls well short of what science and justice demand. Carbon neutrality by 2045 is simply too late."
In his letter to CARB, Governor Newsom acknowledged that "our lands are currently a source of carbon
emissions" and added, "we must prioritize sustainable management of these lands as nature-based solutions to sequester carbon."
"California needs to engage the potential of our natural and working lands — and the energy and innovation of our land managers — to have any hope of achieving the state's climate goals," said Dr. Jeff Creque, Director of Rangeland and Agroecosystem Management at the Carbon Cycle Institute. "We applaud Governor Newsom's leadership and strongly urge bold, near-term targets and actions as outlined in AB 2649."
After passing out of the State Assembly and two Senate committees, AB 2649 is set to be heard by the Senate Appropriations Committee in August.
ENDS
Notes:
The Natural Carbon Sequestration and Resilience Act of 2022 (AB 2649) fact sheet is available here and the full bill language here. A full list of more than 80 supporting organizations is available here. Additional details on the differences between fossil fuel carbon capture, direct air capture, and natural carbon removal are available here. More information on natural carbon removal on working lands and its benefits for California can be found in The Climate Center's report, Setting an Ambitious Sequestration Goal for California's Working Lands.
Contact: Ryan Schleeter, Communications Director, The Climate Center: ryan@theclimatecenter.org, (415) 342-2386
About The Climate Center: 
The Climate Center is a climate and energy policy nonprofit working to rapidly reduce climate pollution at scale, starting in California. We are a think-tank, do-tank working to turn bold ideas into action for an equitable, climate-safe future. Our flagship Climate-Safe California campaign is a unique and comprehensive effort to make California the first state in the nation to reach carbon negative.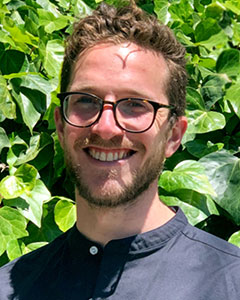 Ryan Schleeter
Communications Director
Ryan Schleeter (he/him/his) joined The Climate Center in 2021, bringing nearly a decade of experience in climate and environmental communications. As Communications Director, he leads The Climate Center's brand, message, content, and digital strategies, helping to grow the movement to secure a Climate-Safe California. 
Read full bio