SACRAMENTO — On the final day to pass legislation in 2022, California state lawmakers went late into the night to deliver historic policies that will reduce climate pollution and protect frontline communities.
In response, The Climate Center CEO Ellie Cohen said:
"California has the tools and know-how to lead the world toward a climate-safe future. But until this moment, our elected leaders have lacked the political will. I am deeply grateful to Governor Newsom, our state legislators, and their tireless staff for summoning the courage to put people and science before polluter profits. I am also so grateful to the climate and environmental justice advocates who came together to successfully demand bold, equitable policies.
"While there's much more to do, California is now poised to jumpstart its leadership on natural climate solutions, rein in fossil fuel pollution in frontline communities, and accelerate the deployment of safe, renewable, and reliable energy."
Key climate bills headed to Governor Newsom's desk include:
This slate of bills and several others passed last night represent the most ambitious climate action out of the California legislature in years. There are, however, some major disappointments.
Most notably, AB 2133 (Quirk), a bill to accelerate the state's emissions reduction target to 55 percent below 1990 levels by 2030, fell just four votes short of passing out of the Assembly and onto the governor's desk. Recent analysis found that achieving this target would create 235,000 new jobs and add $55 billion to the state's economy.
"As California has shown before, establishing bold targets sends market signals globally, unleashing private investment and major innovation that can benefit all of our communities," added Cohen. "Earlier this year, the California Air Resources Board (CARB) found that the state could cut emissions by at least 47 percent by 2030. A historic budget surplus and massive infusion of federal funds from the Inflation Reduction Act and other programs will allow California to do even more and beat the goals outlined in AB 2133. There's still a huge opportunity for the Newsom administration to realize its full vision by pursuing accelerated emissions reduction targets for 2030 in the CARB Scoping Plan five-year update due by December."
A complete list of climate bills in the California state legislature this year, including The Climate Center's stance on each bill, is available here.
ENDS
Contact: Ryan Schleeter, Communications Director, The Climate Center: ryan@theclimatecenter.org, (415) 342-2386
About The Climate Center:
The Climate Center is a climate and energy policy nonprofit working to rapidly reduce climate pollution at scale, starting in California. We are a think-tank, do-tank working to turn bold ideas into action for an equitable, climate-safe future. Our flagship Climate-Safe California campaign is a unique and comprehensive effort to make California the first state in the nation to reach carbon negative. www.theclimatecenter.org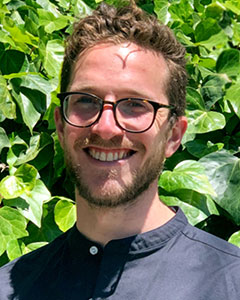 Ryan Schleeter
Communications Director
Ryan Schleeter (he/him/his) joined The Climate Center in 2021, bringing nearly a decade of experience in climate and environmental communications. As Communications Director, he leads The Climate Center's brand, message, content, and digital strategies, helping to grow the movement to secure a Climate-Safe California. 
Read full bio