from the National Sustainable Agriculture Coalition
---
Highlights
The Coronavirus Aid, Relief, and Economic Security (CARES) Act passed by the President to aid businesses and Americans features specific provisions targeting farmers and food insecurity.
Agricultural Provisions

An important measure of the relief bill helps provide support for producers impacted by the coronavirus, specifically for specialty crop producers, livestock producers (including dairy), and producers that supply local food systems (including farmers markets, restaurants, and schools)
Farmers who have lost access to direct markets as a result of social distancing restrictions are estimated to lose more than $1 billion in sales this year
The bill lacks specifics on implementation, providing USDA no direction about how either source of funds should be divided, which farmers should receive priority, or how payments should be structured and delivered
The largest advocacy organizations that represent the ag industry have already made requests of Congress for more than $20 billion in immediate support
Fourteen billion dollars will be going to the Commodity Credit Corporation, a government corporation that helps maintain farm income and prices

Nutritional Provisions

Congress did not expand benefits for the Supplemental Nutrition Assistance Program, which will become increasingly important as more Americans face unemployment and may not be able to afford meals
The bill boosts funding for targeted emergency food assistance for tribal communities 
Child nutrition programs received over $8 billion in funding
---
Implementing bold and equitable policies that will catalyze carbon sequestration through building healthy soils and restoring healthy habitats will be key to achieving carbon neutrality by 2030 and net negative emissions by 2035 for a Climate-Safe California.
---
Read More: https://sustainableagriculture.net/blog/closer-look-farmer-relief-senate-pandemic-package/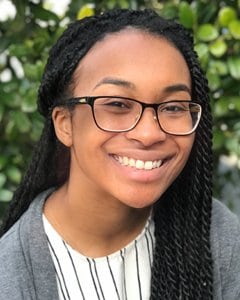 Nina Turner
Energy Programs and Communications Coordinator
Janina is a graduate of the Energy Management and Design program at Sonoma State University with experience in non-profits that specialize in sustainability and volunteerism.
Read full bio