Only a few spaces remain on the California Green Fondo Climate Ride, a charitable event, which will take place May 13-15, 2022 in the beautiful wooded hills of the San Francisco Bay Area. This Green Fondo is a take on the Gran Fondo-style rides with a sustainability focus, and The Climate Center is a beneficiary! "Gran Fondo" is a term originating in Italy that roughly translates as "Big Ride," typically at least 75 miles long. Participants will gather at an outdoor cycling village in the South Bay where cyclists will ride both Saturday and Sunday, and can choose to camp overnight, enjoy food and drink, entertainment, and meet new friends and climate thought leaders.
As captain of The Climate Center team this year, I invite you to join our CEO Ellie Cohen, Development Manager Laurie-Ann Barbour, and me to ride and/or make a financial contribution to our efforts!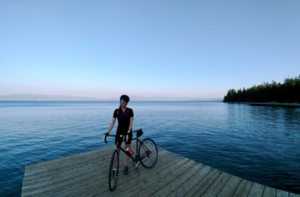 Though I'm relatively new to road biking, it has quickly become a passion of mine. When everything shut down in 2020, I started riding my commuter Bianchi bike up Hawk Hill, one of San Francisco's most beloved and scenic bike routes, as a way to get outside and clear my mind. Eventually, I met other road cyclists and started venturing out on longer rides (up to 80 miles), amazed at how far I could travel sustainably without creating any pollution whatsoever. 
If you're interested in joining the team and riding for the climate with us, please contact me (Emily Hendrick, 415-640-1078, emily@theclimatecenter.org) or go ahead and register. I'm happy to assist you with preparing for the ride as well as promoting and achieving your fundraising goals. If you're unable to join but would still like to support the team, you can donate here. Your generous donation will support The Climate Center's mission to rapidly reduce climate pollution at scale, starting in California. 
Note: the individual registration fee for this event is $80 (use the code RIDE to get 25% off registration), with a minimum fundraising commitment of $480. This year, 100 percent of participants' fundraising will go directly to their beneficiaries!
Emily Hendrick, Institutional Giving Manager at The Climate Center, is an avid road biker and team captain for The Climate Center's Green Fondo this year.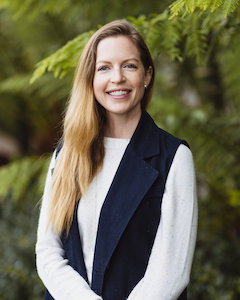 Emily Hendrick
Institutional Giving Manager
Emily Hendrick is an experienced fundraiser for nonprofit organizations focused on environmental issues and social justice.
Read full bio