by Buddy Burch, The Climate Center
On a recent trip to Iceland, I found myself wondering about the country's electric vehicle (EV) adoption. According to official energy statistics, 85 percent of total energy and all electricity comes from renewable sources, so I was curious about the government's efforts to support EV adoption and zero-emission transport.
The Icelandic government is taking advantage of their access to renewables and heavily supporting EV adoption by its constituents. According to a recent report from the International Council on Clean Transportation, their efforts are paying off. Financial incentives for purchasing an EV, in addition to almost 163 million euros in grants to support charging infrastructure, have grown the EV share in Iceland to 13.5 percent. This gives Iceland the second highest EV penetration in Europe.
According to the U.S. Energy Information Agency (IEA), only 17.1 percent of energy in the U.S. comes from renewables, and some states produce more renewable energy than others. I wondered about the relationship between states that produce clean energy and growing EV uptake in those states. When I examined a map of current energy resources produced by the IEA and a map of EV uptake by state from 2014, I was immediately drawn to the concentration of wind power through Texas, hydropower through the Blue Ridge Mountains, and solar power in the Carolinas. I argue that the southeastern quadrant of the U.S. is missing opportunities to get clean cars fueled by clean energy on the road.
If you are taking the time to read this blog post, odds are high that you are engaged in tackling climate change. Maybe you already drive an EV! Here is your call to action: Start conversations with your family and friends around the country about the opportunity to travel emissions-free. Share your positive experiences. Californians can be leaders in climate change mitigation, but we must stimulate change across the country. Do some research for your aunt in South Carolina, then pick up the phone to start the conversation.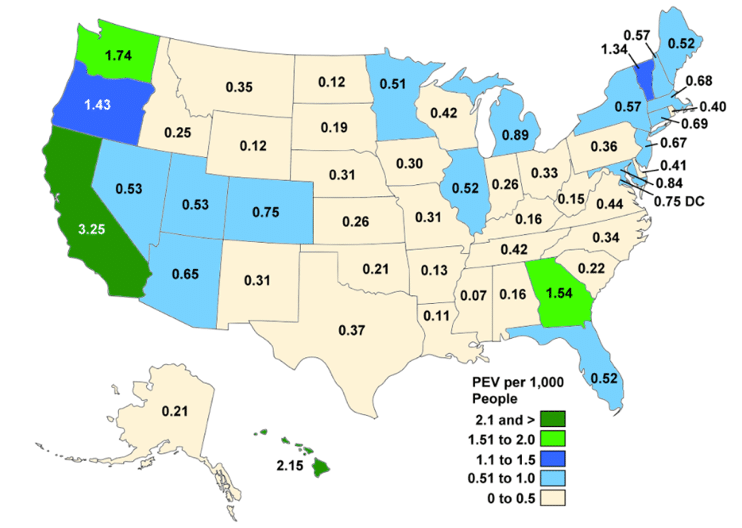 Related: Taking Action: http://staging-theclimatecenter.org/taking-action/