A Webinar for employees, managers, and EV enthusiasts
How can local businesses get help to pay for the installation of EV chargers at their facilities, and why should they even care? These are the questions that will be answered at a free webinar, scheduled for March 13, at 11 am PT. To sign up, click here: Show Me the Money!
Electric vehicles (EVs) are spreading fast, and within the next few years there will be millions of them on California's roads. This is part of a global push to replace combustion engines with electric cars, as a key response to the climate crisis.  Entire countries have announced phaseouts of combustion cars, including major car-producing nations such as Germany, Great Britain and China. California may soon follow suit, with newly-introduced Assembly Bill 40 directing State agencies to develop a plan to stop selling new combustion cars by 2040.
Whether this bill passes or not, there is no doubt that the EVs are coming, as every major car maker has announced plans to electrify their fleet. From modern-retro VW EV buses, to electric Ford F-150s, the availability of EVs is poised to increase, while their prices continue to decrease.
Many businesses have found that the best way they can support their staff and visitors today, while preparing for the massive number of EVs coming soon, is to install EV charging.  Large employers throughout the region have begun this process, and it is not uncommon for the most cutting-edge companies to offer workplace charging. However, many workplaces do not yet have charging available. A main reason cited by management is the cost of purchasing and installing the equipment.
The good news is that millions of dollars are available right now to help businesses install EV charging. Assistance is available from multiple sources to help purchase the equipment, install the equipment, and even pay for the electrical upgrades that may be necessary.
On March 13th, The Climate Center will host a webinar that will explain the multiple sources of grant funding available right now, and provide an opportunity to hear directly from the people administering those programs.
You will also have the opportunity to hear from a local business that has "been there, done that," and will explain the process of accessing grant funds from the user side, and also illuminate the many benefits EV charging have provided their business.
Presenters will include: Jaime Collard, EV Specialist in PG&E's Electric Vehicle Charge Network Program; Mark Tang, from the Bay Area Air Quality Management District; and Tina Montgomery, from SOMO Village in Rohnert Park and the first One Planet Community in North America
The Climate Center and our partners at Sonoma County Transportation Authority/Regional Climate Protection Authority are presenting this webinar as part of an effort to accelerate workplace charging in Sonoma County through a grant awarded by the California Energy Commission.
Click here to sign up for the free webinar: Show Me the Money!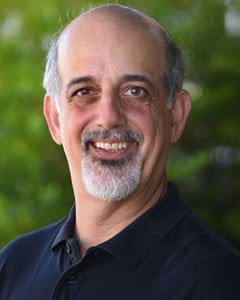 Doron Amiran
Business Network Manager
Doron Amiran manages the business program. He has produced a series of short films for The Climate Center and hosted the Community Energy Resilience webinar series.
Read full bio