by Doron Amiran, CCP
The growth of EVs is exploding worldwide. With Over 4 million EVs sold to date, the question is not will combustion cars go the way of the landline, but when. A recent report by Bloomberg Financial shows that while the first million EVs took over 5 years to sell, the 4th million took only six months. Six months!
This tells us that we are clearly moving up the "hockey stick" of the growth curve, and EV ownership is shifting from tech-savvy innovators, to true early adopters. It is only a matter of time before we see a mass replacement of combustion cars. After all, why drive a more expensive, more polluting, and more prone-to-breakdown combustion car when there is a better car out there?
Here in Sonoma County we can see this every day on our roads, as Nissan Leafs and Tesla Model 3s, among others, become increasingly common. As we approach our goal of 10,000 EVs on the road in Sonoma County by 2020, 100,000 by 2030, and 100% EV sales soon after that, there are a variety of rebates, incentives and tools available to Sonoma and Mendocino County residents who want to enjoy the benefits of clean, cheap and almost maintenance-free electric cars.
Especially alluring is the third and final iteration of Sonoma Clean Power's Drive Evergreen program, which provides local residents with thousands of dollars in discounts and rebates, on top of State and Federal dollars, to make new and used EVs available at the lowest possible cost. There are a wide variety of vehicles available under the program, including minivans and SUVs, as well as regular cars. The program runs through November 15th.
If you still have questions, or want to find out more about EVs in general, The Climate Center, together with our local partners at the Regional Climate Protection  Authority, is pleased to announce the launch of a new tool that has all the answers. EV 101, housed on the Sonoma Clean Power website, is designed to put all the info you need in one simple and comprehensive location. Click here to get your questions answered, then go get an EV. Once you have enjoyed the low cost and incredible performance of an EV, you will wonder, as we do, why are we still burning gas at all?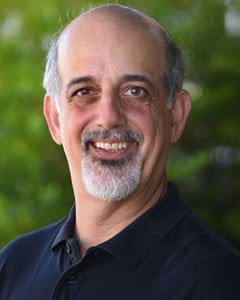 Doron Amiran
Business Network Manager
Doron Amiran manages the business program. He has produced a series of short films for The Climate Center and hosted the Community Energy Resilience webinar series.
Read full bio