Sonoma County resident Alan Soule recently completed a circumnavigation of the globe, driving the entire route in his electric car. Driving from Barcelona westward, Mr. Soule crossed 20 countries and covered almost 16,000 miles without consuming a single drop of gasoline.
[SLGF id=9720]
Mr. Soule represented our nation as Team USA, participating in the 80-eDays challenge, in which teams from Europe, Asia and North America traversed the globe in their all-electric fleet, as a way to promote clean, climate-friendly transportation.
"I did this to show the world that electric cars can go anywhere. I just drove my electric car across Kazakhstan, and you are worried about getting to San Jose?" said Mr. Soule. County Supervisor Efren Carrillo, who himself drives a plug-in hybrid electric Chevy Volt, said, "As Alan has demonstrated, electric vehicles work for long-distance travel. They are no longer the future, but a present-day solution to harness the power of clean energy."
With electric cars becoming more prevalent on County roads, and new models like the soon-to-be-released 200-mile all-electric Chevy Bolt coming to market, more and more people will have the opportunity to experience the high power and zero emissions of electric cars.
"By driving his EV through countries like Kazakhstan, Alan has demolished the EV range myth. That's good news for Sonoma County as EV drivers enjoy the fun and cost-savings while bringing down greenhouse gas emissions," said Ann Hancock, Executive Director of The Climate Center.
The Board of Supervisors awarded Mr. Soule a Gold Resolution to recognize and congratulate him on his accomplishment, at their Board Meeting on Tuesday October 11th.
Transportation in Sonoma County is the biggest source of greenhouse gas emissions, accounting for about 65 percent of total emissions in 2014. Nearly four out of five trips made in Sonoma County are by single occupant, fossil fuel powered automobiles. Approximately $850 million leaves the County annually to pay for the fossil fuel that powers our vehicles.
The Climate Center offers resources for EV buyers and sellers to accelerate the transportation sector's shift away from fossil fuels. Working with our partners, we are advancing policies and practices that make it easier and more affordable to drive EVs. One day we will see Mr. Soule as a Magellan-like trail blazer, who showed us the immense potential for cleaner more affordable transportation, and opened new opportunities for us all.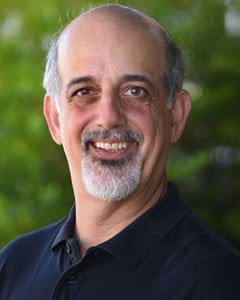 Doron Amiran
Business Network Manager
Doron Amiran manages the business program. He has produced a series of short films for The Climate Center and hosted the Community Energy Resilience webinar series.
Read full bio