by Eric Holthaus, One Zero

---
Highlights
A study from UC Berkeley illustrates that climate catastrophes will onset violence such as domestic abuse and even civil wars, setting up the potential collapse of many countries 
Conflict avoidance is ingrained into the world's climate response, by refocusing on creating an ecological society, our care of the planet will help avoid some major conflicts
However, there will be outliers to the push of an ecological society, as some will resist this change to uphold a world run by the fossil fuel industry, therefore stripping people of their rights
Escaping the climate crisis by moving away in order to avoid climate catastrophes is a part of the problem:
By imagining ourselves as individuals who somehow exist outside the context of an interconnected, living ecosystem on a planet where all of our actions deeply affect one another, we fail to see each other's humanity and right to simply exist.
In the 2040s, the world could see around 250 million people forced from their homes due to the effects of the climate crisis 
---
The Climate Center's Climate-Safe California Platform advocates for a formal California State commitment by 2022 to 80% below 1990 levels of greenhouse gas emissions and net negative emissions by 2030 for a climate-safe future. This bold target requires accelerating the phase-out of fossil fuels.
---
Read More: https://onezero.medium.com/why-2020-to-2050-will-be-the-most-transformative-decades-in-human-history-ba282dcd83c7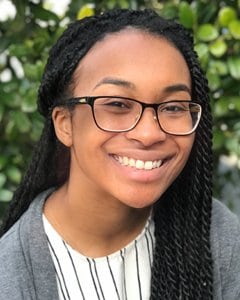 Nina Turner
Energy Programs and Communications Coordinator
Janina is a graduate of the Energy Management and Design program at Sonoma State University with experience in non-profits that specialize in sustainability and volunteerism.
Read full bio