by Jane Fonda and Don Martin, The Sacramento Bee
---
Highlights
Politicians that allow pollution in our state's most vulnerable neighborhoods, which are disproportionately communities of color, are signaling that this environmental racism is not a concern and that people of color are "disposable"
Over 215,000 people in Los Angeles live within 2,500 feet of an active oil and gas well
Exposure to gases and chemicals from the fossil fuel industry are causing massive health issues, such as asthma and cancer
A Stanford study found that pregnant women living near oil and gas wells in California face a high risk of preterm birth, with Black and Latinx women facing the highest risks
People exposed to large amounts of pollution are more likely to have severe and lethal effects of COVID-19
AB 345 will establish a state law that requires oil and gas drilling sites to be 2,500 feet away from homes, schools, and hospitals
However, the LA County Department of Regional Planning recently released plans for a 500-foot buffer zone from new drilling sites which is not an adequate distance 
Passing AB 345 will let Californians know that our elected representatives care about communities of color and are working toward ending environmental racism 
---
Take action to support AB 345. Increased air pollution from fossil fuel emissions makes all of us more vulnerable to the current COVID-19 pandemic. For a safe and healthy future for all, endorse the Climate-Safe California Platform to implement scalable solutions that can reverse the climate crisis.
---
Read More: https://www.sacbee.com/opinion/california-forum/article244232417.html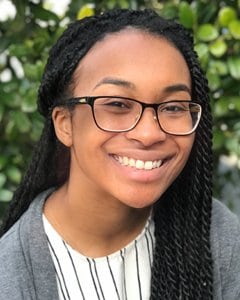 Nina Turner
Energy Programs and Communications Coordinator
Janina is a graduate of the Energy Management and Design program at Sonoma State University with experience in non-profits that specialize in sustainability and volunteerism.
Read full bio