Decommissioning Petroleum Refining in California
How we'll secure a just transition for refinery workers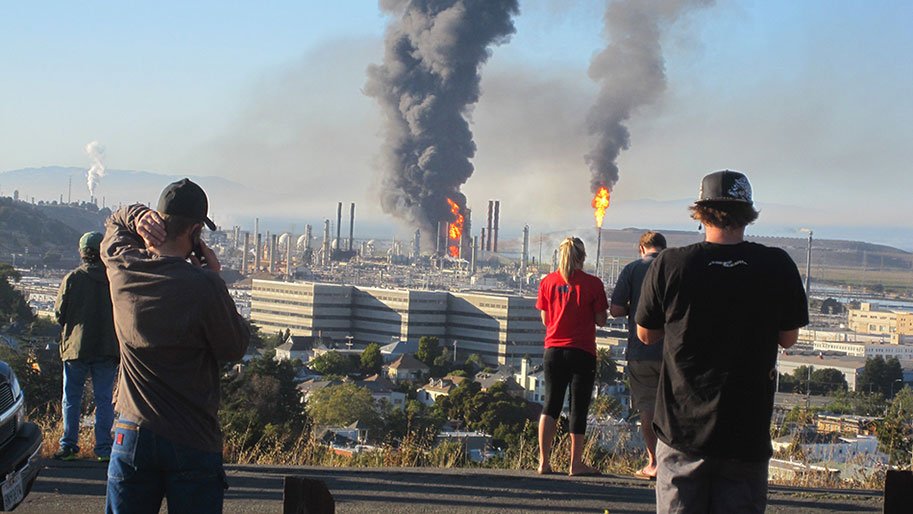 All Californians deserve to live in a safe and healthy community, but oil refineries cause immediate and serious health harms to communities across the state. There are 15 petroleum refineries in California and each of them pollute the air, contribute to the climate crisis, and lock us into a fossil fuel-powered future.
In Richmond, where Chevron operates the largest refinery in the state, residents suffer asthma rates at twice the national average. Refineries are the single largest industrial stationary source (stationary sources are things like factories, as opposed to mobile sources, like cars) emitter of carbon dioxide in California. They also spew sulfur oxides, nitrogen oxides, volatile organic compounds, and fine particulate matter — all of which contribute to asthma and other respiratory diseases.
Regular reports of gas flaring episodes at the Chevron Richmond refinery show that such flaring is happening at an unusually high rate. Richmond experienced 93 flaring events over five years. Flares release a concentrated toxic cocktail of benzene, particulates, heavy metals, black carbon and carbon monoxide. Pregnant women living near flaring infrastructure are 50 percent more likely to experience birth complications or give birth prematurely.
Two of the 15 refineries in California — Phillip 66 Refinery in Rodeo and the Marathon Refinery in Martinez — were on track to be decommissioned. But now, they've released plans to convert to biomass refineries and produce liquid biofuels. If approved, this transition would perpetuate pollution in surrounding communities, which have been burdened by pollution for far too long. Biofuel refining can also drive up the cost of food, since growers must result in competing with food crops by growing fuel crops, driving food costs higher. As refinery operators try to squeeze last bits of profit out of their facilities, they are failing to make plans for a just transition for their workers. Instead, we need a managed phase out of refineries that helps retrain workers for good, high-paying jobs in the clean energy economy. Many opportunities are emerging in renewable energy such as offshore wind, energy storage, and in the electrification of buildings and transportation.
Related Resources