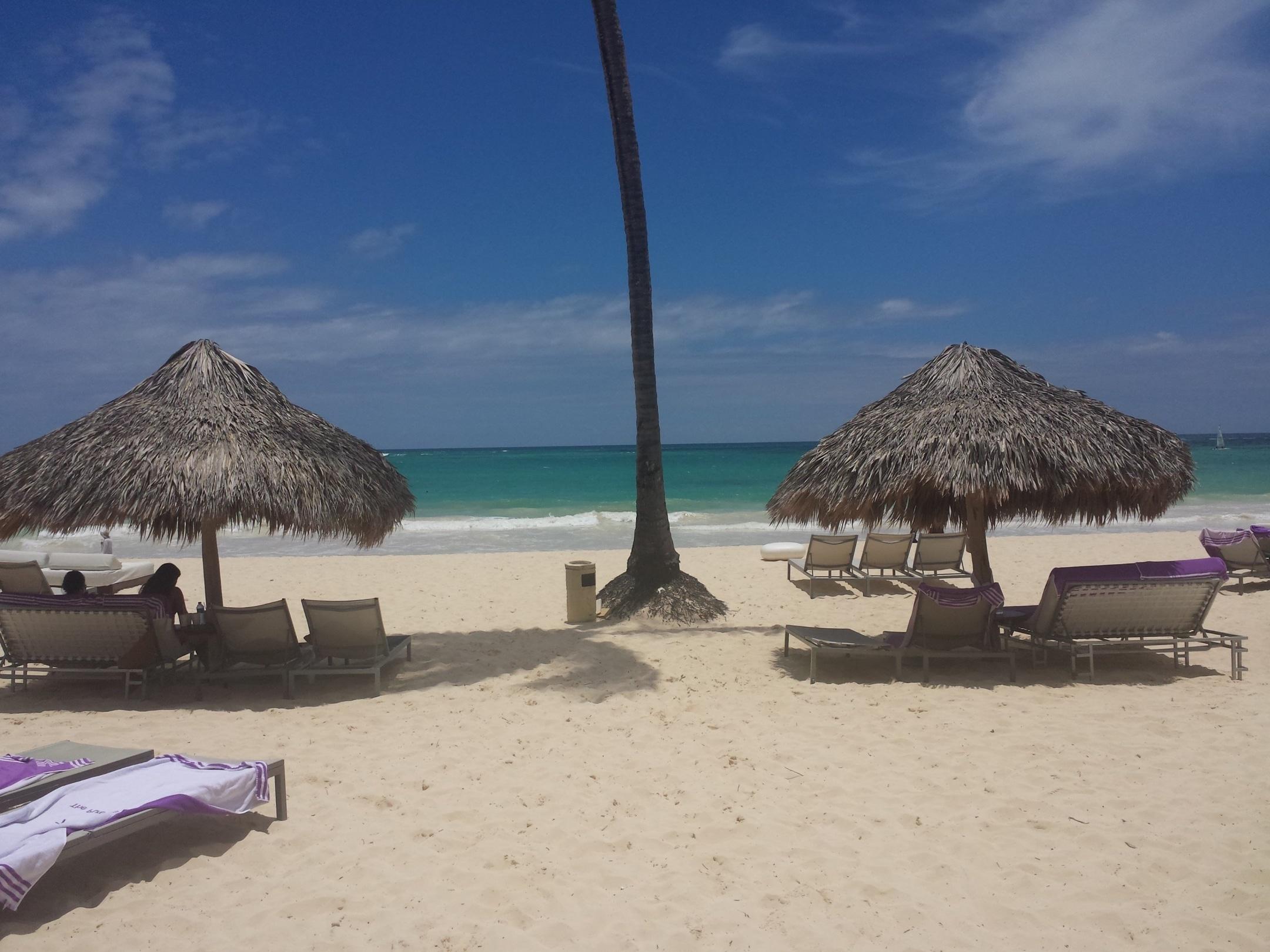 Punta Cana, a resort area at the eastern tip of the Dominican Republic, is an over-the-top paradise of white sand, palm trees, turquoise seas, and 24/7 whatever-you-desire, all-inclusive vacation deals. That's where my wife, our family, and I recently spent five days. While there, we discovered a harsh reality that hides in plain sight in the Punta Cana paradise.
A one-mile walk from the white sand of the resorts is a small stretch of seaside bodegas selling art, jewelry, some tasteful trinkets, and a wide variety of funky souvenirs. As we approached the bodegas, we noticed enormous concrete-filled "bags" about the size of school buses, close in to the shore, but in the water. Also, there was a five-foot cliff of sandbags holding back water at the edge of one of the resorts near the bodegas.
I learned that the bus-sized bags are known as geotextile bags manufactured by a company called Seamarc that was founded in the Maldives in 2000. The Maldives are the islands in the Indian Ocean threatened by sea level rise and famed for the "Island President" Mohamed Nasheed who sought to raise awareness of his nation's predicament. Nasheed garnered international headlines when he held a cabinet meeting underwater all in SCUBA gear.
Once we got to the bodegas we saw stairs that led right to waves lapping at the bottom step. I spoke to Omar, one of the shop owners, who told me that just a few years ago the steps led to white sand that extended quite a way before you got to the water.
Back at the hotel, I asked Daniel, one of the friendly restaurant servers at our resort, about what we'd seen. He told us that it is well known among the staff that the beach at our resort, where the water is now just a few steps beyond the palapas, used to extend much further out. It is just a matter of time before the water will be lapping at the edge of the restaurant.
The Dominican Republic imports about 85% of its energy for electricity generation in the form of fossil fuels. Although the country is not a significant contributor to the climate problem, it could be a part of the solution by harnessing the abundant sunshine. We saw few solar panels during our visit.
Much of what we consider paradise around the world, such as Punta Cana, is at or near sea level where climate change is now a reality. I'd hoped to take a break from my work that revolves around the climate crisis, but the reminders are everywhere. It is increasingly apparent that few places on Earth will be spared the effects of climate change.
Perhaps we should stop calling it paradise because, to quote the Eagles, "you call some place paradise, kiss it goodbye."
Woody Hastings is the Renewable Energy Manager for The Climate Center. He can be reached at woody@theclimatecenter.org
Latest posts by Woody Hastings
(see all)
https://theclimatecenter.org/wp-content/uploads/2016/06/Punta-Cana-1.jpg
1620
2160
Woody Hastings
https://theclimatecenter.org/wp-content/uploads/2021/11/The-Climate-Center-Logo_RGB-1.svg
Woody Hastings
2016-06-03 14:50:45
2019-11-22 15:35:13
No escaping the climate crisis, even in paradise (especially in paradise)