FOR IMMEDIATE RELEASE
Contact: Stacey Meinzen, The Climate Center, stacey[at]staging-theclimatecenter.org, 707-484-1815
Climate-Safe California Campaign Reaches 1,000 Endorsements
Major milestone in effort to accelerate state climate leadership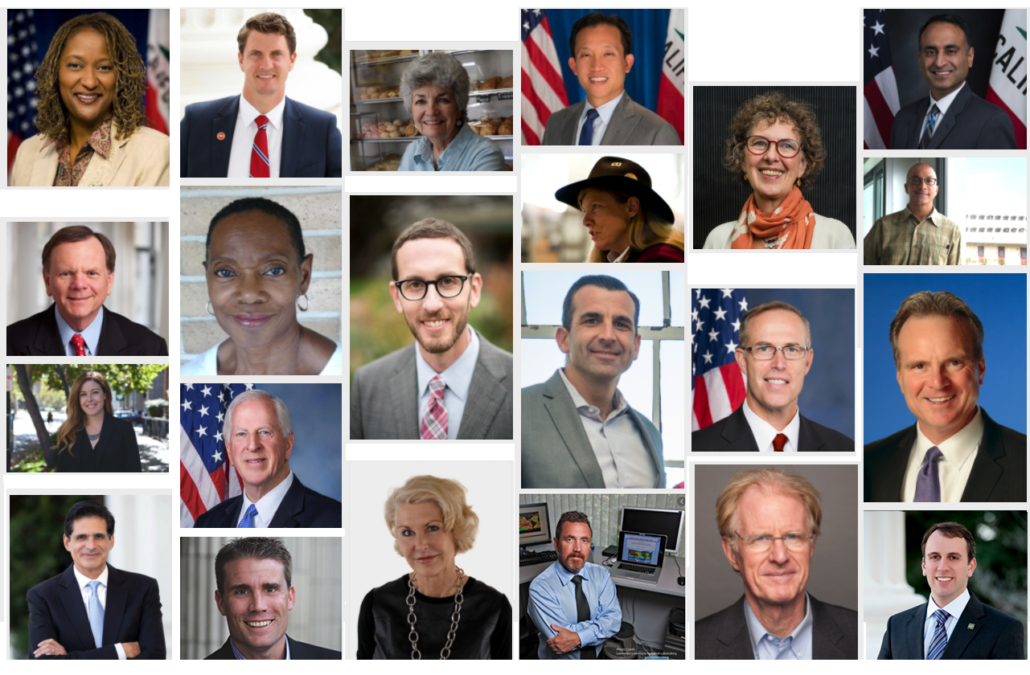 Santa Rosa, CA, March 24, 2021—Over 1,000 elected officials, business leaders, academics, organizations and community members have now endorsed The Climate Center's Climate-Safe California campaign.
By endorsing, they are sending a message that they want California to aggressively tackle the climate crisis with big investments now– for a restorative economy with climate justice and a just transition for workers in the oil and gas industry.
Recent studies contain a stark warning: inaction or inadequate climate action is enormously costly in terms of lives and dollars. Indeed, we are now expected to pass the 1.5C dangerous warming threshold in the next 10 years.
Once a global climate leader, California, the world's fifth largest economy, is falling seriously behind. We are behind the European Union, the United Kingdom, and even Rhode Island.
But as goes California, so goes the world. California can regain its global climate leadership with bold, equitable, and aggressive action by Governor Newsom and state policymakers.
The state can and must accelerate state climate policy goals to achieve net-negative emissions– absorbing more carbon than we are emitting—by 2030. This means moving up current state targets by 15 years, from 2045 to 2030.
"Our current state goal of achieving carbon neutrality and then net-negative emissions by 2045 is simply too late," said Ellie Cohen, CEO of The Climate Center. "As more than 1,000 endorsers agree, state decision makers must accelerate climate policy timelines, prioritizing major investments now to secure an equitable and vibrant climate-safe future for all."
The 2020 California wildfires killed 32 people directly with as many as 3,000 older people dead from several weeks of exposure to toxic smoke. California suffered $150 billion in damages from the 2018 wildfires alone (equal to ⅔ of the annual state budget) and $80 billion in 2019. That same $80 billion invested in climate mitigation and adaptation in California could generate about 725,000 jobs. In fact, investments in clean energy generate more than two times as many jobs as investments in fossil fuels.
California's fossil fuel economy is sickening and killing Californians every day, not just during fire season. More than seven million residents live within one mile of oil or gas facilities, most of whom are lower-income and disproportionately impacted by regular exposure to toxins from fossil fuel development, production and use. These frontline communities are also more vulnerable to climate impacts such as heatwaves, drought, floods, and food insecurity.
The good news is that we have the technology and know-how to solve the climate crisis. We just need the political will.
As California State Senator Dave Cortese (San Jose) shared in his Climate-Safe California endorsement, "California must retake its climate leadership by establishing bold 2030 goals aligned with the latest science as identified in Climate-Safe California. Anything less will fail our communities and our future." [See additional quotes below and here.]
###
About The Climate Center
The Climate Center is a 501(c)(3) climate policy non-profit working for rapid greenhouse gas reductions at scale. The Climate Center, founded in 2001, is best known for its key role in the tremendous growth of Community Choice Agencies (CCAs) in the state over the past 6 years, with 24 CCAs now providing 88% greenhouse gas-free electricity to over 11 million residents.
Enacting Climate-Safe California's bold suite of policies requires major collaboration between a wide range of stakeholders in California. The Climate Center is partnering with businesses, local governments, environmental and justice organizations, health leaders, labor, academics, and others to empower state decision-makers to adopt the policies urgently needed for a vibrant, equitable and healthy future for all.
Key Climate-Safe California NGO partners include: Alliance of Nurses for Healthy Environments, Better World Group, California League of Conservation Voters, Carbon Cycle Institute, Joint Venture Silicon Valley, Labor Network for Sustainability, Los Angeles Business Council, Local Government Coalition, Microgrid Resources Coalition, and Vote Solar.
Other endorsers include:
53 Elected/Appointed officials and regional government entities: California State Senators Mike McGuire and Henry Stern; Assemblymember and Agriculture Committee Chair Robert Rivas; San Jose Mayor Sam Liccardo; Los Angeles County Supervisor Holly J. Mitchell; Ventura County Supervisor Carmen Ramirez; Delano City Councilmember Sal Solorio-Ruiz; former CAL EPA Secretary Terry Tamminen; Bay Area Air Quality Management District; Regional Climate Protection Authority.
76 Businesses: FullCycle, Ygrene Energy Fund, Enphase Energy, Willow Creek Wealth Management, Traditional Medicinals.
92 Organizations: CA League of Conservation Voters, Environment California, Alliance of Nurses for Healthy Environments, Local Government Commission and Labor Network for Sustainability.  See others here.
Scientists/Economists: UC Berkeley Professor, IPCC Coordinating Lead Author, and former Science Envoy at the U.S. State Department Daniel Kammen; Lawrence Livermore National Laboratory Atmospheric Scientist Ben Santer, PhD; Economist Hunter Lovins.
All Climate-Safe California policies and programs, guided by these principles, must be:
1- Based on the latest science;
2- Ensure a just transition for fossil fuel workers, their families and communities, so no one is left behind; and,
3- Prioritize climate justice, ensuring that lower-income communities and many communities of color are no longer disproportionately harmed by fossil fuels, and have equitable access to climate-friendly solutions.
What leaders have to say about The Climate Center's Climate-Safe California platform:
"This campaign for a Climate-Safe California is not only crucial but it is scalable. The goal for a 2030 near term net negative emissions target is not just something we should be striving for in California, but should be pushing the next administration [in Washington] to embrace as well." –Senator Henry Stern, California State Senator
"I strongly endorse the goal of Climate-Safe California to achieve net-negative emissions by 2030. 2050 is too late. The campaign's focus on science, urgency, and policy is exactly what's needed – and California must lead the way." –Terry Tamminen, CAL EPA Secretary under Governor Schwarzenegger
"Climate-Safe California can be our reality. It puts people to work by accelerating our renewable energy, energy storage, smart-grid, and electric vehicle goals. It can and must be part of a transformation that promotes social and racial justice by investing in our disadvantaged communities." –Professor Daniel Kammen, UC Berkeley; IPCC Coordinating Lead Author; Former Science Envoy, US State Department
"Building livable, sustainable and equitable communities requires accelerating climate policy timelines, state support of local government mitigation and resilience efforts, and engaging local communities. We strongly support the urgent goals of Climate-Safe California. We must act as though our future depends on it. It does." –Kate Meis, Executive Director, Local Government Commission
"California must lead the world by achieving the goals of Climate-Safe California. Drawing down the carbon we've already put into the atmosphere is central to the State achieving carbon neutrality and net-negative emissions. It is time to ensure carbon sequestration on California's natural and working lands, at scale, as a centerpiece of our pathway toward a livable and climate-resilient future. Meeting this goal will have cascading beneficial impacts on CA's communities and vital ecosystems." –Jeff Creque, PhD, and Torri Estrada, Carbon Cycle Institute
"No one can deny the health and safety impacts that our climate-related risks are creating.  Having worked as an emergency room nurse, I know that there are some things that you must do immediately to save imperiled lives. We are in a climate emergency that requires immediate and decisive actions to save lives and to protect future generations. We urge Governor Newsom to accelerate climate policy timelines now." –Barbara Sattler, RN, PhD, FAAN; Professor, Public Health Program University of San Francisco; Board Member, Alliance of Nurses for Healthy Environments