California's recall election is fast approaching, and we at The Climate Center want to make sure you have all the information you need to exercise your right to vote. The climate crisis is hitting California harder than scientists predicted even a few years ago, and we deserve leaders who share our vision for a Climate-Safe California. 
Make your plan to vote today! Register here and find out how you can cast your vote by mail or in person before September 14.
It's hard to overstate the consequences of this election. The signs of climate crisis — wildfires, drought, extreme heat, and more — are all around us. We need to vote for the strongest possible climate leader on the ballot, then mobilize to push that person even further to be the climate champion California deserves. 
Here are a few key dates and deadlines to keep in mind:
August 30 is the last day to register to vote by mail. You can return your ballots by mail or at ballot drop-off locations (find yours

here

) up until September 14.

Early voting begins on September 11 and polling locations will be open from 8 am to 5 pm. Find your polling location

here

.

You can register and cast your vote on the same day in-person up to September 14. If you do same-day registration, you'll vote with a conditional ballot that will be counted once your voter registration is processed and confirmed. 

On September 14, election day, voting locations will be open from 7 am to 8 pm. If you are in line by 8 pm, stay in line!
Let's break down what's on the ballot. The September 14 recall ballot will ask two questions: (1) Should Governor Newsom be removed from office? and, (2) If Governor Newsom is removed, who should replace him as governor? If more than 50 percent of voters vote "yes" on the first question, Governor Newsom will be removed and the candidate who receives the most votes on the second question will replace him, even if they don't win a majority of votes. In other words, a minority of voters could determine who will be the next governor of California.
That's why it's so important to vote in this election, and to make sure your family and friends have a plan to vote. Our vote is our power, and our vote will decide the future of California. 
As a 501c3 nonprofit, The Climate Center is not permitted to support a particular candidate or recall outcome. On behalf of our team, I encourage you to carefully consider what's at stake in this election and vote for the climate! Go to registertovote.ca.gov today and make your plan to vote.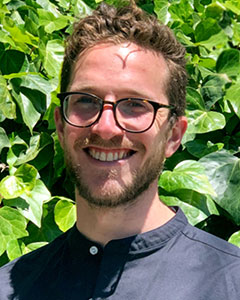 Ryan Schleeter
Communications Director
Ryan Schleeter (he/him/his) joined The Climate Center in 2021, bringing nearly a decade of experience in climate and environmental communications. As Communications Director, he leads The Climate Center's brand, message, content, and digital strategies, helping to grow the movement to secure a Climate-Safe California. 
Read full bio