by Julia Kane, Inside Climate News
---
Highlights
In the Central Valley of California, exhaust from semi-trucks, oil and gas fumes, plus pesticides from the agricultural sector are trapped in the valley, creating mass pollution that creates severe health problems

Health effects include asthma, respiratory illnesses, preterm birth, low birth weight, and cancer 

Pollution caused by drilling sites disproportionately affect neighborhoods that are predominately occupied by Black, Indigenous, People of Color 
Though implementing setbacks or buffers that separate drilling sites from homes, schools, and hospitals effectively reduces health risks, California has no mandates or laws requiring these buffers
Oil industry giants such as the Western States Petroleum Association and Chevron have spent $9.9 million and $7.5 million on lobbying this legislative season

These same companies successfully advocated for streamlined approval of new oil projects with little environmental review

A community group in the Central Valley town of Arvin, named Committee for a Better Arvin, have taken on the oil industry in their community 

In 2014 a leaky pipeline had caused an air sampling from the inside of homes on a street in Arvin to have levels of toxic gas 13 times higher than deemed safe by the EPA 
With help from other smaller community groups plus big environmental groups, Committee for a Better Arvin sued for better regulations in their community

In Los Angeles County over 1.5 million people live within 2,500 feet of an operational oil well
AB 345 would create setbacks of 2,500ft, being the first mandate for buffers in the state
The bill would not stall oil production but would help frontline communities avoid toxic levels of pollution 
---
The Climate Center's Climate-Safe California Platform advocates for a formal California State commitment by 2022 to 80% below 1990 levels of greenhouse gas emissions and net-negative emissions by 2030. This bold target requires accelerating the phase-out of fossil fuel development, production, and use.

---
Read More: https://insideclimatenews.org/news/02082020/california-big-oil-environmental-health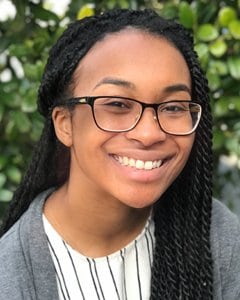 Nina Turner
Energy Programs and Communications Coordinator
Janina is a graduate of the Energy Management and Design program at Sonoma State University with experience in non-profits that specialize in sustainability and volunteerism.
Read full bio