​​SACRAMENTO, October 7, 2023 — Moments ago, Governor Gavin Newsom signed a suite of bills passed by the California legislature designed to hold corporate climate polluters accountable. Bills signed by the governor today include:
SB 253 (Wiener), the Climate Corporate Data Accountability Act, will require U.S.-based corporations doing business in California that make more than $1 billion annually to publicly disclose their full carbon footprint. 
SB 261 (Stern), the Climate-Related Financial Risk Act, will require corporations, financial institutions, and insurers to report on climate-related financial risk. 
AB 1167 (Carillo), the Orphan Well Bonding Requirements Act, will make the owners of orphaned and idle oil and gas wells pay for properly closing them instead of taxpayers.
"Without transparency, there can be no accountability," said Ryan Schleeter, Communications Director for The Climate Center. "We applaud Governor Newsom for signing SB 253, the Climate Corporate Data Accountability Act, and SB 261, the Climate-Related Financial Risk Act, into law today. We appreciate his refusal to weaken these bills despite pressure from the California Chamber of Commerce and other corporate interests. We also celebrate the signing of AB 1167, the Orphan Well Bonding Requirements Act. California taxpayers shouldn't be responsible for the oil and gas industry's mess.
"With his recent lawsuit against Big Oil and the signing of these important bills, the governor is showing he has what it takes to hold corporate polluters accountable and begin building a California beyond fossil fuels."
In addition to signing these critical climate bills into law today, Governor Newsom also vetoed SB 842. Through a last-minute deal reached just before the end of the legislative session, SB 842 was gutted, amended, and passed with no debate in an attempt to weaken the price gouging law (SBX1-2, Skinner) signed earlier this year.
"Defeating SB 842 marks another victory for Californians against oil industry greed," added Schleeter. "Governor Newsom himself championed California's first-in-the-nation gas price-gouging penalty, so we are not surprised to see him veto SB 842. This bill was yet another dirty trick from oil and gas executives trying to escape accountability. We thank Governor Newsom for putting the people of California before oil industry profits and vetoing SB 842."
A complete list of bills signed by the governor today — along with signing messages for SB 253, SB 261, and AB 1167 and a veto message for SB 842 — is available here. The Climate Center will continue to work with our partners, the legislature, and the governor's office to ensure that corporate interests do not delay the climate action that Californians fought for and deserve. California, a global climate leader, must act at the speed and scale that the climate crisis requires. 
ENDS
Contact: Ryan Schleeter, Communications Director, The Climate Center: ryan@theclimatecenter.org, (415) 342-2386
About The Climate Center:
The Climate Center is a climate and energy policy nonprofit working to rapidly reduce climate pollution at scale, starting in California. We are a think-tank, do-tank working to turn bold ideas into action for a climate-safe future. Our flagship Climate-Safe California campaign is a unique and comprehensive effort to make California the first state in the nation to reach carbon negative. www.theclimatecenter.org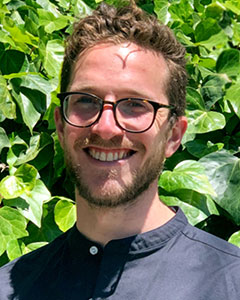 Ryan Schleeter
Communications Director
Ryan Schleeter (he/him/his) joined The Climate Center in 2021, bringing nearly a decade of experience in climate and environmental communications. As Communications Director, he leads The Climate Center's brand, message, content, and digital strategies, helping to grow the movement to secure a Climate-Safe California. 
Read full bio