by Phil Willon, The Los Angeles Times
---
Highlights
Assembley Bill 345, legislation that would have mandated setbacks of oil drilling sites from homes, schools, and other community dwellings, was voted down 5-4

The bill would have also required the Department of Conservation to create an environmental justice progam where residents near drilling sites could voice their concerns

Currently the state houses 1,175 active offshore wells and 60,643 active onshore wells
While more than 5.4 million Californians lived within one mile of a drilling site and exposure to the pollution is known to cause health effects, Governor Gavin Newsom allowed almost 50 new fracking permits since April
Residents of the Central Valley, particular Black and Brown residents, continue to experience the pollution and health effects of continued fracking and drilling at disporortionate rates
The state Department of Conservation has been holding online and in-person meetings with communities near oil drilling sites discussing proposed public health and safety protections, but these proposed regulations have not been released
---
Increased air pollution from fossil fuel emissions disproportionately affects Black, Indigenous, People of Color. Divestment from big oil and securing  100% clean energy in California's frontline communities is critical to achieving The Climate Center's goals under the Climate-Safe California Platform.
---
Read More: https://www.latimes.com/california/story/2020-08-13/setbacks-legislation-california-oil-gas-production-environmental-protections-newsom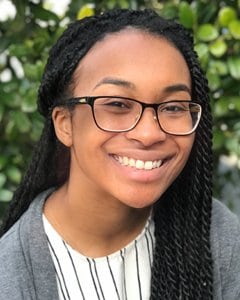 Nina Turner
Energy Programs and Communications Coordinator
Janina is a graduate of the Energy Management and Design program at Sonoma State University with experience in non-profits that specialize in sustainability and volunteerism.
Read full bio