by Steve Horn, The Real News
---
Highlights
California Governor Gavin Newsom approved two rounds drilling permits for Chevron this summer, furthering criticism from environmental groups

Since lifting the moratorium on fracking, Governor Newsom has approved 36 new fracking permits in Lost Hills to Aera Energy, a company he has close ties with 
Chevron was given permission to frack 12 wells before July 4th

Chevron plans to use solar panels to power their drilling operations in the Lost Hills Oil Field located in Kern County
The new permits will exasperate health issues within the small town of Lost Hills in the area due to pollution 
The approval of these permits is an example of environmental racism, as the town is comprised of 97% Latinx individuals and almost 30% of residents have incomes below the poverty line
Juan Flores of the Center on Race, Poverty & the Environment questions the Governors campaign promises:
"[Newsom] kept talking about how we needed to stay away from corporations and him not wanting to receive money for his campaign from big corporations like Chevron, Aera and Shell. He said 'I don't want to serve my term as Governor paying back those favors.' And now he's completely acting the opposite."
The amended version of AB 345 was voted down on Aug. 5 Senate hearing and all of those who voted against it received money from companies or labor unions who had opposed the bill
---
The Climate Center's Climate-Safe California Platform advocates for a formal California State commitment by 2022 to 80% below 1990 levels of greenhouse gas emissions and net-negative emissions by 2030. This bold target requires accelerating the phase-out of fossil fuel development, production, and use.
---
Read More: https://therealnews.com/columns/california-greenlights-orwellian-solar-powered-fracking-scheme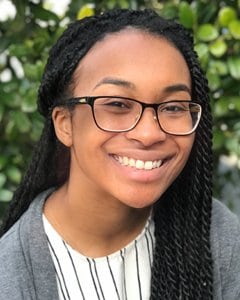 Nina Turner
Energy Programs and Communications Coordinator
Janina is a graduate of the Energy Management and Design program at Sonoma State University with experience in non-profits that specialize in sustainability and volunteerism.
Read full bio