SACRAMENTO — Lobbying disclosures from Quarter 3, representing lobbying between July 1 and September 30, 2023, show that oil companies and trade associations spent more than $7.2 million on influence-related activities in an all-out effort to kill California climate bills. 
This brings the total year-to-date spending by Big Oil to more than $20.6 million, already exceeding the industry's 2022 expenditure of $18 million with another quarter still pending. 
For the top three lobbying spenders — Chevron, the Western States Petroleum Association, and Aera Energy, which far outspent all others — filings depict opposition to a number of key pieces of climate- and energy-related legislation, including SBX 1-2 implementation, AB 1167, SB 252, SB 253, SB 261, as well as numerous other bills. These bills would all hold the oil industry accountable in various ways — either through transparency, financially, or both — and in the case of SB 252, would have called on the state's public pension funds to divest from fossil fuels. Among them, only SB 252 failed to pass. 
Chevron led the spending pack, doling out over $3.86 million to spread its clout in Sacramento. Of that, $71,192.89 of their influence spending went to the WSPA and another $2.18 million to WSPA front group Californians for Energy Independence.
The top 10 lobbying spenders can be seen below:
| | |
| --- | --- |
| Company | Spending |
| Chevron | $3,866,296.30 |
| Western States Petroleum Association | $1,381,995.63 |
| Aera Energy | $788,192.00 |
| Phillips 66 | $173,968.41 |
| California Independent Petroleum Association (CIPA) | $146,089.57 |
| Marathon Petroleum | $121,539.03 |
| Valero | $118,150.00 |
| ExxonMobil | $91,606.38 |
| California Resources Corporation | $75,000.00 |
| BP | $74,074.49 |
"Oil and gas corporations are raking in record profits and using that money to subvert our democracy," said Woody Hastings, Phase Out Polluting Fuels Program Manager for The Climate Center. "For them, climate delay is the new denial — and it's just as deadly. It's time for Governor Newsom to break Big Oil's grip on Sacramento. He should start by eliminating tax breaks and subsidies for fossil fuel corporations in next year's state budget. Taxpayers shouldn't be footing the bill for oil lobbyists and PR stunts."
Beyond lobbying against top priority climate bills, Chevron's lobbying focused on promoting hydrogen and carbon capture, while also lobbying against SJR 2, a resolution calling for a fossil fuel non-proliferation treaty, which successfully passed in the California legislature. The company also lobbied against a bill, SB 1305, that would offer civil penalties to companies that defraud the voluntary carbon offsets market. For hydrogen, the company on the one hand lobbied to promote the technology, while on the other hand lobbied against SB 1550, which would mandate that all hydrogen produced in California by 2045 be green hydrogen, or hydrogen made exclusively via renewable energy.
"They profit, our communities pay: this is how the oil and gas industry operates in California," said Meghan Sahli-Wells, California Director for Elected Officials to Protect America, as well as the former Mayor of Culver City. "While Big Oil tells elected leaders that environmental protections are 'too costly,' they then turn around and spend lavishly on lobbying, and lie their way into polluting us more. Industry scientists have known the dangers of oil and gas extraction for decades, yet these corporations continually choose profits over people. The game is up. By standing together against the industry's blatant lies, we will deliver the health and climate protections our communities justly deserve."
"It's no surprise that Big Oil is spending so much money attempting to block true clean energy solutions by delaying legislation that seeks to break our state's dependence on fossil fuels, which put our environment and fellow Californians at risk every single day," said Chirag Bhakta, California Director of Food & Water Watch. "Governor Newsom must reject the industry's attempts to buy their political power so they can continue to destroy the planet and have our tax dollars fund false climate solutions like carbon capture and sequestration and hydrogen. These false solutions will only keep California dependent on fossil fuels and further delay necessary, forward growth towards a truly renewable future."
Other notable expenditures include $1.38 million spent by Big Oil's trade association in California, the Western States Petroleum Association (WSPA). WSPA, alongside lobbying against the highest profile climate bills, lobbied on multiple aspects of SBX 1-2 implementation, legislation pushed early in 2023 by Governor Gavin Newsom and signed into law to hold Big Oil accountable for record-high gas prices at the pump faced by California drivers.
"First they price gouge us at the pump, then they buy themselves out of regulation, and then they poison our neighborhoods. This is the Big Oil playbook, and it's a deadly one," said Kobi Naseck, Coalition Director, Voices in Solidarity Against Oil in Neighborhoods. "But the tide is swiftly turning on Big Oil in Sacramento, and these huge numbers are the last ditch effort of this industry to plunder what they can while they still can. We will not be intimidated. The grassroots movement to end fossil fuels in California is stronger than any millions of dollars ever were."
Aera Energy doled out $788,192 on lobbying influence spending, including $45,000 paid to the firm Caliber Strategies, a firm that employs a former senior advisor to California's leading climate regulatory agency, the California Air Resources Board. 
That lobbyist, Virgil Welch — who worked alongside former CARB Chairwoman Mary Nichols — advocated for carbon capture technology on behalf of Aera. Further, Aera gave $686,880 to the oil industry front group Californians for Energy Independence during the third quarter.
The fossil fuel industry is writing a blank check — for unlimited lobbying, destabilizing California's democratic governance, undermining California's climate legislation, and keeping workers' pension money flowing to them. But there are more of us than there are of them," said Shana DeClercq with Fossil Free California. "California's teachers, students, workers, union members, families, and retirees deserve the biggest voice in California's policies and legislation. In California, ordinary people, grassroots organizations, and standout state representatives are coming together to get the fossil fuel lobby out of the state Capitol and put the interests of our communities first — for a resilient, abundant, climate-safe future for California and beyond."
ENDS
Contacts: 
Ryan Schleeter, Communications Director, The Climate Center: ryan@theclimatecenter.org, (415) 342-2386
Alexandra Nagy, Sunstone Strategies: alexandra@sunstonestrategies.org, 818-633-0865
About The Climate Center:
The Climate Center is a climate and energy policy nonprofit working to rapidly reduce climate pollution at scale, starting in California. We are a think-tank, do-tank working to turn bold ideas into action for a climate-safe future. Our flagship Climate-Safe California campaign is a unique and comprehensive effort to make California the first state in the nation to reach carbon negative. www.theclimatecenter.org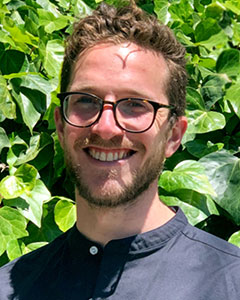 Ryan Schleeter
Communications Director
Ryan Schleeter (he/him/his) joined The Climate Center in 2021, bringing nearly a decade of experience in climate and environmental communications. As Communications Director, he leads The Climate Center's brand, message, content, and digital strategies, helping to grow the movement to secure a Climate-Safe California. 
Read full bio