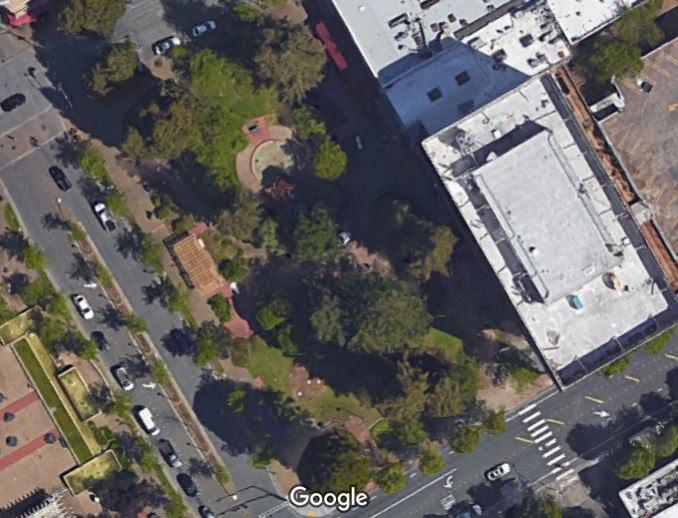 By Chris Cone
The recent removal of six 200-foot redwood trees for the Courthouse Square reunification project produced an unintended consequence that spotlights the concept, and the importance, of building performance in climate protection.
The shade produced by the redwood trees, located in front of 50 Old Courthouse Square, significantly reduced the amount of heat, called solar gain, absorbed by the building. Now that the trees are gone, the building's cooling system has to remove up to 1 million Btus of additional solar heat to keep offices comfortable during the day.
Built in 1972, the building underwent a retrocommissioning in 2012, a 12-month process in which the heating/cooling systems were closely calibrated to actual outside conditions and monitored to lower energy use and operating costs, according to Jerry Hassel, Air Connection, Inc., who managed the project. After the retrocommissioning, 50 Old Courthouse Square ranked in the top 10 percent in Energy STAR's Existing Building Program and significantly reduced its annual operating costs.
"The trees played an important role in mitigating heat gain," said Hassel, who noted that the building will be undergoing a second retrocommissioning in an attempt to restore its pre-tree-removal carbon footprint.
(It should be noted that the reunification project does include planting new trees to restore the carbon absorption capacity, known as sequestration, provided by the redwoods and other trees that were removed.)
The story of the redwood trees illustrates that each building is a dynamic system that is constantly working to balance outside and inside air temperatures, as well as heat absorbed from the sun, in order to deliver a comfortable indoor environment. This is known as building performance and is founded on the second law of thermodynamics, which states that heat naturally flows from warmer to cooler areas.
How well the building performs is defined by how much energy it needs to maintain a comfortable environment. To perform well, a building needs: (1) an energy management system that includes monitoring energy use data, customizing equipment controls, and improving overall building efficiency across all seasons and (2) metered energy efficiency that enables actual onsite energy reduction to be precisely measured.
Building performance is more than the sum of a structure's efficiency measures; it is founded on long-term outcomes delivered by building science, ongoing data tracking and technological innovation — and the art of practical application over time.
Since 2005 State policy has stated "energy efficiency is the least cost, most reliable, and most environmentally-sensitive resource, and minimizes our contribution to climate change." Building performance, energy management, and metered energy efficiency are key strategies cited in recent California legislation, including Senate Bill 350 (demand-side energy management, efficiency metering), Assembly Bill 793 (incentives for energy management technology), and Assembly Bill 1103 (energy use benchmarking).
In the fight to protect the climate, we need to use advances in digital/Wi-Fi technology, data science, heating/cooling equipment design, and applied building performance — and even the shade of a well-placed tree — to achieve deep, long-term, and reliable greenhouse gas reductions in our homes and businesses.
—
Chris Cone is Principal of Chris Cone Consulting, specializing in pay-for-performance solutions that drive scalable efficiency investment, and founder of the Negawatt Market Project (www.negawattmarketproject.org), a research initiative exploring energy efficiency market models.
Read full bio