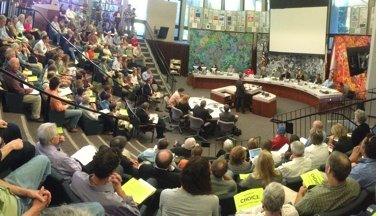 There have been many hearings, meetings and presentations over the past two years to convince the Santa Rosa City Council to participate in Sonoma Clean Power. On July 9 they will make their decision.
Your presence as they deliberate will be powerful. Let's make sure they understand the community is watching and we want them to give us a choice.
---
Tuesday, July 11
4:00 pm
Santa Rosa City Hall – 100 Santa Rosa Ave, at the corner of First Street
---
---
The culmination of years of work is here. How big will Sonoma Clean Power be? It depends on you! Now is the time to show the Council that you are a supporter.
City councils are now deciding whether to participate in Sonoma Clean Power. Will the cities vote "yes" to give their residents and businesses a choice, and give the cities seats on the board? As the largest city in the county, Santa Rosa's decision is especially important for the program.
Support clean power. Support local resilience. Support having a choice – between PG&E and Sonoma Clean Power.
Come to the city council meeting! Spread the word! Forward this email far and wide!
The Climate Center is a climate and energy policy nonprofit working to rapidly reduce climate pollution at scale, starting in California. We are a think-tank, do-tank working to turn bold ideas into action for an equitable, climate-safe future. Our flagship Climate-Safe California campaign is a unique and comprehensive effort to make California the first state in the nation to reach carbon negative.
Read full bio