by Jane Bender, President, The Climate Center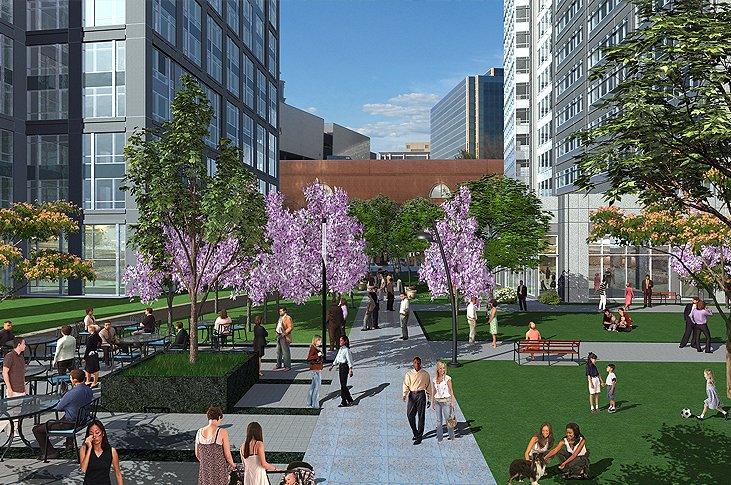 On April 27th, The Climate Center ran Chris Cone's article, "Unintended consequence of tree removal reveals carbon reduction opportunity." Indeed removing large redwood trees in Old Courthouse Square is causing the building owners of 50 Old Courthouse Square to increase their air conditioning load to ensure a comfortable environment for the building's inhabitants. But that is only part of the story.
I want to begin with a disclaimer. I was strongly in support of removing those trees while fully aware of the energy costs to be incurred. Ellen Bailey and I ran Sonoma County ReLeaf for 15 years and planted thousands of trees throughout Northern California, all in urban areas to mitigate urban heat islands, curb energy use and absorb CO2. I have two large deciduous trees shading our home and rarely does our inside temperature rise over 80 degrees. We do not have air conditioning. I will add that the most effective tree is a deciduous one, which also allows the winter sun to save on heating costs.
Now back to Old Courthouse Square. We have a crisis on our hands with climate change barreling down on us at an alarming speed. We can't stop living of course, but we can start changing the way we live. Higher density housing near mass transit is much more energy efficient. Indeed, Chris Jones of UC Berkeley, who has studied energy consumption nationwide, found that Manhattan has one of the lowest per capita rates of energy consumption. That translates to a lower carbon footprint.
Santa Rosa's downtown has the potential to be a tiny Manhattan. The SMART train will begin the conversion to mass transit. The area already has businesses, restaurants, government offices – things that make for a full service downtown. But it needs to attract housing. At the same time, Santa Rosa needs to show it means business, that it will approve taller buildings, work with builders who specialize in urban development and promote that vision of a thriving urban area. In reuniting the Square, the council is showing that intent.
Reuniting Old Courthouse is a step towards an urban future.  Every urban expert who has consulted with the city has said it is a must first move. And in doing it, the Council has shown that this city is finally on board with rejuvenating the downtown. It means there will be art, activities, family events in the heart of the city, not just in Rincon Valley or Bennett Valley. Think of boutique hotels within walking distance, restaurants lining both sides of the Square and young families hanging out on the Square, a stone's throw from their condominium.
Those redwood trees were too big and too dark. The Square needs light, open spaces for groups and events, with many smaller spreading trees for shade and a quiet place to sit.
It will take much more effort to get the housing, grocery stores, etc. built, but as those buildings rise throughout the downtown, people who are lucky enough to live in the area will be shrinking their carbon footprint as well as experiencing a vibrant lifestyle.
I contend that is worth six redwood trees.
Read full bio